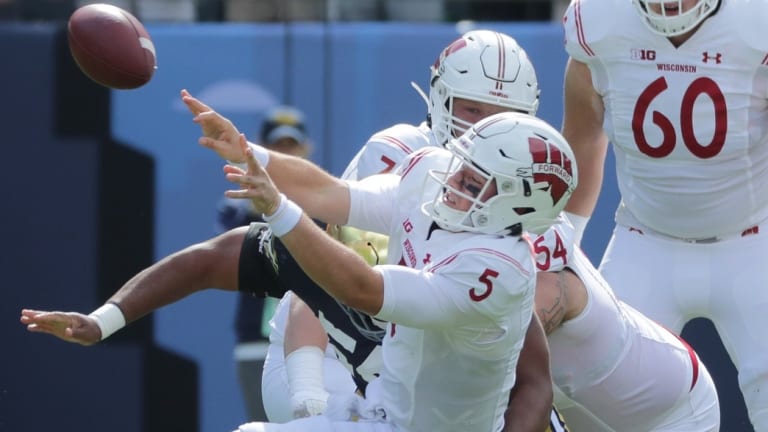 Big Ten Power Rankings (Week 5): New Leader at the Top With Penn State
With Iowa's offense sputtering and everything seemingly in place at Penn State, there's a new team at the top of our Big Ten Power Rankings in Week 5. Other movement includes big falls by Wisconsin at Minnesota, two epic failures so far this season. Too harsh? Weigh in with your thoughts.
Penn State and Iowa are both undefeated and have a pair of signature wins, but there's been a little shuffling at the top in my Week 5 Big Ten power rankings, with Nittany Lions knocking the Hawkeyes out of the top spot — at least for now.
Both teams are 4-0, but a couple of things coming into play in dropping the Hawkeyes a notch. First, they struggled for long stretches of last week's win against Colorado State, and I still have concerns as to how good their offense is.'
And secondly, those signature wins the first week of the season have lost some of their luster now that Indiana and Iowa State seem to have been greatly overrated in the preseason.
So the Nittany Lions are the new No. 1, the third team to hold that crown. (Ohio State was No. 1 the first two weeks). The ranking doesn't really mean much, of course, because Penn State and Iowa play each other in Iowa City in Week 6, so we can let the power ranking get determined on the field.
Here are the Big Ten power rankings as we head into Week 5 action, with last week's result, records, game time and TV information, point spreads, ranking and nuggets to know about each team: 
1. Penn State Nittany Lions *** Last Week: 2
2. Iowa Hawkeyes *** Last Week: 1
3. Ohio State Buckeyes *** Last Week: 3
4. Michigan Wolverines *** Last Week: 4
5. Michigan State Spartans *** Last Week: 6
6. Maryland Terrapins *** Last Week: 7
7. Indiana Hoosiers *** Last Week: 8
8. Wisconsin Badgers *** Last Week: 5
9. Purdue Boilermakers *** Last Week: 9
10. Rutgers Scarlet Knights *** Last Week: 10
11. Nebraska Cornhuskers *** Last Week: 12
12. Minnesota Golden Gophers *** Last Week: 11
13. Northwestern Wildcats *** Last Week: 13
14. Illinois Fighting Illini *** Last Week: 14
Previous Big Ten Power Rankings