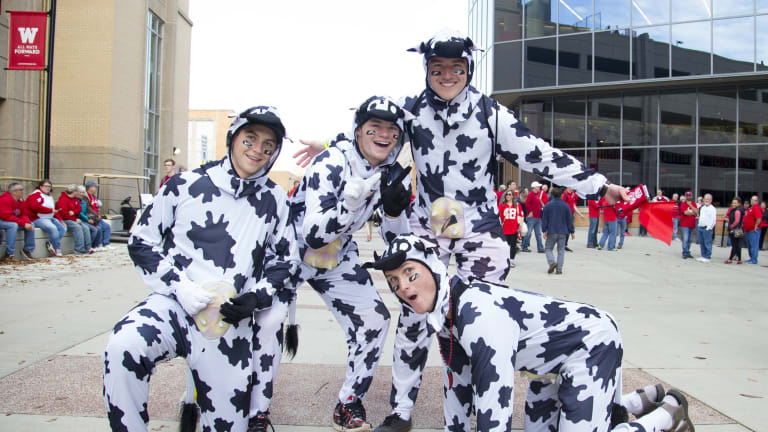 Indiana GameDay Morning: Six Wins Before Halloween is Very Rare
Hoosiers look to get to that magic number in a scary place, legendary Memorial Stadium in Lincoln, one of the hardest venues to win in throughout America.
LINCOLN, Neb. — There's a lot on the line Saturday for the Indiana Hoosiers when they make a rare trip to Lincoln to take on the Nebraska Cornhuskers.
The Hoosiers are 5-2 on the season and turning things around in Tom Allen's full season. They can get win No. 6 on Saturday, which is a rare occurrence for the Hoosiers, getting a sixth win — and bowl eligible — before Halloween.
How long? Well, it's been very long. Indiana's Halloween history is, shall we say, very spooky.
The last time Indiana had six wins before Halloween was 26 years ago, when they started the 1993 season 7-1 under legendary coach Bill Mallory and got that sixth win on Oct. 23 against Northwestern. They actually got the seventh before Halloween too, beating Michigan State on Oct. 30. 
And all-time? It's only happened four times in Indiana history. FOUR! That would be 1993, 1988, 1987 and 1967.
And that's it.
This is Indiana's best start through seven games since 2007 and even that team, which also was 5-2 through seven, didn't get to six until November.
In 2007, the Hoosiers had, let's be honest, a very easy nonconference and beat Indiana State, Western Michigan and Akron to get off to a 3-0 start. They then beat Iowa and Minnesota to get to 5-1, but then lost three straight Big Ten games to Michigan State, Penn State and Wisconsin by a combined 138-61 score. 
They got their sixth win in a nonconference game against Ball State, but that was on Nov. 3, the Saturday after Halloween. Win No. 7 came in the regular-season finale against Purdue, but the Hoosiers lost their bowl game to finish 7-6.
The 1994 season wasn't much different. Bill Mallory's crew was 5-1 on Oct. 8, but then lost four straight Big Ten games. They beat Purdue to finish 6-5. (There's an asterisk there because Michigan State later had to forfeit its Oct. 29 win. That's a technicality that I won't acknowledge for the purposes of this story.)
The Hoosiers accomplished the 'six before Halloween' feat in the glory seasons of 1987 and 1988 under Mallory, getting that sixth win by Halloween against Michigan Oct. 24, 1987 and Iowa on Oct. 29, 1988.
The hardest path to six wins had to be for the 1967 Indiana team that won the Big Ten. They only played six games before Halloween, and won them all on their way to a 9-1 regular season. Their season didn't even start until Sept. 23 that year.
It's the same deal with Indiana's other Big Ten champion, the 1945 team. They only played six games before Halloween, and because they tied Northwestern 7-7 in Week 2, they were only 5-0-1 on Halloween and didn't make our list.
Here's one more asterisk. The 1905 Indiana team started its season 6-2, but records are sketchy from back then and the scores are listed in Indiana's media guide, but not the dates played. It's very doubtful they would have played eight games before Halloween.
I'm sure Don Fischer did those games on a wind-up radio 114 years ago, so I'll have to ask him next time I run into him.
Weather is made to order in Lincoln
Indiana is getting very lucky with the weather in Lincoln on Saturday. It is the last weekend in October, so you can take your chances this time of year, but there's no complaints about Saturday. 
It's going to be sunny and 62 degrees at kickoff (3:30 p.m. ET, 2:30 in Lincoln) and will still be 55 as the sun sets in the fourth quarter.
That's downright perfect for late October football
Westbrook gets another honor
Indiana wide receiver is a very good football player, and he's an even better person. That became obvious once again on Friday when he was nominated for the Wuerffel Trophy, which is presented by the Chick-Fil-A Foundation and honors community service.
The Wuerffel Trophy is presented annually to the college football player who best combines exemplary community service with athletic and academic achievement. It's named after Danny Wuerffel, the 1996 Heisman Trophy-winning quarterback from Florida. 
A three-time Academic All-Big Ten honoree, Westbrook is a business marketing major. He is a William V. Campbell Trophy semifinalist, a Senior CLASS Award candidate, on the Senior Bowl Watch List, and he was a candidate for the Allstate AFCA Good Works Team.

The Lake Mary, Fla., native has volunteered with Everybody Plays, a program created by Indiana women's soccer player Allison Jorden that offers sports-themed events for athletes with intellectual and physical disabilities, creating a chance for them to interact and learn from current IU student-athletes.

Westbrook also has volunteered with the Riley Children's Hospital, worked with Camp Riley and participated in Change The Play, where Riley Health partnered with former Indianapolis Colts quarterback Andrew Luck to bring kids together to tackle childhood nutrition and health issues.

He has also spent time as a Generosity Feeds volunteer, visited Hearthstone Health and takes part in the 2nd & 7 Foundation, which promotes reading by providing free books and positive role models to kids in need while encouraging young athletes of the community to pay it forward.