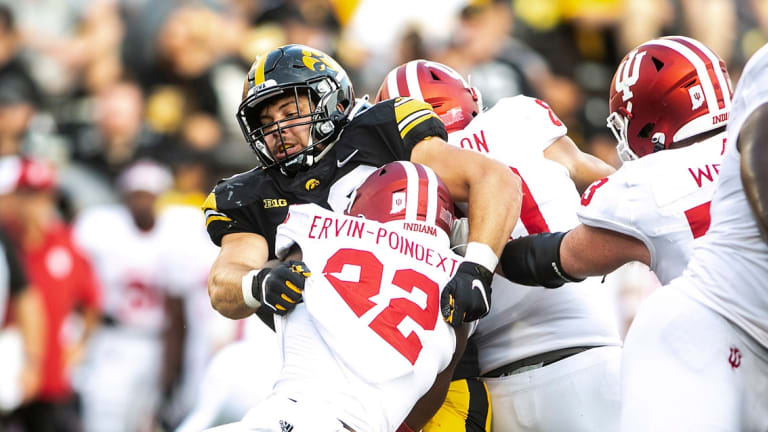 LIVE BLOG: Follow Indiana's Game at Western Kentucky in Real Time
Indiana looks to get back to .500 on Saturday night with a rare road game at Western Kentucky. Here's our weekly live blog, with news and views in real time, living from Bowling Green, Ky.
BOWLING GREEN, Ky. — Welcome to our fourth live blog of the Indiana football season, and we have a rarity tonight. For just the second time ever, the Hoosiers have ventured south to Bowling Green to take on the Western Kentucky Hilltoppers. 
Indiana is 1-2 but is the only team in the country with losses to two teams ranked in the top-eight in the Associated Press poll, losing to No. 5 Iowa and No. 8 Cincinnati. Western Kentucky is 1-1, having beaten Tennessee-Martin and losing to Army. 
Here's how our live blog works. We will provide all the news and big plays here in real time, and we'll throw in some opinion as well. The most recent post is at the home, so keep it here all game, and just refresh as needed.
Here we go:
GAME STORY: Here is the game story on Indiana's win over Western Kentucky, with quotes, highlights and a photo gallery. ... CLICK HERE
11:45 p.m. ET — And that's a final. Indiana hangs on to win 33-31. Not pretty at all, and much work to still do, but it's a critical win, nonetheless. Hoosiers move to 2-2, and travel to Penn State next week. 
11:40 p.m. ET — Western calls timeout. It's third-and-8 at the IU 37 and WKU has one more left. Do you throw? Of course, and Michael Penix finds Ty Fryfogle over the middle for a first down. Hilltoppers use their final timeout, and there's 1:20 to go. Can run out the clock now. VICTORY FORMATION. 
11:34 p.m. ET — Indiana sends a blitz but it doesn't get to Bailey Zappe. He hits Malachi Corley for a 19-yard score, with Indiana safety Devon Matthews slipping on the cut. With 2:43 to go, it's now INDIANA 33, Western Kentucky 31. 
11:27 p.m. ET — Great play by Marcelino Ball on third down, breaking up a pass. On fourth down, though, Western breaks a play down the left side to Mitchell Tinsley that goes for 38 yards. You just can't let that happen. 
11:24 p.m. ET — Michael Penix Jr. is now 34-for-52 passing for 363 yards. The 34 completions are a career high. 
11:20 p.m. ET — Indiana caps off an impressive drive with a 1-yard touchdown run by Stephen Carr. He is now over 100 yards for the Hoosiers. Charles Campbell with the PAT. That was massive. And now, with 4:27 to go, it's INDIANA 33, Western Kentucky 24.
11:16 p.m. ET — Tim Baldwin Jr. breaks a big run up the middle for 21 yards. There's a fumble at the end, but Indiana recovers. He was holding on with two hands, but the Western defenders still stripped it away. First down at the WKU 34. Indiana converts on third down again, with another perfect throw to Fryfogle over the middle. First down at the 18.
11:14 p.m. ET — A great throw on third-and-13 by Michael Penix, hitting Peyton Hendershot for 20 yards and a first down. Then he hits Ty Fryfogle for another first down to the Indiana 45. 
11:03 p.m. ET — A couple of quick first downs for the Hilltoppers. Indiana cornerback Tiawan Mullen went down with an injury, but he returned a few plays later. Indiana gets a break, with Western deciding to punt on fourth-and-1 at midfield. Hoosiers have the ball back, leading 26-24 with 10:46 to go. Need a drive here, and a touchdown.
10:59 p.m. ET — Michael Penix found Ty Fryfogle open over the middle on a third-down thrown, but Fryfogle drops it. His first of the night, but still a problem that just doesn't seem to go away. Indiana forced to punt, but freshman James Evans buries them at the 6. Western Kentucky takes over with 14:06 to go in the fourth. 
10:52 p.m. ET — That's the end of the third quarter, with Indiana moving the ball again. Michael Penix just completed his 30th pass of the night, the second-most in his career. He had 33 completions in 2019 against Michigan State, a mark that seems sure to fall. Most importantly? Zero interceptions.
10:46 p.m. ET — For the first time all night, Indiana is forced to punt. Ball goes into the end zone though, and Western takes over at the 20-yard line. Still 26-24, Indiana. Through seven possessions, Indiana QB Michael Penix Jr. is 29-for-43 passing for 304 yards.
10:40 p.m ET — Western Kentucky set an all-time attendance record tonight with 25,171 fans in attendance. Indiana represented well. 
10:35 p.m. ET — Western Kentucky is on the move again. Three straight first downs and they're back in the red zone ready to take the lead. Indiana's defense is really struggling. The Hilltoppers have 330 yards already. Indiana holds on third down again — thanks to WKU for running the ball — and they settle for a field goal. With 5:53 left in the half, it's INDIANA 26, Western Kentucky 24.
10:30 p.m. ET — On a big third-down play from the 26, the Hoosiers can't convert and Charles Campbell has to come on again for a field goal attempt. This time, though, the penalty is on Indiana for delay of game. That forces a 48-yard attempt, but Campbell is perfect again. That's six consecutive scoring drives for Indiana. With 9:10 to go in the third quarter, it's INDIANA 26, Western Kentucky 21.
10:15 p.m. ET — Didn't happen. Western marches right down the field, going 76 yards in just five plays for a touchdown, and now it's a game again. INDIANA 23, Western Kentucky 21. Indiana's defense hasn't looked good at all these past two possessions, and cornerback Jaylin Williams left the field with an injury during that drive. 
10:08 p.m. ET — We're back at it, and it's Western Kentucky's ball to start the third quarter.  They'll start at their own 24. Indiana needs a stop, right out of the gate. 
HALFTIME: Here are the highlights of the statistics for the first half for Indiana. Michael Penix Jr. is 21-for-33 passing for 218 yards. Stephen Carr has rushed for 78 yards on 13 carries and Ty Fryfogle has 7 catches for 65 yards. Tight end Peyton Hendershot has 5 catches for 74 yards. Indiana has 306 total yards.
9:40 p.m. ET — Indiana moving down the field quickly in this final minute. WKU is sending two blitzers up the middle and the Hoosiers' offensive line is having a hard time picking it up. Another great run on third down by Stephen Carr for 21 yards gives Indiana a first time. Timeout with 16 seconds to go. First pass play is a holding call on WKU, moving the ball to the 7. Indiana can't convert, and is forced to settle for a field goal attempt. Charles Campbell converts again, and Indiana leads 23-14 at the break. That was an impressive fast-paced drive. INDIANA 23, Western Kentucky. 
9:32 p.m. ET — Indiana's inability to close out halves is starting to be a real concern. They just let Western Kentucky drive down the field in the final minutes and score a touchdown, with Bailey Zappe hitting Daewood Davis for a 25-yard score with 55 seconds left. Been an issue in all four games now. Heck, they even let Idaho score in the final minute of the first half when it was 35-0.
9:30 p.m. ET — It's obvious that Micah McFadden is the best player on Indiana's defense. He's got nine tackles already, and he snuffed out a trick play there, stopping a lateral from turning into something bigger. He missed the second half last week, and definitely came to play tonight. 
9:25 p.m. ET — Through four Indiana drives, quarterback Michael Penix Jr. is 19-for-27 — 70.7 percent — for 184 yards.
9:20 p.m. ET — Indiana is moving the ball again. Big third down play coming from the 20. But another drop, this time from running back Tim Baldwin, Jr. Would have had the first down. Charles Campbell comes on for a 37-yard field goal attempt, and it's good again. With 2:42 to go in the half, it's INDIANA 20, Western Kentucky 7.
9:10 p.m. ET — Indiana's defense was great on third and fourth down. Western tried to smash it inside to pick up the yard, but they were stuffed on both plays. Indiana. takes over on downs. But change of events there, stopping Western's offensive momentum. They gained another 41 yards on that drive, but came up with nothing. There's 7:37 left to go in the second quarter. Indiana linebacker Micah McFadden playing with his hair on fire, in on both big tackles. He's got eight already.
9:05 p.m. ET — After Indiana's third drive, quarterback Michael Penix Jr. is now 15-for-20 passing — 75 percent — for 155 yards. You wanted better, you're getting better.
8:55 p.m. ET — Indiana converts the fourth down attempt on an easy pitch-and-catch to Ty Fryfogle over the middle. On third down, Western comes with an all-out blitz and Penix gets called for intentional grounding. It pushes the ball back to the 34-yard line, and Charles Campbell misses from 51 yards, just short. But Western was offsides, so the Hoosiers get a break. He then converts from 46. Still technically perfect on the year. INDIANA 17, Western Kentucky 7.
8:45 p.m. ET — Great third-and-10 throw by Penix to Ty Fryfogle for a first down. Indiana back into Western territory for the third straight drive. Indiana gets stopped short on the next third-down play, a pass from Penix to tight end A.J. Barner, and they're going for it on fourth-and-2 at the WKU 40. Western wasn't ready for that, and calls a quick timeout. 
8:40 p.m. ET — FYI, D.J. Matthews has been taken to the locker room. Miles Marshall is getting most of his reps at wide receiver now. 
8:35 p.m. ET — Bailey Zappe a little more comfortable on Western's second possession. He's getting some quick throws to the outside, and the Hilltoppers are moving the ball. Four first downs already. The quarter ends with WKU at the 7-yard line. They score two plays later. Impressive drive, going 77 yards in 15 plays. INDIANA 14, Western Kentucky 7 with 14:27 to go in the second quarter.
8:30 p.m. ET — Michael Penix Jr. is 9-for-11 so far for 105 yards in the first quarter. One drop, one throwaway when no one was open. A perfect quarter, in other words. 
8:25 p.m. ET — Another impressive drive for the Hoosiers, with Michael Penix again looking sharp. His only incompletion was a throwaway on a sprint-out, where he didn't have anyone open. He sneaks it in, and Indiana goes up 14-0 after the Charles Campbell PAT. There's 5:02 to go in the first, and it's INDIANA 14, Western Kentucky 0.  
8:15 p.m. ET — Western Kentucky has thrown for more than 900 yards combined in its first two games, but they also haven't seen a defense like Indiana's yet. Quarterback Bailey Zappe, who has 10 touchdown passes already, goes 0-for-3 on the first possession, and the Toppers are forced to punt. Return man D.J. Matthews had to go back for the punt and misplayed, and it looked like he went down awkwardly. He's getting medical attention on the field now. That's not good news. He's been Indiana's best player so far this season. 
8:05 p.m. ET — Trickeration alert. Indiana runs a flea-flicker and Penix finds tight end Peyton Hendershot open down the right sideline for a gain of 19 and another first down. And on third-and-6 from the 15, Indiana mixes it up and runs with Stephen Carr for a gain of 14, catching the Hilltoppers in a blitz. He scores from the 1-yard line on the next play and the Hoosiers go ahead 7-0 after Charles Campbell's point-after. A great opening drive, going 79 yards in 11 plays. Michael Penix Jr., was sharp, going 5-for-6 for 52 yards, with the only incompletion a drop on the first play. INDIANA 7, Western Kentucky 0. 
8:01 p.m. ET — Indiana loses the toss, but Western has elected to defer. Indiana will get the ball first. Indiana. takes over on the 21. And the very first pass? It's dropped. D.J. Matthews was wide open over the middle. Drops were a huge problem last week in the lost to Cincinnati. But a nice catch on third down on an out route to Ty Fryfogle for a first down. 
7:45 p.m. ET — It's a "Black Out'' here at Western, so the Hilltoppers are dressed in black pants and black jerseys with red numbers and chrome helmets. Indiana in all-white tonight, with the red helmets. Hoosiers are 0-1 on the road this season, losing the season opener at Iowa 34-6.
7:30 p.m. ET — It's a beautiful fall night here in Bowling Green. The weather is literally perfect for football. The sun has just set, and it's 65 degrees 30 minutes prior to kickoff.
7:15 p.m. ET — If you're trying to find the game on TV, it's on the CBS Sports Network, and that's NOT your local CBS station. Here's all the information on how to watch. CLICK HERE 
Dave Ryan and former Georgia quarterback Aaron Murray are on the call. Jenny Dell is the sideline reporter. Many of you may know Jenny as the co-host of "Campus Eats'' on the Big Ten Network.
One of my all-time favorite episodes when was Dell ate the crazy-hot Loucifer wings at Buffalouie's in Bloomington for a segment on the show. It was a class. To watch Dell's visit to Buffalouie's to eat the hot wings, CLICK HERE