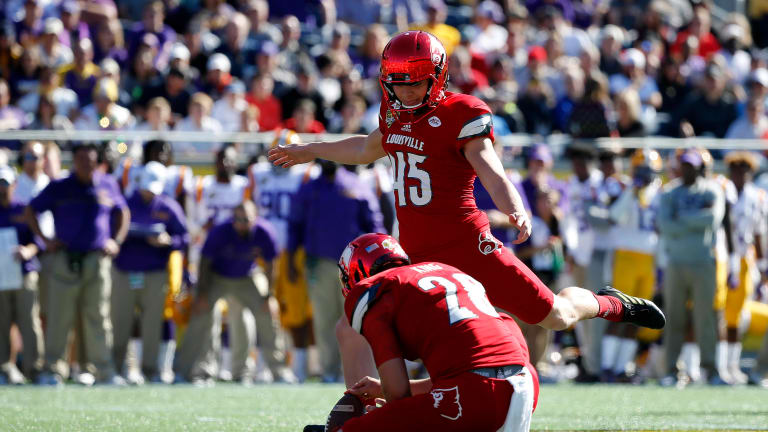 Creque out for the season
Senior kicker out for the year with torn ACL
Louisville football announced kicker Blanton Creque would miss the remainder of the season due to a torn anterior cruciate ligament (ACL) Oct. 28. The senior suffered the injury attempting to make a tackle in Louisville's 28-21 victory over Virginia.
Creque, a Shelbyville, Ky. native, was injured on a kickoff in the second half against Virginia. He plans to have surgery in the next few weeks.
He finishes his senior year with 57 points after making eight field goals and converting on all 33 of his extra-point attempts. Creque was 8 of 11 on field goal attempts this season.
Creque's career ends as the most accurate kicker in program history. As a four-year starter, Creque made 51 of 62 field goals for 82.3 percent. His 51 made field goals are third-most all-time behind Art Carmody and John Wallace.
Creque's sophomore year was his statistical best, making 17 of 20 field goals, which included a game-winning kick against Florida State in Tallahassee. He went 16 of 19 on field goal attempts during his freshman season.
He made a 41-yard game-winning field goal against Boston College this season for Louisville's first conference win since 2017. He finishes his career with 310 points, which is third-most all-time.
The Cardinals have four games remaining following a bye week. Louisville faces Miami Nov. 9 and then travels to NC State. Louisville will honor Creque and its seniors on Nov. 23 against Syracuse in the final home game and conference matchup of the season. Louisville faces in-state rival Kentucky Nov. 30.