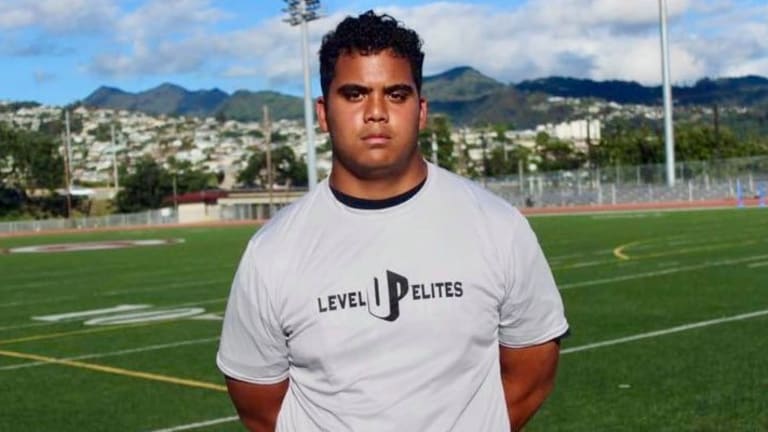 Offered 2022 OT Laakea Kapoi Talks Connection With Shaun Nua
Rising 2022 offensive tackle Laakea Kapoi was on the receiving end of an offer from Michigan Friday and shared his reaction to the news.
Coming from a football family, 2022 St. Louis (Hi.) High offensive tackle Laakea Kapoi knew his time as a top recruit would be coming, he just didn't know it would happen this soon. When Michigan defensive line coach Shaun Nua extended an offer to Kapoi on Friday, he knew that his time had arrived.
"I didn't know it was going to happen that fast," Kapoi told Wolverine Digest. "I had been talking to Coach Shaun Nua for a long time. He's really had his eyes on me recruiting-wise, but I didn't know it would happen that fast. Overall, I'm grateful for the blessings that have happened in the past month or so."
Unlike most college coaches, Shaun Nua had an opportunity to get to know Kapoi years ago, and he has watched the prospect develop into a 6-4, 305-pound three-star player. That preexisting relationship helped in this case, and Kapoi is a big fan of the Michigan defensive line coach.
"I knew him before he recruited me because he was my brother's D-Line coach at Navy," Kapoi said. "I kind of built my relationship off of that with Michigan and I. I thought he was going to contact me once I had my sophomore year done with. Building a relationship between me and him, it's been great."
Being located seven time zones away from Michigan, Kapoi admitted that he isn't overflowing with knowledge about the Wolverines' program, but that's something he'd like to change moving forward.
"I watched their games last year, and I like how they run the ball," Kapoi said. "That is something I can help bring to the table for the program."
Kapoi also added that he "loves" how Michigan has established itself as a school that does not shy from running the football often if it's working during a game situation. That is one aspect that appeals to the rising junior lineman.
Over the offseason, Kapoi has worked hard to show that while he can contribute in a meaningful way while run blocking, he is also well versed in pass protection and has worked on his technique over the summer months.
"I have the potential to run the ball and move guys from point A from point B," Kapoi said. "I'm not a 6-4, 300-pounder that cannot move. I have agility as one of my strengths. I can move laterally. I can fire off the ball fast. If you know my film, my pass block is one of my strengths as well. I can really handle guy son the edge, strong or fast, and I feel like I'm a balanced player with the run and pass blocking."
Right now, Kapoi's season has been pushed back, and they are looking at a return to the field in January of 2021, so there is still a bit more time until his junior season officially begins. Along that same line, Kapoi is unable to visit schools right now due to the recruiting dead period, but he knows where he'd like to make stops at once the dead period is lifted.
"Definitely Michigan, Arizona State, UNLV and Syracuse," Kapoi said. "Those are the top schools I want to go to. Until this pandemic dies down, I won't be able to do any of that yet."
All four of those schools have offered Kapoi, but he also holds a scholarship from Hawaii, and the Warriors were the very first program to extend an offer.
What do you think about Michigan's approach to recruiting the Pacific islands? Will Shaun Nua be able to get Kapoi on campus for a visit? Let us know what you think!