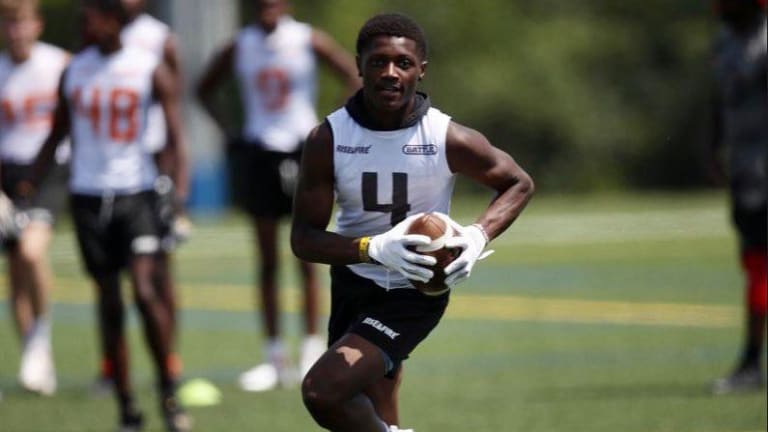 Publish date:
2023 WR Carnell Tate Showed Crisp Route Running At Prep Redzone Camp
Sophomore wideout Carnell Tate looks like one of the top players at his position in the Mdiwest.
At the Prep Redzone camp on Saturday, 2023 Chicago (Ill.) Marist wide receiver Carnell Tate was one of the top offensive players on the day despite checking in as one of the younger competitors in attendance.
Standing at 6-2 and 175 pounds, Tate was already one of the more physically gifted receivers at the camp. On a pretty regular basis, Tate used his quickness off the line to get a clean release, but his crisp route running really stood out. Whether he would stem a route to break open downfield or just run a simple route with sharp footwork and change of direction, Tate stood out thanks to those qualities as well as his soft hands. 
"The camp was great," Tate told Wolverine Digest. "It was well put together. For my performance, I did good. I had a couple drops where I didn't focus as much as I wanted to, but it was great to compete against high level kids like Saveon [Brown] and other DBs."
As Tate mentioned, Brown is another Power Five talent that was at the camp, and the two matched up a couple times with each player winning their fair share of reps. 
"I think my route running was what helped me the most," Tate said. "I was able to get separation when the ball was getting to me and was still able to get open and separate myself from the DB."
From a recruiting perspective, quite a few Power Five programs, Michigan included, have opted to get in on Tate early. The Wolverines offered Tate on Sept. 1, but since that time he has also netted scholarships from West Virginia, Iowa, Purdue and Minnesota. When considering his interest in the Golden Gophers, Tate rattled off several positive aspects of the program. 
"I talked to [offensive line coach] Brian Callahan and Coach [Gerrit] Chernoff," Tate said. "t was great. It's great because they know how to produce receivers. They had Tyler Johnson and Rashod Bateman. P.J. Fleck is doing a great job over there running the program."
Since playing in an offensive that will spread the football around is important to the rising sophomore prospect, Tate is paying attention to which college programs churn out quality receivers on a consistent basis. However, that is just one aspect he's taking into consideration when planning visits. 
"I will check out every program that has offered me from the Big Ten because the Big Ten is in the area, so I can just drive down then come back home," Tate said. "Honestly, I don't care where I go as long as I'll play with whichever program fits me best. Distance doesn't matter to me."
At the camp, Tate had on a Notre Dame shirt, but he's keeping his options open as there is still a lot of time before he plans on narrowing down his list of schools. Still, Tate was one of the standout performers from the late September camp. 
In the past, Tate has taken a trip to Ann Arbor with his school, so he's familiar with the general layout at Michigan, but he'd have to do more research in person to get a better feel for what a college football-playing future would be like with the Wolverines. But as he continues to develop and with standout performances like the one he engineered over the weekend, Tate is going to be in high demand. At this stage, however, he looks like a prospect that Michigan is going to want fight for as he effortlessly glided down the field and made a host of impressive catches.
What do you think of Michigan's ability to recruit Chicago lately? Can the Wolverines pluck another talented prospect out of the area? Let us know!