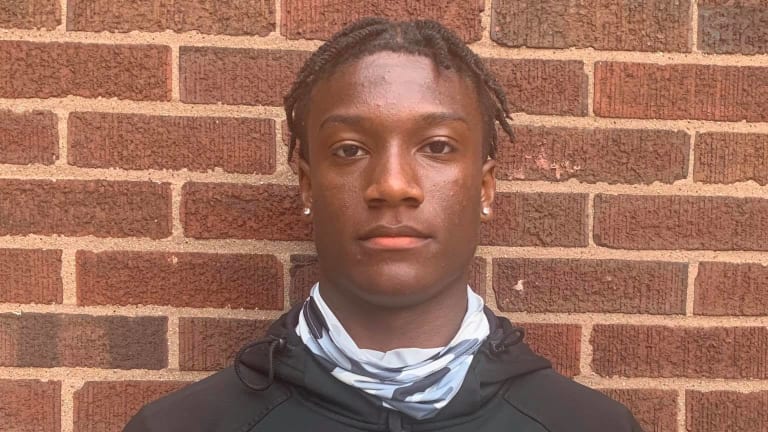 Publish date:
Michigan Targets Dominate At Prep Redzone Camp
A number of players already on Michigan's radar attended the Chicago-area camp on Saturday, logging impressive performances in the process.
Nearly 400 prospects that ranged from the 2021 to 2023 classes were in attendance at the Prep Redzone showcase in Naperville, Illinois on Saturday, and several of the attendees also double as Michigan targets. 
Most notably, one of Michigan's recent wide receiver offers went out to 2023 Chicago (Ill.) Marist standout Carnell Tate, and he donned the field wearing a Notre Dame shirt. Tate has offers from both Michigan and Notre Dame, but there's still a long ways to go in his recruitment, but he was one of the top performers on Saturday. 
Offensive Standouts
Early in the day, the offensive and defensive lineman battled it out, and there were quite a few impressive outings on each side. 2022 Woodstock (Ill.) Marian Catholic Central offensive tackle Luke Dalton stood out both with his blocking acumen and his measurables as the noticeably tallest OL in attendance. Dalton used his length to keep pass rushers at bay in those drills, but he also sunk his hips and drove hard off the ball in run blocking setups too. He doesn't have much recruiting traction going at the moment, but he's a player who looked great today and would have been mightily from a football season this fall.
After that, Fenwick (Ill.) High offensive lineman Jimmy Liston also acquitted himself well on the day. As a player with an early offer from Ole Miss, it would be expected that he'd shine on the day, and he did not disappoint, coming out on the winning end for the majority of his reps. 2023 East St. Louis (Ill.) High lineman Miles McVay is another player with serious Power Five offers to his credit already, and he moved well for his massive size. He will likely need to work on reeling in his weight a little bit and rounding out his physique, but when that happens he will be an impact player at the college level.
Wide receiver was probably the most loaded position at the camp in my opinion, and Tate headlined the group with an array of consistently impressive reps. Tate showed a couple different releases at the line of scrimmage, and as Brandon Brown put it on Twitter, he simply glides down the field in the process of reeling in catch after catch. Tate has a lot of Big Ten interest and is nearing in on 10 scholarships, and his profile is sure to raise in the future.
Tate is good friends with Chicago (Ill.) Simeon prospect Malik Elzy, and he was another prospect that was visibly more put together than most of his counterparts. Elzy used his size and speed to bully defensive backs during his routes, and he made quite a few big plays as well. Drops were a bit of an issue early on, but once he got into a rhythm the passes seemed glued to his hands. Right now, Elzy's only offer is from Michigan, so the Wolverines are getting in early on another Power Five talent from the Chicago area, a place they've done well at in the past.
The player that really stole the show was 2022 Chicago (Ill.) Kenwood Academy wide receiver Jalil Martin. Much like Tate and Elzy, Martin is physically strong at 6-3 and 186 pounds, and the lengthy receiver was just as competitive as any player on the field. Martin would beat players off the line more often than not, but he also ran crisp routes that created a lot of downfield separation. Martin came down with a bunch of catches that drew a reaction from the crowd, and his consistency is another aspect that really shined.
Like Dalton, Martin is still a rising prospect on the recruiting trail. His only current offer is from Bowling Green, and he had a very good chance of blowing up as a junior had his season not been interrupted due to COVID-19. Regardless, Martin was out there fighting through each rep, and he dominated from start to finish. He's a prospect that Michigan should really monitor moving forward.
Defensive prospects will be covered in a subsequent article. Follow along with @WolverineDigest on Twitter for more updates. 
What do you think of Michigan's recruiting track record in the Chicago area? Are there any particular players you hope the Wolverines focus on moving forward? Let us know!