Spartan Great Dave Rayner Starting Today As the Detroit Lions' Kicker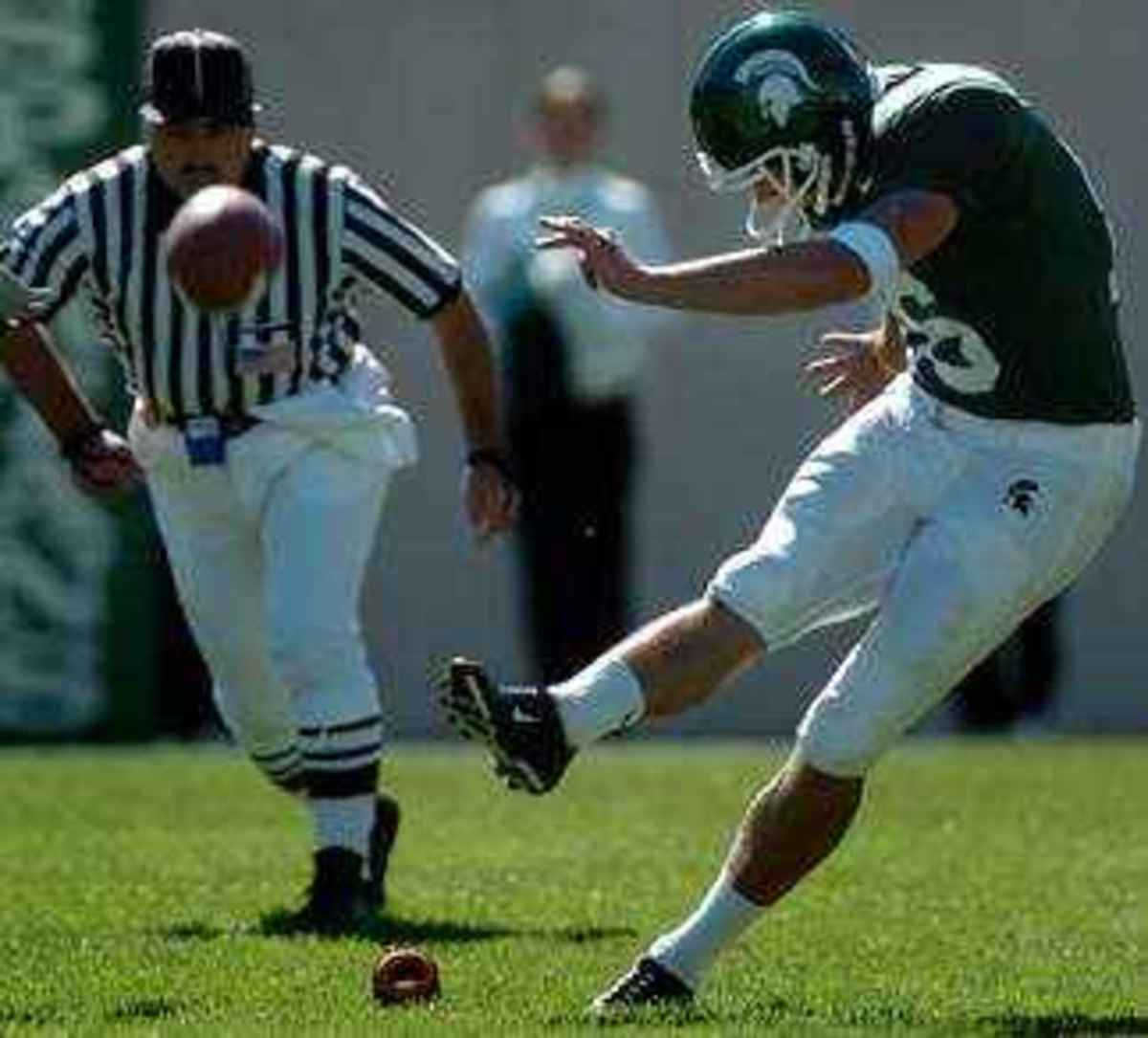 When Detroit Lions kicker, and 19-year NFL ironman, Jason Hanson suffered an MCL injury during the third quarter of last week's heartbreaking, 23-20 overtime loss to the New York Jets, a door opened for former Michigan State kicker Dave Rayner.
Rayner was flipping through the channels Sunday to check scores, and noticed Hanson's unfortunate circumstances.
Low and behold, Rayner, who hasn't seen live action in the NFL since Week 7 of 2008 with the Cincinnati Bengals (38-10 loss to the Pittsburgh Steelers) — received a timely phone call Monday, and he excitedly relayed the news to Spartan Nation Radio shortly after. Coming in for Hanson was a surprise to say the least.
"He's tough as nails," said Rayner. "He never goes down – he's been around forever, so I didn't really think much of it. And then I got a call Monday morning to come in for a workout…"
After winning the job, Rayner, an Oxford native, will don the Honolulu blue for the Lions (2-6), starting today against the hapless, and winless, Buffalo Bills (0-8) in Buffalo.
However, Rayner didn't get ahead of himself. One call is all it takes to end up a former pro, as he experienced the harsh reality first-hand when he was waived by the Bengals in September. With Hanson's status unclear, he is prepared to seize the moment and see where it takes him.
"(Hanson) told me it would be two to three weeks at least," said Rayner of Hanson's projected return. "I'm kind of in it for whatever I can do … I'm just excited to get on with the team, and my family is excited."
Staying prepared is what kept Rayner a viable option for the Lions. Even after an approximately two-year lay-off from in-game kicking, the hometown product conditioned up to three times a week – just in case.
Discipline was obviously a key factor to keeping in shape, but Rayner cited his father for instilling a relentless work ethic in him at an early age. Focus and discipline started at home for the now-28-year-old.
"He's one of the hardest workers I know, and you know, it's one of those things that I'm competitive," said Rayner. "I watch games on Sundays and know I can do what certain guys are doing. So it's just a matter of when you get that opportunity; you have to do go in and do your thing."
Consistency, consistency and more consistency – Rayner has it.
As a pro; he's converted 48 of 49 extra point attempts and 42 of 59 field goals — including 16 touchbacks and a career-long 54-yard field goal.
So, minus the blistering winds, torrential downpours and lackluster weather that he's endured in Cincinnati, Kansas City and Green Bay (played with Indianapolis indoor; great weather in San Diego); Ford Field should serve as a prime venue for Rayner to showcase his abilities. In fact, kicking indoors makes most kickers better, right?
"I think it does," he said. "I've always been, obviously, kicking at Michigan State. In high school growing up, we never had the luxury of kicking indoors. I think it really does.
"I think it's actually prolonged Jason's (Hanson) career. You never have to worry about the elements … I definitely think it does play a part … you have no excuse when you miss a field goal in a dome. You can't blame it on the weather; you can't blame it on the field. It's all on the kicker, which I like."
Rayner talked about warming up and how he gauges his range. He said he doesn't back down when a coach asks him 'Can you hit a 60-yarder.'
But the important question is: How excited are you to kick for the Lions, Dave?
"You know what man, I was pumped. It was weird — because at the same time, I was excited — but I felt this amazing amount of pressure," he said. "I've been to a bunch of workouts — I've done this for awhile. But, man, I probably had 20 phone calls yesterday and texts — people saying 'Hey man, this will be perfect: Hometown kid, hometown team … man, it's a fun thing, you know, it's a cool thing."
If things fall into place for one of the greatest Spartan kickers of all-time, a permanent position with Detroit could be in Rayner's future. He respects his predecessor, who has had, arguably, a Hall of Fame career. But there comes a time when the end of one's road is the start of a new journey for another.
That's not to say Hanson's career is over, but Rayner — prepared as always, is ready should the Lions need his services on a full-time basis.
"I'm Jason's biggest fan —his body-of-work in unbelievable," said Rayner. "If I can have half the career he's had it would be awesome. At some point, you know, you've got to give it up, and your body starts to give up … it would be awesome to get in here — I would love it. I would love to play for the hometown team and get to stay around this area. It'd be great, man. We'll see — we'll see what happens."