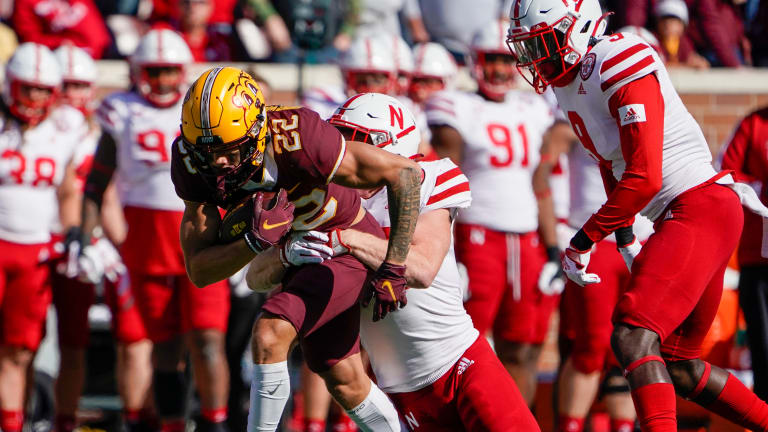 Feit: 'Biggest Game' Fatigue
Ready for the bye week after Huskers fail test at Minnesota
I'm exhausted.
I'm worn out from the ups and downs of this team and this program. Every game is presented as the "biggest game" of the season and/or Scott Frost's tenure at Nebraska. Every game is viewed as a referendum on the program, the coaching staff, players and everything short of the guy who drives the bus*.
*My sources tell me the bus driver is doing an excellent job, and deserves a raise.
After the game, we end up with one the following scenarios:
Nebraska beats up on lesser opponents like Buffalo, Fordham, and Northwestern: Everything is great! Now is Nebraska's time. Contract renewals for everybody, and a cash bonus for the bus driver!
Nebraska loses a close game to a ranked team: We're sooo close! Just have clean up a few nagging issues and we're right there! Maybe replacing a coach or two will help get us over the hump.
Nebraska loses a stinker of a game against a team deemed as "inferior" by the fan base: FIRE EVERYBODY! Burn the program to the ground and start over. Nothing works and everything sucks. Let's focus our energies on the volleyball and bowling teams.
Who knows, maybe the notion that "every game is the most important game of the season" is accurate. If so, then wouldn't the subsequent results tell us everything we need to know about where the program is at?
I look at the Minnesota game the way I looked at several other games - Michigan and Michigan State especially: it was a game Nebraska could have won. Last week arguably was a game Nebraska should have won. That they didn't win says a lot about where things are at, and what needs to be fixed.
But mostly, I find the "every game is the most important game" idea to be exhausting. If it is exhausting to me as a fan, I can only imagine what it is like for the coaches and players.
I don't know about you, but I'm ready for the bye week. Hopefully, we can all recharge our bodies and minds, think about what we want this program to be, and start figuring out how to get it there.
Things I believe
Nebraska won the third quarter, again. Remember when the narrative about Frost and Nebraska was that they could not make halftime adjustments? You don't hear much of that anymore. And for good reason.
The Huskers came out firing on all cylinders in the third quarter. The offense scored seven points and gained 139 yards. The Blackshirts awoke and intercepted two passes while limiting the Gophers to just 37 yards and two first downs. Heck, Nebraska even had a punt return in the third quarter.
For the season, Nebraska is outscoring opponents 73 to 32 in the third quarter. Now, we just need to figure out how to win at the end of the fourth quarter.
The Nebraska coaching staff sees no difference between a four-star WR and a walk-on. On the first play of the game, Adrian Martinez faked a handoff to walk-on receiver Brody Belt before losing a yard on an option keeper. At halftime, walk-on receiver Wyatt Liewer had more receptions (1) than scholarship receivers Omar Manning, Zavier Betts, Oliver Martin, and Samori Toure combined (0).
I've been critical of the playing time of Nebraska's touted receivers all year long. But I've concluded that in the eyes of Scott Frost and Wide Receivers coach / Offensive Coordinator Matt Lubick, they see their players as interchangeable parts. Faceless equals who are all capable of producing the same results on the field, no matter the situation.
While I'm giving benefit of the doubt, I'll also go ahead and assume Frost and Lubick also believe the less touted members of the room are playing up to the caliber of the highly touted recruits with the NFL bodies. Therefore, it doesn't matter if the four-star recruit, FCS All-American, or JUCO all-star are in the game or not. Somebody equally capable is there to carry the load.
Scott Frost does not respect P.J. Fleck and his program. Imagine Frost and P.J. Fleck are playing one-on-one hoops in the driveway. Frost is the older brother, physically gifted, and capable of beating anybody. Fleck is the annoying little brother who is a head smaller and won't shut up. Frost feels he can show up, impose his will, and leave with an easy victory. Instead, Fleck uses a combination of creative scheme and crisp execution to dominate the game.
This sums up the Frost vs. Fleck matchups after their first meeting in 2018, a 53-28 Nebraska win. Coincidentally, that was Frost's first win as Nebraska's head coach, and improved his record to 1-6.
In 2019, Minnesota was 5-0, but still not ranked when the two teams met. The Huskers got blown out 34-7. Afterward, Frost criticized his players for wearing hoodies during warmups.
You saw it again in 2020 when Minnesota came to Lincoln severely limited by COVID-19. The 2020 Huskers acted like they could get a 20-point win just by showing up. Instead, they were outcoached, outplayed, and outscored.
You saw it in July at Big Ten media days, when Frost - who spoke shortly after Fleck - said his team "did not need sloganeering" to get motivated.
And you definitely saw it on Saturday when Nebraska was - once again - outcoached and outplayed by a Gopher team that clearly wanted to beat Nebraska. Frost and the Huskers acted like they expected a repeat of the Northwestern game, without bothering to exert a ton of effort or energy. This game was headed for a physically dominating blowout in the second quarter, but Fleck got greedy and tried for a kill shot via an elaborate trick play.
Hopefully, if Frost returns for the 2022 season, he'll give Fleck and Minnesota some more respect. Fleck may be annoying, but the scoreboard says he's earned the right.
Things I don't know
What can be done to avoid the slow starts? The Huskers looked like they were sleepwalking through the first half in Minnesota. The Huskers used a combination of poor execution on offense and a passive approach on defense to dig themselves a 21-9 hole.
This isn't the first time it has happened. Three of Nebraska's road games have started at 11 a.m. (Oklahoma and Minnesota) or noon (Illinois). In those three games, the Huskers have been outscored 44-21 in the first half. Without digging through past games, this is not exactly a new phenomenon in the Scott Frost era. Nebraska tends to play early games like a team that would rather sleep in.
So how do you fix it?
Honestly, I have no idea. The ironic (or sad, depending on your point of view) part is this team practices in the morning. Therefore, you would think they're used to being ready to roll before lunchtime. I don't understand how a team fighting for a bowl bid (and possibly the jobs of their coaches) isn't ready to go any time of day.
Should Nebraska have gone under center on 4th & goal? You know the moment in the middle of the third quarter. The Huskers have driven the ball down inside the Gopher 10. Adrian Martinez is ruled down just inches short of the goal line on third down, setting up a crucial fourth and goal. Nebraska lined up in shotgun, and Martinez gave the ball to Jaquez Yant. Yant appeared to stumble at the start of his run, and fell short of the goal line.
For a long time (going back to a tremendous goal line stand in the 2010 Mizzou game), I've said that if you run out of the shotgun inside the five-yard line, you deserve to fail. Man up, go under center, and get your dadgum points.
But I'm starting to change my tune. Here's why:
As much as you and I may not like it, Nebraska is not an "under center" team. I couldn't find a stat, but I'd guesstimate that Nebraska goes under center less than twice a game. Honestly, two per game is probably too high an estimate. If NU isn't doing it in a game, they likely aren't doing it a ton in practice either.
Going under center introduces a ton of less-familiar variables (the exchange, Martinez getting stepped on by one of his linemen, the speed of a penetrating defender, etc.) that can all go wrong. In a high-pressure situation, stick with what you're comfortable with.
Nebraska had a good play call that was poorly executed. If Nebraska needs one yard, I'll take my chances with Yant going up the middle with a head of steam all day long.
I still believe good teams need to be able to get a yard under center any time they need it. But I'm realistic to know that good teams do not have 3-5 records, so they should do whatever they need to do to score.
Can Nebraska salvage a bowl game? The Huskers need three wins out of their remaining four games (Purdue, Ohio State, Wisconsin, and Iowa) to get to six wins.
The good news is three of those games are at home (only the Wisconsin game is on the road). Nebraska has played well at home this year, and the fans are ready to help will this team to victory.
The bad news is…. well, there's a lot of bad news. Let's start with how those three home games are against teams currently ranked in the Top 25, with Iowa and Ohio State in the Top 10. Then, there is Frost's career record against Wisconsin, Iowa, and Ohio State (zero wins). Finally, the health - both physical and mental - of the Huskers is questionable. There are a lot of banged-up players, and I can only imagine their mental state after so many heartbreaking losses.
Anything is possible. If we learned anything this past weekend, it is that any Big Ten team can beat anybody else. But somebody should probably look into the likelihood of 5-7 teams getting bowl bids this year... and then do a straw poll of Husker players to see if they would vote to go to a bowl game this year.
5 things I loved
Cam Taylor Britt. All hail the return of 2020 Cam Taylor-Britt! CTB was all over the field, making big play after big play. The biggest was an interception that turned a touchdown into a touchback. He also sniffed out a first half trick play that resulted in a 12-yard sack and got Minnesota out of their offensive rhythm. Throw in a half dozen more tackles, including another one for loss.
Austin Allen. The Aurora native earned himself some NFL money on Saturday. Five catches for 121 yards and a touchdown, most coming in critical situations. Whenever Martinez needed a big play, he threw it to Allen.
Rahmir Johnson. Before he took a helmet to the head, Johnson was having another strong performance. A team-high 83 yards on 11 carries. He only had one reception, but it was a nifty little snag that he made look a lot easier than it was.
Levi Falck. No sarcasm or snark here: Levi Falck had another solid game on Saturday. Four catches for 36 yards won't endear him to the Twitter and message board experts, but let's respect him for what he is: a reliable target who is almost always open for an eight-yard gain.
Punting game. William Przystup had another strong day punting (a 48.2 yard average on four punts). But the special teams highlight of the day - possibly of the year! - was an Oliver Martin punt return that went for 6 (SIX!!!) yards in the proper direction! This brings Nebraska's total return yardage for the year into double digits at 14!
Honorable Mention: Erik Chinander, Zavier Betts, Omar Manning, JoJo Domann, Garrett Nelson, Deontai Williams, Ben Stille, Brendan Franke, anybody who donated for the $5 Bits of Broken Chair-ity game.
5 areas for improvement
Red zone offense. If you're looking for a reason Nebraska lost this game, look no further. Twice, the Huskers had the ball inside the Gopher 10 yard line. Twice, they came away with zero points. Covert a touchdown and a field goal in those opportunities, and we're talking about a hard-fought road win.
Adrian Martinez. Nebraska's best player picked a really bad time to have his worst half of the year. Martinez was 6-14 passing for 62 yards in the first half, with -8 yards rushing. He picked it up after halftime (12-19, 179 yards, 1 TD), but the safety (caused by taking way too long to make a decision) was a monumental mental error. There are rumors of injury (maybe his smallpox or lupus is flaring up), but he looked all right on the option plays.
Connor Culp. Good news: Culp apparently talked Frost into trying a 50-yard field goal, which he nailed. Bad news: His second-quarter PAT and 27-yard FG attempt in the fourth quarter never had a chance. ESPN said Culp is battling a hip flexor, which raises two questions: 1) Does NU have another placekicker? 2) Are we sure? Because ESPN also thought Taylor Martinez was playing quarterback.
Player safety. A clearly dazed Rahmir Johnson had to be escorted to the Nebraska sideline after a Minnesota player put his helmet into Johnson's earhole. I have no reason to believe the hit was malicious, and there's probably a reason why targeting is never called between the tackles. But when a player gets knocked so hard that a ref has to help him to the bench, maybe we should pause and take a look at what happened.
ESPN2. One of the downfalls of being a bad team playing another mediocre team at 11 a.m. is you don't exactly get the best and brightest announcing teams. Enter Saturday's team of Brian Custer and Kelly Stouffer. I'm pretty sure Custer had an obstructed view seat as he missed a lot of things that were visible to the rest of his audience - including the name of the starting quarterback. Stouffer, a Scottsbluff native and Colorado State grad, was clearly offended by Martinez's poor performance. Personally, I would think that somebody with career stats like Stouffer (7 TD, 19 INT, 51.5% completions in 22 NFL games) would be happy to not be the worst QB in the building.
---
---