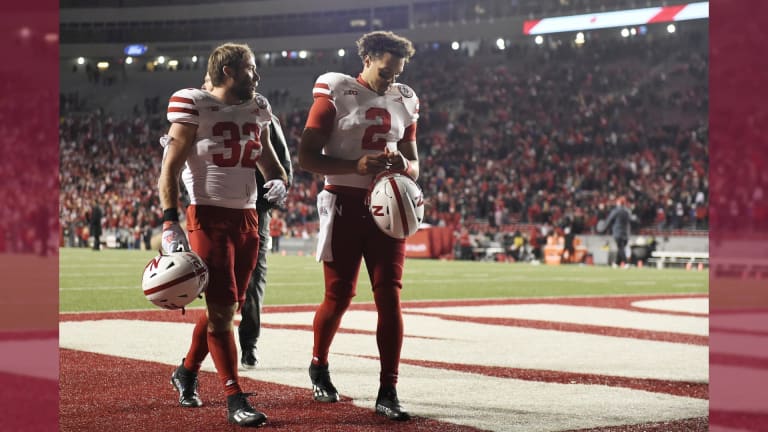 Feit: Huskers Showed Heart in Madison
Odds didn't favor Nebraska taking Wisconsin to the wire
I didn't see that coming.
Oh, I'll be honest: I expected Nebraska to lose. Again.
But I was not expecting another edition of "one-score loss, with the ball in their hands to tie/take the lead". There were so many compelling reasons why this would be the time it would fall apart.
Nebraska fired four offensive assistants, including the offensive coordinator.
Aside from Ron Brown, you needed to be a fanatical fan to know the names of the interim replacements.
Wisconsin's defense had been playing at an elite level for the past month. Nebraska's offense had been a little closer to inept.
The Badgers offense was peaking, with the latest model of their running back assembly line looking like a future All-American.
Nebraska was 3-7 with no hope of a bowl game, no hope for a winning season, and little to play for other than draft tape.
Nebraska has not beaten Wisconsin since 2012, and has not won in Madison since 1966.
Frost's teams lost to Wisconsin by 17 and 16 points before the Badgers were "too scared" to play in 2020.
In other words, I didn't think it would be a Pelini-era blowout, but I didn't give Nebraska much of a chance.
But these kids fought.
Wisconsin punched them in the mouth on the opening kickoff. Nebraska fought back. The Badgers cruised down the field for a touchdown. Nebraska fought back to tie it. The team wearing red jerseys and white pants hit a big play, and the team wearing white jerseys and red pants fought back to make a big play of their own. Wisconsin scored five touchdowns. Nebraska answered four of them, and was 21 yards (or one missed call) away from answering a fifth time.
We can say a lot of things about the 2021 Nebraska Cornhuskers. So much has happened. So many things have gone right and wrong in this blur of a season. But the main thing is these kids - and their coaches - never give up. That was obvious in Week 0, was still true after Purdue, and I expect it to be the case on Black Friday.
Nebraska may have deficiencies in talent, scheme, coaching, depth, execution or any of a dozen different things. We can discuss and debate these issues - and how they should be fixed - from now until the Northwestern game next August. But one thing is crystal clear: The effort, heart, and hustle have never been the issue.
Things I believe
There was pass interference on Nebraska's final offensive play. Of course, there was. You know it. I know it. The Wisconsin team and fans know it. Hell, the refs knew it too.
So why wasn't it called? I still firmly believe it is NOT because of some deep state conspiracy against Nebraska. Such a conspiracy would require widespread, yet secretive coordination between Kevin Warren the Big Ten officials - two entities not exactly known for being competent.
Nebraska didn't get that call because no official wants to "decide" a game in the final 15 seconds (even though a no-call does exactly that). I'm guessing a questionable pass interference call on Wisconsin earlier in the drive may have played a role as well - even though that DPI was unofficially offset by a selectively timed* holding penalty on the next snap.
*To be clear: that was definitely holding. Even with the Big Ten's overall indifference to holding penalties, the hold gets called 6 out of 10 times. But I'm saying that it gets called 10 out of 10 times after the other team is hurt by a bad penalty.
Yes, the definition of defensive pass interference should be the same at the end of the fourth quarter as it is at the end of the 1st, 2nd, or 4rd quarter.
Yes, once again Nebraska did not get the call.
Yes, once again Nebraska put themselves in a situation where the officials could (intentionally or not) impact the game.
Guess which one Nebraska can control.
The running back rotation is still a mess. In looking for a short-term silver lining to the departure of offensive coordinator Matt Lubick and running backs coach Ryan Held, I hoped we would see some stability and sanity in the usage of the running backs. Too often we've seen guys go on the milk carton while the RB du jour struggles to gain three yards a carry.
With Rahmir Johnson injured and Sevion Morrison no longer on the team, the situation should have been clearer than ever. Instead, Markese Stepp started and had nine carries - none in the second half. Brody Belt - once a RB, now listed as a WR - had his first carries since November 23, 2019. Marvin Scott III saw his most extensive time as a Husker, adding nine carries of this own. Jaquez Yant traveled but did not play.
All in all, it was "running back by committee" if four of the best committee members were out of the office, so the guys who showed up took turns doing their best. It's too bad Wan'Dale Robinson is no longer on the team. He probably would have gotten 30 carries on Saturday.
Clock management was not the issue on Nebraska's final drive. On Sunday, I saw some folks saying that Frost did a poor job managing the clock on Nebraska's final drive. They point out how if Nebraska had gotten the DPI call, they would only have had 4 seconds left to score a tying touchdown. The contention is that Nebraska should have used their timeouts down the stretch to have some cushion built in.
Actually, I thought Nebraska's clock management was pretty darn good. Ideally, Nebraska would score the tying touchdown with less than 10 seconds to go, eliminating the chance of Wisconsin getting another big play to set up a game-winning field goal.
The play calling - especially after the holding penalty put NU at 1st and 20 - is a different story. There were several things Frost (and an injured Martinez) could have done to move the ball closer to the end zone instead of throwing four big passes.
Things I don't know
How does anybody think Nebraska does not need a full-time special teams coordinator? Here are some things that happened in another one-score loss:
The opening kickoff was returned 91 yards for a touchdown.
Nebraska returned one kickoff short of the 20-yard line, when a fair catch gets the ball to the 25.
Nebraska botched the fair catch of another kickoff and had to start at their own 6.
A net punting average of 28 yards.
Zero punt return yards.
For the sake of argument, let's say in 2022 the defense continues to improve (questionable, considering the talent that will be leaving) and the offense takes a gigantic step forward (also questionable with a new staff and possibly a new quarterback). The general ineptitude of the special teams would continue to cost Nebraska in their games.
Yes, we all know that Bruce Read - and his infamous salary - did not work out. But does it mean that every special teams coordinator would have the same result? Should we resign ourselves to fair-caught punts, pivotal kickoff returns, and going for every fourth down because we don't trust our kicker or punter? Of course not. If special teams is truly the "third phase of the game" (as every coach in the history of the game has said), it is time for Nebraska to treat it that way.
Find somebody good, even if it means the tight ends have to share a coach with the wide receivers.
How many Huskers will play their final game Friday? Between the super seniors, juniors and seniors not looking to take advantage of their extra year of eligibility, players looking to test the NFL draft, and the guys looking for greener grass in the transfer portal, there should be a decent number of guys making their final appearance in Memorial Stadium on Friday afternoon.
How many? I don't feel right speculating about the guys I could see leaving, but I've learned to expect the unexpected.
Cheer loud for the guys going through Senior Day. Their time didn't go the way they expected it to, but they worked hard to establish a culture and foundation for growth.
I hope anybody with remaining eligibility will take the time to gather all of the available information before making a decision. Seek out an honest assessment from the coaches on their NFL dreams and their prospects to start/contribute in 2022. What NIL opportunities exist here, and is there really anything better at a new school?
With a small recruiting class coming in, Frost's biggest opportunity to improve his team will be keeping as many of his top players as possible.
How hard is it to watch a Nebraska game after it occurs with no DVR and no spoilers? Saturday was my oldest daughter's 13th birthday, and we spent the day celebrating her. My mission: find a way to watch a Nebraska game after it had aired, with no DVR, and avoiding spoilers of what happened.
Finding the game was the biggest challenge. Nebraska played on ABC/ESPN, which does not have as many rewatch options as FOX/BTN. The Watch ESPN app had a section of "event replays". I could have watched Oregon vs Utah, Ole Miss vs Vanderbilt, or even North Texas vs FIU, but no Nebraska. I was so desperate I looked into signing up for BTN Plus - but it appeared the most recent game I could watch was NU-Purdue.
Finally, I was able to find a "full game" replay on YouTube. It had the appearance of something that was being disseminated without the express written consent of the Big Ten Conference. The video was choppy and about a second behind the audio. The commercials were cut out, but so was the opening kickoff and several plays that happened after a TV timeout.
As for spoilers, despite my best efforts, I fell short there too. I disabled notifications on my phone, avoided social media, and kept myself from glancing at nearby TVs. But I walked into a room where the game was playing just in time to hear "Martinez throws his second interception of the day, and Wisconsin takes over up seven". Later, I heard a studio commentator mention the "Wisconsin win". Finally, when I was trying to find the YouTube replay, one of the results was "Controversial Ending". To borrow Frost's favorite analogy, I got to watch the movie knowing that a groin kick was coming, just not knowing where or when. That didn't make it any better.
5 things I loved
Adrian Martinez. If this was last call for 2AM, then it was a perfect encapsulation of his Nebraska career: big plays, keeping things alive with his feet, playing hurt, gaudy stats, two turnovers, and a missed opportunity to tie the game on the last possession.
Austin Allen. Add another seven catches for 143 yards to his amazing season. Allen looks like a lock to be Nebraska's first tight end taken in the NFL draft since Tracey Wistrom in 2002. As an FYI, the last NU tight end to go higher than the seventh round was Johnny Mitchell in 1992.
Samori Toure. With 831 receiving yards on the season (including 113 against the Badgers), Toure sits in ninth place on the NU single season yardage list, (one yard ahead of J.D. Spielman's 2017 season). Toure would need 174 yards to pass Stanley Morgan for 1st place. While that seems unlikely, fifth place (Jordan Westerkamp, 2015) is only 88 yards away.
Garrett Nelson. The pride of Scottsbluff had another strong day with a team-high six tackles, Nebraska's lone sack, and a nifty pass breakup in coverage.
Youth Movement. Did you notice the newcomers - both wearing #24 - making an appearance on the field? Prized recruit Thomas Fidone made his NU debut down on the goal line on Nebraska's first drive. The defensive 24 (Blaise Gunnerson) played extensive snaps after Caleb Tannor left with an injury. Lots of youngsters saw some high-leverage snaps including Isaac Gifford, Nash Hutmacher, Marvin Scott, Alante Brown, and others.
Honorable Mention: Ben Stille, Luke Reimer, Brody Belt, Travis Vokolek, Marvin Scott III, the YouTuber who posted the game for me.
5 areas for improvement
Special Teams. Nebraska did not lose this game due to special teams. But special teams definitely did not do NU any favors.
Turnovers. Nebraska's propensity to turn the ball over is only matched by their inability to get turnovers. It is not easy to beat a Top 20 team. That degree of difficulty really goes up when you are minus-two in turnovers.
Cam Taylor-Britt. Let's start with something I liked: Cam had great hustle to try to chase down Braelon Allen on this 71-yard touchdown run. He almost kept him from scoring. Unfortunately, that happened after Taylor-Britt had a chance to tackle Allen near the line of scrimmage, but tried to blast him with his shoulder instead of wrapping up with his arms.
Tackling. When you play a team like Wisconsin, the first guy needs to wrap up while the team rallies to the ball. Too often the Blackshirts were left grasping at air.
Taylor Martinez. If it is the end of the Martinez era, nobody will be happier than the play-by-play crews. By my count, the ABC crew referred to Adrian as "Taylor" twice on Saturday. I think this brings the season total to 38.