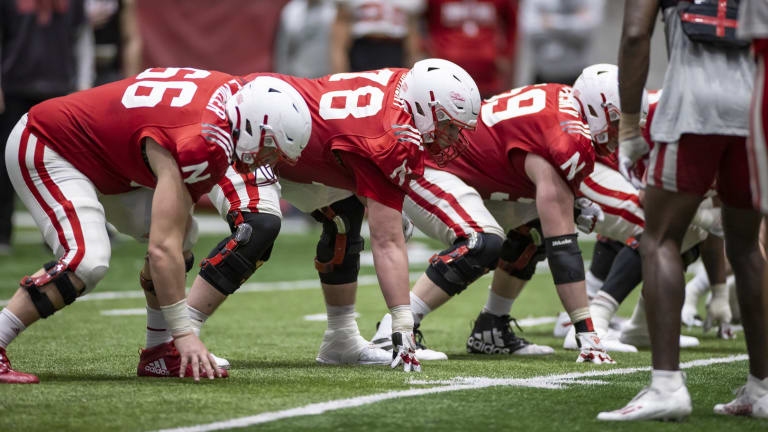 Husker Dan: Offseason Infusion for the O-Line
With starters to replace, Nebraska pulled in a pair of transfers. Will that be enough this fall?
The heart and soul of any good football team is its offensive line. There's no position that requires more discipline or technique than offensive linemen. Success as an offensive football team hinges on their ability to control the line of scrimmage. - Scout, Inc.
Several areas of concern surround the Husker football program going into this fall. One of them is the offensive line. 
It's not just the departure of two key players. Cam Jurgens, a three-year starter at center, opted for this year's NFL draft. Matt Sichterman started every game last year at right guard but retired from the game. Both players had remaining eligibility. 
So you need a couple of big offensive linemen? Just dial up the transfer portal. And that's what Frost & Company did in the off-season. Who did they get?

The first O-line commit was Hunter Anthony, who transferred from Oklahoma State in January. He is someone who can be plugged into a couple of spots. At 6-6, 320, Hunter has 23 games of experience under his belt. What makes him even more valuable is he played both right guard and right tackle for the Cowboys.
Another January transfer is Kevin Williams Jr., an Omaha North High product who came to Nebraska via the University of Northern Colorado.
At 6-6, 330 pounds, Williams could be a force this fall. He will be a senior this year, but hopefully that will be enough time for him to help shore up the Husker O-line.

Who else does Nebraska have on the roster who can play this fall? Luckily, there are some potentially really good players who bring experience and provide depth. Let's look at them.
Teddy Prochazka, 6-9, 305, So. Played in five games last year before suffering a season-ending injury. (Elkhorn, NE)

Bryce Benhart, 6-9, 330, So. Started 10 games in '21 at right tackle. (Lakeville, MN)

Nouredin Nouili, 6-4, 315, Jr. Played in every game in '21 with the last seven games at left guard. (He was a walk-on transfer from Colorado State.)

Turner Corcoran, 6-6, 300, So. Played in every game last year, starting 11 games (none at left tackle and two at right tackle). (Lawrence, KS)

Trent Hixson, 6-4, 320, Sr. Played in five games in '21 with two starts at left guard. (Omaha, NE)

Broc Bando, 6-5, 315, Sr. Played in nine games in '21 on the O-line and special teams. (Lincoln, NE)

Brant Banks, 6-7, 305, So. Played in nine games last season with one start at left tackle. (Houston, TX)
Others such as Riley Moses, Noah Stafursky, Michael Lynn and Ezra Miller also have some game experience and will be doing all they can to vie for playing time this fall.
Among the challenges this summer for O-line coach Donovan Raiola (himself an offseason addition) will be determining his five starters for season opener Aug. 27. He'll also need to decide which positions each of them will play this fall. And maybe his toughest assignment is making the O-line function as a unit. In about 75 days, the 2022 Husker football season will begin. Time is dwindling.

Running the ball will be critical to the Huskers' success this fall. We know it will be a long, rugged season. Inches will matter in every game. Will the O-line be up to the task?
If Donovan Raiola can work his magic, the Huskers should be fine.
How 'Bout Them Huskers
This week, grandson Will and I review in greater depth the '22 Husker offensive line. We also talk about how some of the preseason college football magazines rate Nebraska. Thanks to all of you who listen to our podcasts!
---