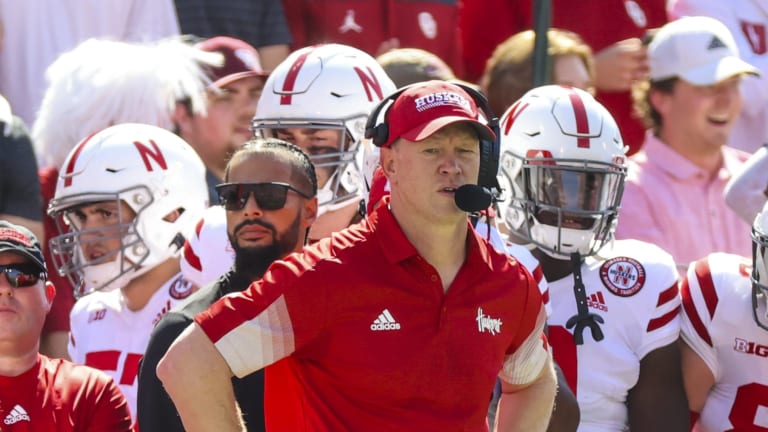 Pernell: Does Scott Frost Deserve a Fifth Season at Nebraska?
Anything worse than a 2-2 finish could force Trev Alberts' hand
Scott Frost has been on the proverbial hot seat ever since the 2020 football season went sideways. It culminated with his third-straight sub-.500 season and fifth-place finish in the Big Ten West. The ensuing offseason, which included the transfers of cornerstone players Wan'Dale Robinson and Luke McCaffrey, didn't help the perception of the program's trajectory.
For a significant portion of the fanbase, apathy began to set in. Despite only allowing 50 percent capacity in Memorial Stadium, there were several thousand unsold tickets for Nebraska's Red-White Spring Game. In June, all 20 tour stops for the Big Red Blitz were sparsely attended, and there was general disinterest when the program held an event a few weeks prior to the season opener to unveil their alternate uniforms that were subsequently worn during their Sept. 11 game against Buffalo.
Be that as it may, each new season brings renewed optimism and Cornhusker fans were no different. Frost had repeatedly praised his roster heading into this season, proclaiming it his "favorite" team since being at Nebraska. He also called it his "deepest" and "most talented" squad while publicly praising the culture in the locker room. After all, Nebraska was returning a quarterback with 27 starts under his belt, 10 starters on defense, and according to Frost, the best collection of skill position players he's had in Lincoln.
All benefit of the doubt was squashed in the season opener, however, when the team went out and laid an egg against an awful Illinois team. Even though fans had not been able to watch their beloved Huskers play in person for 22 months, had it not been for the generosity of two donors, the NCAA-record home sellout streak would have been snapped the following week during the home opener against Fordham. Now you're seeing the school employ a buy one, get one free ticket promotion for this week's game against Purdue. Another desperate attempt to keep the sellout streak alive.
Nebraska sits at 3-5 and in last place in the division heading into their game against the Boilermakers (4-3). The team will need to go at least 3-1 the rest of the way to reach .500 and play in a bowl game for the first time since 2016. With a remaining schedule that also includes #5 Ohio State (6-1), Wisconsin (4-3) and #9 Iowa (6-1), the chances aren't good. In fact, it's more likely Nebraska goes 0-4 than 3-1. Remember, Frost is a combined 1-10 against Purdue (1-2), Ohio State (0-3), Wisconsin (0-2) and Iowa (0-3). Also keep in mind Frost is 0-11 against Top 25 teams, losing by an average margin of 16.5 points. Frost has won back-to-back games at Nebraska just four times (has never had a three-game winning streak), and has won back-to-back league games only once.
Far too often, we've seen Nebraska have an opportunity to build momentum and turn a corner, only for them to play uninspired against a marginal opponent. Or, when they've faced a competitive team, the moment is too big for them and they're either outclassed or find a way to lose. How will they play the last third of the season with their backs firmly against the wall?
At this point, in Year 4, we are seeing patterns. We are seeing trends. In Year 4, you better be showing tangible evidence on the field that shows the program is ascending. Has Frost done that? The same crippling mistakes have plagued the Huskers for four seasons now. They continue to commit untimely penalties and the special teams remain putrid, despite a renewed emphasis on them during the offseason. We consistently see questionable play calling, poor clock management and a lack of in-game adjustments. The team plays undisciplined and their attention to detail in critical situations during the game is a major problem.
They continue to turn the ball over at an alarming rate; Nebraska has fumbled 89 times (lost 38) and thrown 32 picks in 40 Frost-coached games. The offense has never really built any momentum throughout Frost's tenure. They seemingly are never in rhythm and lack any sort of flow or consistency. Even when the offense is playing well, it usually grinds to a halt in the red zone. Watching the offense continue to shoot themselves in the foot with formation and procedure penalties and false starts is inexcusable at this point. How many times have we seen the Huskers play a clean, disciplined, mistakefree game? A handful, maybe.
I think we're at the point where if Scott Frost knew how to fix these issues, we would be seeing signs of it by now. The most damning thing is, is that the issues aren't talent related. According to the 247Sports composite rankings, Frost's four recruiting classes at Nebraska have ranked 23rd (2018), 17th (2019), 20th (2020) and 20th (2021). Talent hasn't been the issue, development and player retention has been.
Instead, the problems are mental and psychological, and rooted in the culture Frost has cultivated. A culture that is all his at this point. No more blaming the previous staff. There are only 10 scholarship players on the roster who were recruited by Mike Riley. Three of them (Marquel Dismuke, JoJo Domann, Ben Stille) are back as super-seniors. Two of them (Cam Jurgens, Tate Wildeman) never played for the previous staff.

The team just can't handle adversity. Under Frost, Nebraska has had the ball with at least four minutes left on the clock in regulation or in overtime, with a chance to tie the game or take a lead, on 15 different occasions. They have failed to score a single point on 14 of those possessions. Overall, the Huskers have only won three games in which they have trailed at any point. The team has had a fragile psyche throughout Frost's time in Lincoln. It's been there since Year 1 and in Year 4, there are no obvious signs of that remedying.
Frost is 15-25 (.375 win %) as coach of Nebraska. He still doesn't have a signature win. Heck, he still hasn't beaten a team with a pulse. Of his 15 wins, five came against teams from the FCS (2018 Bethune-Cookman, 2021 Fordham), Sun Belt (2019 South Alabama) and MAC (2019 Northern Illinois, 2021 Buffalo). Of his 10 wins against Power Five opponents, only two of those teams (Minnesota, Michigan State) finished with a winning record. Both were 7-6 in 2018. Northwestern, who Nebraska beat October 2, is currently 3-4. The other seven were a combined 25-48 (.342 win %).
Does Scott Frost deserve a fifth season at Nebraska? That's the decision Trev Alberts has to make. Does Frost need to go 6-6? Would Alberts actually keep Frost if he finished 3-9 or 4-8? With his best team, is 5-7 really signs of progress in Year 4? Another losing season just isn't tolerable at this point. Ideally, Alberts wouldn't be making a decision of this magnitude after being on the job for only a few months. But that's where we are and that's the situation he's faced with. Despite only having one season to judge Frost with his own eyes, there is mounting evidence for Alberts to mull over.
There are 55 FBS coaches who have coached as many games as Scott Frost at their current school. Thirty-two of those coaches are also at Power Five schools. Among his peers, Frost ranks in the bottom 3 in overall winning %, winning % against conference opponents, winning % against teams with a winning record, winning % against teams with a winning conference record, winning % against Power Five teams and winning % against Top 25 teams.
So, I ask again, does Scott Frost deserve a fifth season at Nebraska? What has he done to prove he's the guy to move the program in the right direction? If he's still not capable of a winning season in Year 4 with his best team, how can anyone expect him to eventually build a team capable of competing for a conference title?
Would next season be any different? I have a hard time imagining next years roster being better. You're already set to lose JoJo Domann, Ben Stille, Deontai Williams and Marquel Dismuke on defense and Samori Touré on offense. There's also a good chance you're going to lose Cam Taylor-Britt, Austin Allen and Damion Daniels early to the NFL draft, while most expect this to be the last season for Adrian Martinez at Nebraska as well. That has the makings of a rebuilding year and another losing season. For those undecided about Frost's future, would a 5th losing season be enough to convince them a change is needed? Would it be better to start now?
Nebraska's 2022 recruiting class is its worst in modern history. It was initially stunted by the COVID-19 induced recruiting dead period which lasted 15 months, but more so, it's been affected by the losing and the questions surrounding Frost and his future in Lincoln. Its eight-player class is currently ranked dead last in the Big Ten and 76th nationally according to the 247Sports composite rankings. While the smaller class size naturally contributes to such a low ranking, the average grade for its commits still ranks 11th in the conference.
What happens if you keep Frost around next season? The 2022 class will be the smallest class in modern history for the Huskers. In 2023, however, the class size should again be closer to 20. How can you expect Frost to recruit a class of difference makers when he (likely) will be coming off four-straight losing seasons and his seat on fire? You can't, because he won't. If you replace Frost after next season, you're condemning the program to back-to-back deficient recruiting classes. That will make your next rebuild under a new staff that much more difficult.
Nobody wanted Frost to fail and nobody is looking forward to another coaching change. But, this offseason is conducive to change. A new coach could come in and be extremely selective with the high school players he signs. The current staff only plans to sign a class of around 13. A new coach could sign even less and instead look to the transfer portal. After last year's COVID eligibility freeze, Nebraska has 49 scholarship players who carry freshman eligibility. It wouldn't be a bad idea to fill the majority of the class with junior college and transfer portal players to help balance the roster.
If he were fired after this season, Frost would be owed a $20.4 million buyout, which is the 11th largest in the country. How much does that ultimately factor into the decision for Alberts? It shouldn't. The Husker football program is too important to the university and the state itself to let money factor into its vitality.

Nebraska is one of the 20 best jobs in the country. They will attract good candidates. The stain of "They fire 9-win coaches" has certainly been wiped clean by now. Prospective coaches will agree Frost was given ample time and support to build a winning program. They'll see a program with unmatched fan support and enviable tradition. The Huskers play in a prestigious conference and reside in a division where a path to the conference championship is much easier than its counterparts in the East.
Nebraska is one of the most profitable programs in the country. In July, the Wall Street Journal analyzed "each program's revenues and expenses along with cash-flow adjustments, risk assessments and growth projections." They concluded Nebraska was the 15th most valuable college football program in the country. A prospective coach would see the program puts those resources to use. When Nebraska hired Frost in December 2017, they made him the 10th highest paid coach in the country, according to USA Today. The budget they allocated for him to put his staff together also ranked among the highest in the country. Nebraska is building facilities that will rank among the nation's best when finished in time for the 2023 season.
The only drawback at Nebraska that other blue blood programs don't have to navigate is the inherent geographical recruiting disadvantage. You'll have to work harder than most Power Five programs to recruit blue chip players. But, again, the athletic department puts their resources to work. According to the most recent financial reports, Nebraska spent $1.3 million on recruiting, a figure that placed them 11th nationally.
Trev Alberts has a big decision to make and it will set the stage for how he is remembered. Does he give Frost more time? I think the only way he can do that is if Nebraska finds a way to go at least 2-2 the rest of the way. Anything less and his hand is probably forced. You can't spin 3-9 or 4-8 as progress in Year 4 of a coaching regime.