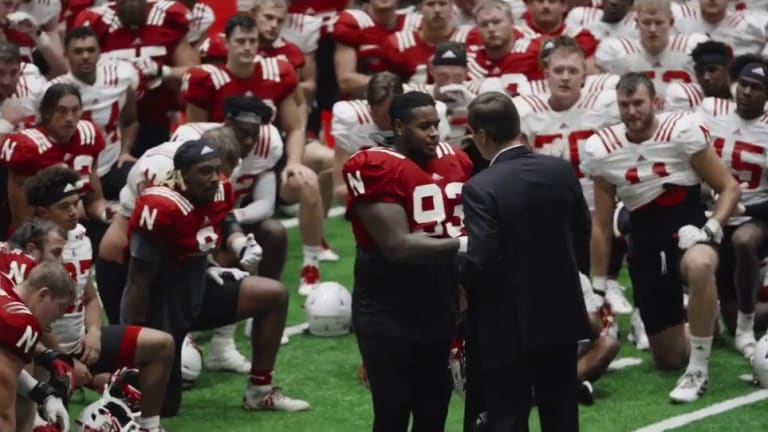 Monday Presser: Illinois Week
A dozen Blackshirts were issued at practice five days before the Nebraska football opener.
Husker players from the past provided an assist as Blackshirts were issued Monday morning to select members of the defense.
Twelve of the coveted practice jerseys were handed out in all, and presenting some of them were former Husker defenders Kenny Wilhite, Trev Alberts, Danny Noonan, Jason Peter, Jay Foreman, and brothers Chris and Chad Kelsay.
The recipients, some of whom spoke at Monday's weekly press conference: defensive linemen Damion Daniels, Ben Stille, Ty Robinson and Deontre Thomas; linebackers JoJo Domann, Nick Henrich, Luke Reimer, Garrett Nelson and Caleb Tannor; and defensive backs Cam Taylor-Britt, Marquel Dismuke and Deontai Williams. Thomas, Henrich and Reimer were first-time recipients.
Head coach Scott Frost and seven players fielded reporters' questions in advance of the season opener this weekend at Illinois. Cornerback Cam Taylor-Britt called Nebraska's 2020 loss to the Illini "old news."
Frost was unusually brief in his remarks, speaking for scarcely five minutes.
Follow the HuskerMax discussion, and get all the coverage and video below, including what was said at Illinois' press conference in Champaign. (Incidentally, neither team is releasing a depth chart.) Asterisk indicates item may require subscription. Refresh this page to be sure you're seeing the latest updates.
Commentary
---
Coverage
---
Audio/video recaps
HuskerMax/KLIN report
---
The press conference
• 21:15 Dismuke • 27:20 Piper • 36:30 Daniels • 43:35 Taylor-Britt • 51:40 Allen • 1:02:45 Martinez • 1:14:15 Domann • 1:33:50 Frost
---
From the other side
---
Info links