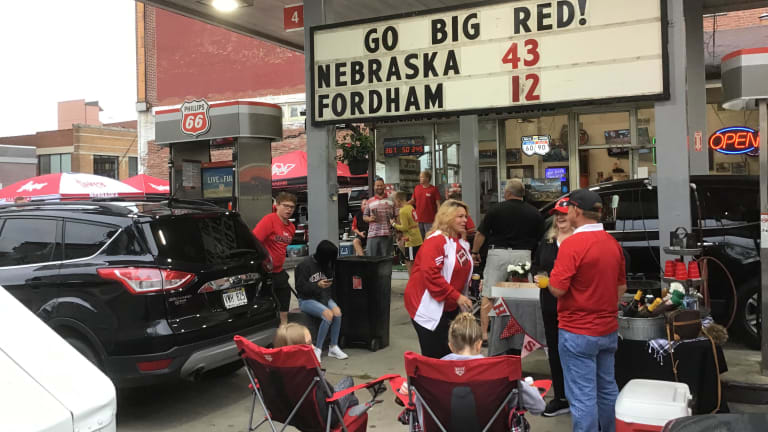 Stryker Pregame Perspective: Hopeful, Not Hooked
Nebraska football fans point toward an enthusiasm slide, especially in their kids.
When the Nebraska Athletics Department announced that Fordham — a school whose last glimpse of major college football glory was nearly a century ago — would be the opponent for the Cornhusker football home opener, it could reasonably be assumed that the excitement level would not be comparable to almost any other year's. Add the fact that it came on Labor Day weekend, and it's not surprising the sellout streak was in jeopardy until less than a week before kickoff.
For this edition of Pregame Perspective, I decided to check the pulse of Husker Nation without a survey. On an overcast morning about two hours before kickoff, I interviewed fans at tailgates in the Haymarket and near Broyhill Fountain on campus to ask them how their family's level of excitement and involvement for Husker football has changed over the past couple of years while watching the team finish below .500 through each of Scott Frost's first three seasons as head coach.
It was a pleasant enough morning after light rain showers let up shortly after 8 a.m. The level of downtown traffic was definitely lower than typically seen.
Jeff Pfeifer of Lincoln has been coming to Husker games since the late 1980s, when he enrolled at the university. A 1992 graduate, he remains a strong supporter.
"I'd say I'm still a Husker fan all the way through, always will be," Pfeifer said. "I'm still hopeful, but it's getting tougher. It's hard seeing the program not be where it should be, but still hopeful of good days ahead."
Tom Soukup of Lincoln has been a season ticket holder for 30 years. Like Pfeifer, he places himself in the "hopeful" category.
"I'm still here to support the team," Soukup said. "The level of excitement is down, but we're still here for Dear Old Nebraska U in all kinds of weather."
Cathy Meyers and her family drove about 40 minutes from South Bend to take in a tailgate and the game. She and her husband are big-time supporters, evidenced by 40 years of regular attendance, but it's questionable whether that passion will move on to the next generation.
"The parents are diehards, but the kids are not," she said. "They've lost interest. They're more interested in volleyball, because they play well."
Jason Hullinger and his wife and three teenage children made the six-hour drive from Gering on Friday to spend the weekend in Lincoln. He said his children's interest is lower than his.
"Traffic didn't seem quite as busy as I thought it would," he said.
In the Panhandle, "we're still talking about [Husker football], but we're kind of in the wait-and-see mode," he said.
"I went to school here in the '90s, when they were really good," Hullinger said. "The kids are just getting into watching it. I'd say our interest is a little bit less. It's not as exciting, I guess."