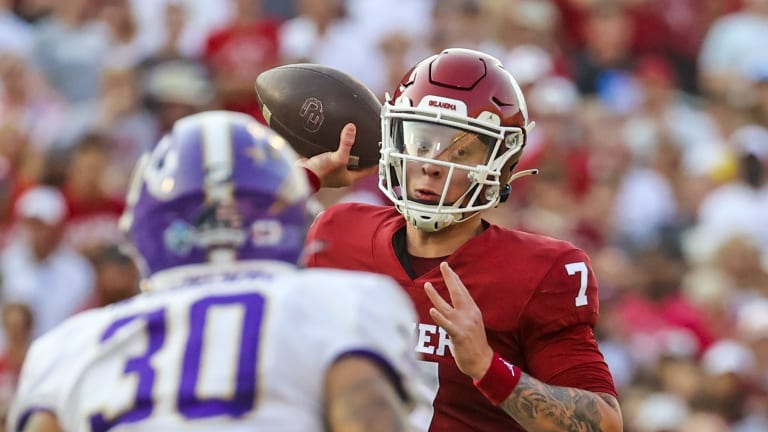 Huskers' Key Matchups Against Oklahoma
There are three key areas where Nebraska needs to win outright or at least minimize a Sooner advantage
Oklahoma is favored to win Saturday's game by more than 22 points. What will it take for Nebraska to overcome a three-score advantage against the nation's third-ranked team on its home field? The obvious answer is … a lot. The first three things are obvious to even the most casual of Nebraska fans—limit turnovers, penalties, and special teams mistakes—but some other things are worth considering.
Here are a few key matchups Nebraska needs to either win outright or at least minimize an Oklahoma advantage:
1. Scott Frost and offensive coordinator Matt Lubick's run-play calling versus Alex Grinch (OU's defensive coordinator)
Grinch likes to use multiple fronts for his defense and line stunts to create confusion, mismatches, and disruptions. The Nebraska O-line has been struggling with line stunts so far this year, and it isn't realistic to think  they can clean up everything in time for OU. The strength of OU's defense is their D-line, which is athletic and quick but not very big. How do you counter that?
Nebraska needs to rely heavily on a combination of quick-hitting running plays, quick passing plays, and a sprinkling of counter plays and traditional option looks to force the OU defense to play assignment football. The best way to slow down a more athletic defense is to force them to sit and read each play—which is what the options and counters can accomplish—and to attack their speed directly so they aren't able to use it to flow to the ball and make plays. Oklahoma's D-line is smaller than the D-lines of most teams in the Big Ten, but they are very quick. It is generally better to run at speed than to try to run away from it.
Nebraska has struggled to establish an inside running game based on what is the foundational play for the whole Frost offense: the Inside Zone. Frost, Lubick and run game coordinator Greg Austin won't suddenly scrap the Inside Zone to rely on a gap-scheme running offense, but they did start to show some gap-scheme running plays last week against Buffalo for the first time this season. That matters because the O-line has been struggling within its base zone blocking scheme, yet looked pretty good in the QB Dart & Wrap play that featured Adrian Martinez last week. If they have been working on both blocking schemes in practice, it would partially explain why they have struggled so much with the Inside Zone: working on both styles of blocking slows development in either.
If Frost is able to unveil some other gap-scheme looks—which you will recognize if/when you see OL pulling and trapping—and combine that with some traditional option looks, it would do a lot to force OU defenders to play on their heels (due to option assignments) while allowing a numbers advantage at the point of attack (due to pulling and trapping OL). In theory, Frost's offense has an answer for everything that a defense throws at it, but the play-calling has been very vanilla, so far. Does that mean that they have been saving plays, or does it mean that the offense hasn't been able to execute parts of the playbook? It's probably some of both.
If OU's D-line and interior LBs are able to shut down Nebraska's Inside Zone, Frost & crew will need to have more tools in the toolbox to establish an effective running offense. The option looks and gap-scheme plays can do that, if the O-line can execute them.
2. Adrian Martinez (QB) versus the OU secondary
Besides the line stunts, Grinch also likes to use late rotations of coverages to confuse the quarterback. This has created trouble for Adrian Martinez since the start of the 2019 season. To make matters worse, much of the Run-Pass Option portion of Frost's offense is dependent upon Martinez making accurate pre-snap reads and correct predictions of coverage rotations, and then taking what the defense is giving: in the past a false pre-snap read or a mistake in identifying the coverage has led to Martinez holding the ball too long in the pocket or forcing throws into tight coverages while other WRs were breaking free. Those things lead to sacks and/or turnovers. A recipe for disaster would be for Nebraska's offense to be dependent upon Martinez correctly reading rotating coverages pre-snap while avoiding pressure from line stunts post-snap in order to have time to throw to WRs who are getting open late against complicated, rotating coverages. So what would work?
Nebraska needs an effective quick-passing game. Lubick seems to favor quick stick-routes to the TEs at around the 10-yard mark, but the Bubble- and Tunnel-Screen passes are also needed to force the secondary to play wider in coverages. OU's secondary has been the defense's greatest weakness so far. Tulane was effective at attacking with deep passes, but some of that was due to the OU team letting down a bit in the second half as well as Grinch having rotated quite a bit into the second- and third-string players on defense. The threat of deep passes need to be there in order to keep the Safeties away from being in position to help with the running game. Samori Toure, Oliver Martin and Omar Manning all can go up and make plays at deep balls, so it will be important to take some shots early. If the deep passes are completed, great! But if not, they will still force the secondary to play deeper, which opens up a lot more underneath.
As much as Nebraska fans seem to loathe it, the quick screen game needs to be an effective and integral part of the offense. The success of a Bubble Screen is dependent upon effective blocking on the perimeter and a correct read of the defense so that there won't be an unblocked defender until the receiver has gained at least five yards. We have the weapons at WR to turn these plays into something bigger, but it needs to routinely be the equivalent of a five-yard+ handoff. Nebraska hasn't run this very much this year, which seems odd considering  we have better WRs now—both at blocking and at making defenders miss—than we have had since JD Spielman and Stanley Morgan were on the roster. Nebraska needs these plays to be effective enough to force the OU OLBs to help in containing them.
Manning was last seen wearing a walking boot on his foot at the Buffalo game, so it is quite likely that he won't be available for the Sooners game. Martin was suited up for the Buffalo game but did not play, so it is likely he will be back. If Martin is available to start, he will likely play a lot by himself on the wide side of the field where he will have to block less while having more room to go deep and make big plays. The short side of the field will likely feature a lot of Toure either in the slot or out wide as a Flanker with either Wyatt Liewer as the Split End or Chris Hickman or Chance Brewington as a flexed-out TE. With Martin (hopefully) holding the Cornerback and Free-Safety on his side while (hopefully) Toure holds the Nickleback and another Safety on his side, the middle of the field opens up, and it forces Grinch to choose where he wants his OLBs to line up.
Martinez needs to make decisions pre-snap and execute. It's okay for him to occasionally be wrong if it means a Bubble Screen gains minimal yards or a deep pass is incomplete, but sacks and turnovers will kill the offense. Martinez should be able to make big plays with his feet, also, but Nebraska absolutely needs him to hang onto the football.
3. Spencer Rattler (OU QB) versus Erik Chinander (Nebraska defensive coordinator)
Nebraska's defense has been incredibly vanilla thus far. It's strange because Chinander loves a zone blitz the way that my kids love breaking things. Is it possible that Chinander has his most veteran defense ever, yet has somehow decided to keep things as basic and simple as possible? No, it's not.
We're going to see some new looks on defense on Saturday. Rattler is one of the most accurate passers  I have seen in recent memory … if he is allowed to scan the field and dissect the defense. That can't happen if Nebraska wants any chance of stopping the Sooners' offense, and Chinander knows it.
Oklahoma's O-line is still somewhat of an unknown entity, but Nebraska's D-line has played very well thus far, and Damion Daniels has taken his game to a whole new level. In order for Chinander to be able to roll the dice with some blitzing LBs and DBs, he needs Daniels to shut down the A-gaps (either side of the Center) for his defense, both against the run and by pushing the line of scrimmage backwards against the pass. 
As was mentioned after the Buffalo game, a hidden part of the success of Nebraska's LBs so far has been the fact that Daniels is consistently eating up multiple blockers in the middle of the field, allowing our Inside LBs—Luke Reimer, Nick Henrich and Chris Kolarevic—to move freely and make plays. Ben Stille and Ty Robinson have similarly been drawing a lot of attention. If OU has to double-team these guys, there aren't enough blockers left to pick up the LBs. If OU has to block our D-linemen one-on-one, we need them to make plays. Garrett Nelson is technically an Outside LB, but he plays more often as an edge rusher than as LB playing in space, which means he almost always is working against one blocker: Nelson needs to make some plays Saturday. He's had his moments already, and he seems to rise to the occasion for key plays. If all of the 3+1 defenders up front are eating up blockers and making plays when they can, everything else becomes possible for Chinander's defensive scheme.
Spencer Rattler needs to be pressured, hurried, harassed, hit and made generally uncomfortable. No matter how much the game of football changes, pressure on the quarterback will always be part of the formula for slowing down the passing game. Rattler has thrown interceptions in big games, and it seems to be partly due to him sometimes having too much confidence in what is clearly an NFL-caliber throwing arm. Rattler is mobile, and he will use his feet to buy some time, but he generally won't choose to run as quickly or as often as Martinez will. If Chinander wants pressure up the middle, he will send an ILB—usually Heinrich or Reimer—on an inside blitz, usually next to Daniels, who will be attracting the attention of at least a couple of OU's interior O-linemen. With pressure up the middle, it is important to take away the quick throws to the outside while keeping the QB contained in the pocket, so it's still a team effort in order for it to be successful. What about pressure from the outside?
Outside linebacker Caleb Tannor got home on an outside zone blitz against Illinois … and it was immediately nullified by a pair of penalties. Tannor seems to have sharper instincts this year, and that's likely due to the defensive line taking up so many of the blockers, leaving him free to make plays. He has batted passes, pressured the QB and covered in space. JoJo Domann has been doing that since 2018, so it's nice for Nebraska to have a pair of OLBs who can now make plays all over the field. 
Any time Nebraska is sitting in a zone pass defense, if either OLB is freed up from pass-coverage responsibilities due to how the offense lined up or because of a late shift or motion or whatever, Chinander likes to send someone from the edge on a zone blitz. In some situations Domann will drop into coverage, leaving a Safety or even a Cornerback free to rush. The beauty of Chinander's scheme is that he can call the zone blitz, yet the person blitzing can alternate as the offense shifts and changes, always leaving somebody free to pin his ears back and create some havoc. We have seen this a little bit this year, but not nearly as much as in years past. In 2018 and 2019 this was often the only way that Chinander could consistently dial up pressure, and it sometimes got home, such as Domann's sack-and-strip against Dwayne Haskins in the 2018 Ohio State game. Other times, though, the offense anticipated it, and they were able to shift an extra blocker in his direction to pick it up. Deontai Williams was able to get home with a sack-and-strip against Penn State in the first half of last year's game, which was at least partly due to their O-line worrying more about Domann. 
We now seem to have an entire defensive unit that is capable of getting home at any point in time,… yet Chinander hasn't used the zone blitzes as much as in the past: I predict this will change on Saturday. The blitzes don't need to result in sacks in order to be effective. Disrupting plays and forcing their QB and O-line to worry about when and where it's coming from is the goal. There are certain QBs who seem capable of shrugging off a big hit and still making big plays afterward. It was rarely mentioned that Haskins was not as effective in the 2018 game after taking that big hit from Domann. How would Rattler respond from something similar? I suspect that Chinander and the Nebraska defense hope to find out.
Can Nebraska play a clean enough game and make enough big plays to pull off a monumental upset on Saturday? Absolutely. Anything is possible on any given Saturday. Oklahoma has a history under Lincoln Riley of losing a game or two per year when they were a heavy favorite.
Go Big Red!