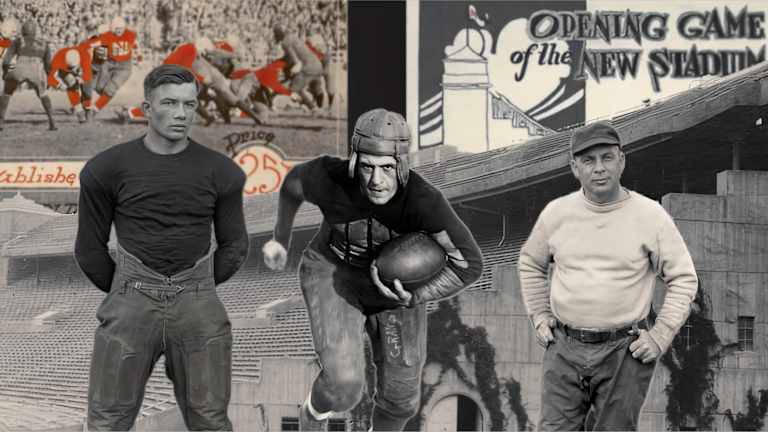 Memorial Stadium: The First 10 Seasons, 1923-32
Wins and All-America performances came at a healthy clip. So did punts and scoreless ties.
Fourth in a series marking the 100th season of Nebraska football in Memorial Stadium.
Nebraska football suffered just five home losses in its first 10 years at Memorial Stadium. But there also were seven ties - six of them 0-0 affairs.
The game was like that back then - especially the biggest games. Points were scarce. Punts were not. Field position was paramount, and that often led to booting the ball away on third down, on second down - even on first down.
Still, there was no lack of drama and no shortage of hard-hitting action during this span from 1923 to 1932, and the home fans were treated to five conference titles and a .819 home winning percentage. 
They also witnessed the work of more than a few College Football Hall-of-Famers, including the three pictured above: Cornhusker tackle Ed Weir, Illinois back Red Grange and Nebraska coach Dana X. Bible. Notre Dame's Knute Rockne and his Four Horsemen, legendary figures in the Golden Age of sports, tasted defeat in Memorial Stadium's third game, just as they had in the final game at old Nebraska Field.
Scroll down for a sampling of the action during Memorial Stadium's first 10 seasons. Artificial turf was decades in the future, so don't mind the occasional mud.
---
1923: Nebraska 24, Oklahoma 0
The stadium was still under construction and the field was dirt when Nebraska and Oklahoma faced off in the first game in Memorial Stadium history. Douglas Myers' fumble return of 90-plus yards early in the fourth quarter deflated the Sooners just as they appeared set to make it a 10-7 game. Oklahoma remained winless in Lincoln in seven tries, and the Sooners wouldn't get their first victory in Memorial Stadium until 1943. First-game trivia: The Huskers wore blue jerseys, which enabled OU to wear red. | HuskerMax game page
---
1923: Nebraska 14, Notre Dame 7
For the second consecutive season, the Cornhuskers dealt the Irish and their "Four Horsemen" backfield their only defeat. Thanks to a pair of touchdowns by halfback Dave Noble and a stellar defensive performance led by rising star Ed Weir, underdog Nebraska held a 14-0 lead until the game's final seconds. It was the ninth year in a row the teams met, but hard feelings about Nebraska fans' behavior during the Irish's next visit, in 1925, would put the series on hiatus for more than two decades. | HuskerMax game page
---
1924: Illinois 9, Nebraska 6
Nebraska held the running game of the sensational Harold "Red" Grange largely in check, but the heavily favored Illini turned to the airways and eked out a 9-6 win with a fourth-quarter field goal, shown in the photo above. Some Husker fans saw the narrow loss as a moral victory, but a real victory over Grange & Co. would come a year later in Champaign. | HuskerMax game page
---
1925: Washington 6, Nebraska 6
Nebraska fullback Frank Dailey looks for yardage around right end. | Nebraska State Journal
The Cornhuskers blocked a Washington extra-point dropkick in the fourth quarter to salvage a 6-6 tie. It turned out to be the only regular-season blemish for the visitors from Seattle, who earned their second Rose Bowl berth in three seasons. The blocked kick might have meant even more if Nebraska hadn't missed an extra point of its own in the third period. | HuskerMax game page
---
1926: Nebraska 15, NYU 7
Bob Stephens' field goal from 25 yards gives Nebraska a 9-7 lead in the third quarter. | Cornhusker yearbook
An East-vs.-West battle became a struggle with the elements as a snowstorm hit Lincoln. The Huskers proved better suited for the icy conditions, winning by 15-7 while holding the previously unbeaten New York University to 16 net yards and one first down. (Both numbers apparently are record lows for a Husker opponent in Memorial Stadium.) NYU would make a return trip in 1927 - 1,700 miles by rail - and again suffer its only loss of the season. | HuskerMax game page
---
1927: Nebraska 21, Syracuse 0
Much like NYU a year earlier, this Eastern squad arrived with designs to conquer the Cornhuskers via the air. Seven interceptions later, Syracuse was sent home with nary a point. Husker halfback Glenn Presnell, pictured above, rushed for 93 yards and two touchdowns, all in the first half. It was part of a stellar senior campaign for Presnell, a future All-Pro who by some accounts led the nation in rushing in 1927.  Harold Baysinger threw all of Syracuse's interceptions but earned a postgame ovation from Nebraska fans. | HuskerMax game page
---
1928: Pittsburgh 0, Nebraska 0
The Huskers had a perfect season going when this mid-November game arrived, and a national championship was a concrete possibility. But underdog Pitt derailed all that by tying Nebraska on a soggy field and not allowing a Husker first down all afternoon. This was the first of three consecutive Lincoln visits by Pitt that ended in 0-0 deadlocks. The third one, in 1932, served as payback time for Nebraska as it was Pitt's turn to have its chances for a national championship damaged by a scoreless tie. | HuskerMax game page
---
1931: Nebraska 13, Oklahoma 0
The Huskers break up a Sooner pass. | Cornhusker yearbook
In his first home start, George Sauer delivered in a big way. The sophomore fullback broke open a 0-0 game in the fourth quarter with a 47-yard touchdown run, then snuffed out an Oklahoma rally with a 70-yard pick-six. The performance was a sample of things to come from the future College Football Hall-of-Famer. Described decades later by coach Dana X. Bible as "probably my best all-around athlete," the versatile Sauer also could boom a punt, and this game featured 38 of them, including 21 by Oklahoma. Both numbers are likely Memorial Stadium records. | HuskerMax game page
Just the facts: 1923-1932
• Home record: 35-5-7 (.819)
• Overall record 56-19-10 (.718)
• Conference titles: 1923, '28, '29, '31, '32
• Nebraska All-Americans: Ed Weir, 1924-25; Lonnie Stiner, 1926; Dan McMullen, 1928; Ray Richards, 1929; Hugh Rhea, 1930; Lawrence Ely, 1932.
• Nebraska coaches: Fred Dawson, 1921-24; E. Ernest Bearg, 1925-28; Dana X. Bible, 1929-36.
Postscript: Read all about it
"The moleskin warriors from the wheat plain of Nebraska went wild with fight and played the game with the savage attack that had been smoldering in their hearts for many weeks."
Memorial Stadium's early years coincided with the Golden Age of sports - and sports writing. The legendary Grantland Rice wasn't alone in serving up elegant descriptions and heroic imagery. Click through to the game stories on HuskerMax for passages like the one above, which was part of the Omaha World-Herald's coverage of the 1923 Notre Dame game.
---