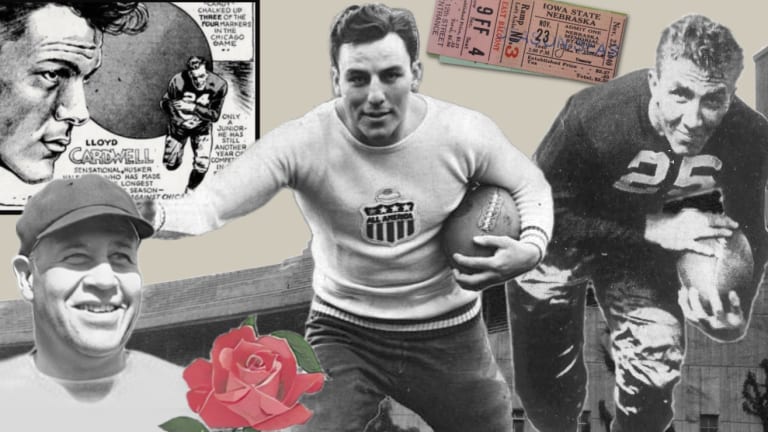 Memorial Stadium: The Second Decade, 1933-42
A takedown of the big, bad Gophers. A run for the Roses. A society columnist at quarterback. It was all part of an eventful 10 seasons.
Fifth in a series marking the 100th season of Nebraska football in Memorial Stadium.
Pictured above are All-American Lloyd Cardwell and Hall-of-Famers Lawrence "Biff" Jones, Sam Francis and George Sauer.
The Great Depression was no downer when it came to the on-field fortunes of Nebraska football. Fans saw mostly winning football and a steady stream of All-America performers during the bulk of the Huskers' second decade in Memorial Stadium, 1933 to 1942.
Halfback Lloyd Cardwell was a fan favorite with his unbridled running style — he used the ball to stiff-arm opponents a time or two. Fullback Sam Francis delivered in so many ways: running, passing, punting, blocking, tackling. For those focusing on the trenches, the rugged line play of Fred Shirey, Charley Brock, Warren Alfson and Forrest Behm was top-notch. 
Those lucky enough to be there on Oct. 2, 1937, saw one of the biggest wins in stadium history as the Minnesota dynasty took an unexpected hit in the chops. The fans of 1940 witnessed the Huskers' march to a coveted Rose Bowl berth.
There were oddities along the way: A Nebraska quarterback who doubled as a society columnist. A winning touchdown by a helmetless Husker. A game that was 7-0 after just 17 seconds and remained 7-0 to the end.
World War II did to Husker football what the Depression could not. The talent pool dried up at Nebraska while certain other schools could tap a healthy supply of football-playing military cadets. Coaches came and went. Thus began a Husker tailspin.
In 1942, the final season of this 10-year span, Nebraska stumbled to 1-4 at home. If there was a bright spot that year, it might have been the debut of the legendary Lyell Bremser as KFAB radio's play-by-play man.
Scroll past the fact box for a taste of some noteworthy games from Memorial Stadium's second decade. 
Just the facts: 1933-42
• Home record: 34-16-3 (.700)
• Overall record: 58-29-5 (.658)
• Conference titles: 1933, '35, '36, '37, '40
• All-Americans: George Sauer, 1933; Sam Francis, 1936; Fred Shirey, 1937; Charles Brock, 1938; Warren Alfson, 1940; Forrest Behm, 1940
• Coaches: Dana X. Bible, 1929-36; Lawrence "Biff" Jones, 1937-41; Glenn Presnell, 1942
---
For openers, Horns down
1933: Nebraska 26, Texas 0. Not a bad way to start this 10-year stretch at Memorial Stadium. George Sauer scored twice and intercepted a pass as the Huskers outyarded the Longhorns 320-85. Coach Dana X. Bible cleared the bench, and even freshmen played. | Details
---
No hat? Bad snap? No problem
1933: Nebraska 7, Iowa 6. Bernie Masterson tossed his helmet aside before lining up to try a short field goal in a 0-0 game. (Who needs headgear for a chip shot?) But the kick never happened; the snap went haywire in a strong wind. Undaunted, Masterson deftly scooped up the ball and angled left for the end zone. As he crossed the chalk mark, the hatless Husker was spilled by a Hawkeye's hit, but Nebraska now had the only touchdown it would need. The Huskers would need the extra point as well, and Masterson kicked that one through without incident. | HuskerMax game page
---
Big finish, high ranking
1933: Nebraska 22, Oregon State 0. It was a 6-0 nail-biter midway through the second half of the season finale, but everything changed with a Husker goal-line stand and then a booming punt by George Sauer that flipped the field. With five shutouts to their credit, the 8-1 Huskers finished No. 2 in the Dickinson Rating System. (There were no weekly AP polls until 1936.) | HuskerMax game page
---
The kids are alright
1934: Nebraska 50, Wyoming 0. With Sauer and Masterson gone, Nebraska opened the season needing to replace accomplished ball-handlers. A trio of sophomores making their varsity debuts showed they were more than ready to fill the bill. Fullback Sam Francis, halfback Lloyd Cardell and end Les McDonald scored five of Nebraska's eight touchdowns against the Cowboys. All three would become first-round NFL draft picks, and Francis would land in the College Football Hall of Fame. HuskerMax game page
---
Upstaging Mr. Heisman
Jay Berwanger runs for the touchdown that briefly tied the score.
1935: Nebraska 28, Chicago 7. The Maroons' Jay Berwanger would take home  the inaugural Heisman Trophy at season's end, but he took a backseat to Nebraska's Lloyd Cardwell in this season opener. The rangy Husker junior by now had earned a nickname befitting his irrepressible style: "Wild Horse of the Plains." Cardwell scored three of the Huskers' four touchdowns, including a scintillating 86-yard kickoff return just after Berwanger had tied the game at 7-7. | HuskerMax game page
---
A comeback and a poll position
1936: Nebraska 13, Indiana 9. After a lackluster first half, Nebraska trailed the Hoosiers of the Big Ten by 9-0. Into the game for the first time came Sam Francis, his ailing ankle wrapped in tape. Even in his hobbled state, Francis was just what the Huskers needed.
As the Omaha Bee-News described it, "Sam smashed and twisted and drove through the Indiana line, kicked and passed, instilled new spirit in his mates, stopped Hoosier backs in their tracks." Late in the third quarter, Francis rumbled 22 yards on a fake reverse to the Indiana 15. That set up Ron Douglas' winning TD on a fourth-down pass from John Howell. The first-ever weekly Associated Press poll came out two days later, and the Cornhuskers were No. 15. They would finish the year at No. 9. | Details
---
Down goes Goliath
Bill Callihan snags the winning touchdown pass.
1937: Nebraska 14, Minnesota 9. The defending multi-year national champions met their match on a hot day in Lincoln despite outyarding the Huskers nearly 3-to-1. Nebraska was opportunistic on offense and rock-solid near the goal line on defense. A 20-yard pass over the middle from Harris Andrews to Bill Callihan provided the winning score in coach Lawrence "Biff" Jones' debut at the helm. Quarterback John Howell wrote a little about it afterward in his Daily Nebraskan society column. | HuskerMax game page
---
17 seconds and done
Dodd sets sail for Nebraska's quick-strike touchdown.
1937: Nebraska 7, Indiana 0: If you arrived a minute or two late, you missed it. On the first play from scrimmage, halfback Jack Dodd took a shovel pass from Johnny Howell, got some good blocks and darted 65 yards around left end for a touchdown. After those first 17 seconds, the Huskers were badly outyarded, but they came up with timely stops on defense again and again. A crowd of 39,360 — a record that would stand for 14 years — was on hand for this one. The following year, the teams would play to the eighth and final 0-0 tie in Memorial Stadium history, extending the streak of scoreless Husker-Hoosier play to 119 minutes and 43 seconds. | Details
---
A rally for the Roses
1940: Nebraska 21, Iowa State 12. The crown jewel of Nebraska's first half-century of football — a berth in the Rose Bowl — wouldn't have happened if Iowa State's 12-0 lead at intermission had held up. But the Huskers, fired up by line coach Link Lyman's halftime speech, dominated the final 30 minutes of this late-November game. Walter "Butch" Luther's weaving 57-yard TD run iced the victory with about three minutes remaining. | Details
---
A heartbreak finish
1941: Pittsburgh 14, Nebraska 7. In the final minute of a 7-7 game, the Huskers' Dale Bradley threw a wobbly pass under pressure. Pitt's Edgar "Special Delivery" Jones snagged it from the air and galloped 75 yards down the west sideline for a touchdown — and gloated about it afterward. Less than a year after the euphoria of earning a Rose Bowl berth, Nebraska had suffered its fifth consecutive loss. | Details
---
Trending downward
1942: Kansas State 19, Nebraska 0. This season-ending drubbing capped a year that set school records for futility as wartime took a toll on the program. It was the Huskers' fourth home loss and seventh defeat overall, both new worsts for Nebraska. This 10-year span began with the first of five shutout wins of 1933. It ended now with the fifth shutout loss of '42. A paltry crowd of 6,000 — a new Memorial Stadium low — witnessed the KSU victory. | Details
World War II brought a revolving door of head coaches. Former Husker great Glenn Presnell, the coach in '42, is shown with the Lincoln Star's Cy Sherman.
---
Postscript: Present at birth
Irrelevance was not an issue for the Huskers of this era. Three football mainstays began during this time, and Nebraska figured prominently in the early stages of all three.
The first NFL draft (1937). Three Huskers were picked in the first round, including Sam Francis at No. 1.
The first Associated Press polls (1936). Nebraska was ranked in every week's AP poll in '36, peaking at No. 6 and finishing ninth.
The second Heisman Trophy (1936). Francis was the runner-up to Yale's Larry Kelly.
---