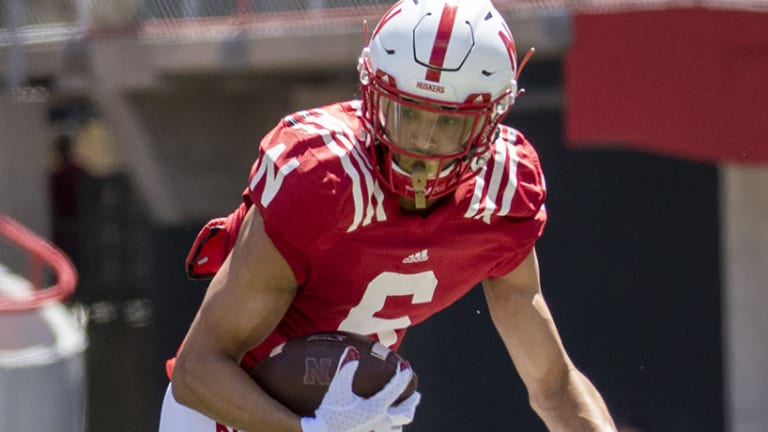 Going in Depth on Nebraska's Transfer Portal Additions
Kolarevic, Touré, Stepp and Johnson appear set for key roles
In October 2018, the NCAA modernized the transfer process by introducing the transfer portal. With that, the landscape of college football changed. The dynamics shifted even more this past April when the NCAA approved a one-time transfer rule which allows athletes in all sports to transfer one time and maintain immediate eligibility. The transfer portal has essentially become college football's version of free agency.
At last month's Big Ten Media Days, Nebraska coach Scott Frost was asked about his approach to the transfer portal. "We have a couple guys that are looking at the transfer portal," Frost explained. "We get reports on it every day. If there's someone of interest, then that gets passed along to assistant coaches to evaluate, and then potentially up to me, and then legwork's done. We have a good process in place for that."
This past offseason, Frost added four players from the portal. Let's take an in-depth look at those additions:
Chris Kolarevic. Last year, when Nebraska was putting together its 2021 recruiting class, the staff was anticipating the eventual loss of seniors Collin Miller and Will Honas. Their depth was hit even more when a prized 2020 recruit, four-star Keyshawn Greene, decided to transfer from the program the first week of September. The Huskers were faced with the prospect of heading into the 2021 season with only four scholarship inside linebackers on its roster. Needless to say, the position was a priority.
Last fall, Chris Kolarevic was coming off a very productive sophomore campaign and was expected to be the centerpiece of a good Northern Iowa defense in 2020. Instead, he was dealing with the reality his season was canceled and spending a lot of time contemplating his future. Luckily, the NCAA had decided to grant players an extra year of eligibility. Kolarevic spoke with his coaches at UNI and came to the decision that with the ability to graduate early and have two more seasons of eligibility, he was ready to test himself at the FBS level. He had certainly already stood out in the FCS.

The Traverse City, Michigan, native was an immediate force during his redshirt freshman season. In just his second college game, he had a team-high 15 tackles against Iowa. He would start the first six games in 2018, recording 65 tackles (three for loss), an interception and a sack before a right foot injury ended his season. The injury kept him out nearly a calendar year before he was finally able to return to action about a month into the 2019 season. In 10 starts the rest of the way, he recorded 79 tackles (6.5 for loss), two sacks and an interception, earning second-team Missouri Valley All-Conference honors.

Kolarevic put his name in the transfer portal on Oct. 20, receiving interest from numerous schools. The Huskers were the first to offer a scholarship, doing so the following morning. Several other schools quickly followed suit.

Nebraska had an advantage over the other suitors, thanks to the connections they have with Northern Iowa. Several of the Husker coaches have been on staff at UNI during the course of their careers. That includes Erik Chinander, who ran point on Kolarevic's recruitment. Not only that, but Husker tight end Travis Vokolek's father, D.J., is the linebackers coach at UNI and was Kolarevic's position coach. The familiarity helped, and after several conversations with Chinander, Frost and Barrett Ruud, Kolarevic announced his commitment to Nebraska via Twitter the night of Oct. 29. Kolarevic went on to receive his bachelor's degree in November from UNI, and will now pursue a master's in business administration at Nebraska.

Kolarevic arrived in Lincoln in January and immediately established himself as one of the Huskers' best overall athletes. This past spring, Nebraska released some of the Performance Index and Strength Index testing numbers from its winter conditioning session. He was one of the top overall performers on the entire team. At 228-pounds, the 6-foot-1 Kolarevic posted a hang clean of 345 pounds and a 525-pound squat. He also had the second-best vertical leap on the entire team at 38 inches. Kolarevic then went out and had an impressive spring, proving he was ready to figure prominently in the Huskers' inside linebacker rotation.

After continuing to impress coaches and teammates alike this summer, Kolarevic is almost a lock to start. The traits he showed at UNI have seemingly translated at Nebraska. His tape at UNI showed a player with a nose for the football and a nonstop motor. Kolarevic displayed impressive speed and burst, making plays sideline-to-sideline. He has picked up Chinander's scheme quickly thanks to a high football IQ that stems from rigorous film study, something he's been studious about since his UNI days. The Panthers played a lot of different fronts and defenses. Kolarevic played in both a 3-4 and 4-3 at UNI, manning both the MIKE and the WILL positions. I expect Kolarevic to be a two-year starter for the Huskers and a candidate to lead the team in tackles each season.

Samori Touré.  Even before the team lost Wan'Dale Robinson to transfer, the Huskers were prioritizing wide receiver heading into the 2021 offseason. In fact, the position has been a point of emphasis for Nebraska since Frost took over the program. At the time, the Huskers were returning only four scholarship receivers. Frost would like to carry around 10-12. The team added a very promising trio of high schoolers with its 2021 class, and then set out to add an immediate contributor.
Samori Touré put himself on NFL radars following a record-breaking 2019 campaign for the University of Montana. The 6-foot-3, 190-pounder was coming off a junior season in which he put up dominating numbers in one of the FCS's best conferences. He caught 87 passes for 1,495 yards and 13 touchdowns on his way to being named first-team FCS All-American. Heading into the 2020 season, he was the only Big Sky Conference player named to the Senior Bowl's 2021 Top 250 watch list. He's a member of the 2022 watch list heading into this season.
After catching 155 passes for 2,488 yards and 20 TDs in three seasons in Missoula, Touré holds multiple Montana receiving records. He needed just 37 more catches and 533 yards to become Montana's all-time leading receiver.
When the FCS moved its football season to the spring because of the pandemic, Touré had to asses his future and decide what was in his best interest. He finished classwork at Montana in November and moved home to Portland. A communications major with a 3.22 GPA, Touré is also a top student. He was named a semifinalist for the William V. Campbell Trophy - one of college football's most prestigious awards that is widely considered to be the "Academic Heisman."
Ultimately, Touré didn't like the uncertainties surrounding a spring season at Montana and shifted his focus toward moving on. He considered skipping his final season altogether and entering the 2021 NFL Draft, but the feedback he got put him in the third day and he wanted the chance to improve his stock. So, he decided to use his final season of eligibility and jump to a Power Five program, where he could pit his skills against top competition.
He put his name in the transfer portal in November and was immediately inundated with interest from several top programs. Within an hour, he had already heard from Florida State, Miami, Oregon and many others. Nebraska first reached out to Touré a couple weeks later. Husker offensive quality control assistant Steve Cooper - a Portland State graduate - was the initial point of contact. Soon after, Matt Lubick and Scott Frost took over the recruitment with assists coming from Cooper and recruiting staffer Sean Dillon.
Touré felt a connection to Frost, Lubick and Cooper because of their previous ties to his home state of Oregon. He also really liked the offense and the prospect of being the teams No. 1 target. After narrowing his options to a handful of schools, Touré announced on Twitter the morning of Jan. 11 that he planned to play his final college season at Nebraska. He arrived on campus soon after to take part in winter conditioning.
Touré has been everything the coaches hoped for since arriving in Lincoln. He made a huge impression on his new coaches and teammates after a standout spring where he cemented his spot as the starting slot receiver. He's also taken a leadership role in the room and is mentoring the younger players, specifically redshirt freshman Will Nixon, his backup in the slot.
Even though Touré will play primarily in the slot, I expect Frost and Lubick to use him all over the field. After redshirting the 2016 season, Touré played in 11 games as a redshirt freshman in 2017, playing primarily in the slot for his first coach, Bob Stitt. When Bobby Hauck returned to coach Montana prior to the 2018 season, he moved Touré to the X-position. The 'X' (or split end) is normally aligned to the weak side of the formation. Clearly Touré thrived there, starting 24 games over the next two seasons and becoming one of the most prolific offensive players in the FCS.
At Montana, Touré was a do-it-all threat and a match-up nightmare in the FCS. Few receivers at that level possess the sort of short area quickness and fluidity he does at 6-foot-3, and he pairs it with very crisp route running. He was adept at getting vertical and winning contested balls down field, while also thriving on slants, shallow crosses, drags, quick outs, and other short-to-intermediate routes and then making a defender miss and creating big plays.
Frost would be smart to try and move him around to take advantage of his versatility and look for mismatches. While he'll obviously face a significant step up in competition in the Big Ten this year, Touré's skill set and experience will give him every opportunity to be just as dynamic for the Huskers as he was for the Grizzlies. Nebraska's offense really needs him to shine this season. Coaches would love to see him put up similar numbers to Stanley Morgan in 2018, when the former Husker caught 70 balls for 1,004 yards and seven touchdowns. If Touré meets or exceeds those numbers, that probably means the offense is humming. If he shows that his talent and athleticism translate in a conference like the Big Ten and he earns an invite to the Senior Bowl, Touré could work his way into the third round of next year's draft.
Markese Stepp.  It's no big revelation Nebraska struggled to find a consistent running game from its I-backs last season. Dedrick Mills missed two games and was limited by injuries in others. That meant relying largely on the quarterbacks to provide a threat. Adrian Martinez had 91 rush attempts in seven games last season, with a season-high 23 against Rutgers. That's an average of 13 per game. Luke McCaffrey had 65 rushes in seven games (9.3 avg), with a season-high 26 against Illinois. Not good. What's worse, for a second year in a row, coaches put a heavy workload on Wan'Dale Robinson as a tailback, which played a major factor in him transferring. When Mills decided to enter the NFL Draft, it came as no surprise the staff looked at the transfer portal for someone to bring in to provide competition.

As a high school recruit in the 2018 class, Markese Stepp was a four-star prospect and member of both the Rivals250 and ESPN300. The Indianapolis native was a longtime commit to Notre Dame, having pledged to the Irish in June of 2016 before decommitting in early December of 2017. He ended up signing with USC, primarily because of its running backs coach at the time, Deland McCullough, who had been a college teammate of Stepp's father, Marcus, at Miami (Ohio).

Unfortunately for Stepp, less than a month after signing with the Trojans, McCullough left to join Andy Reid's staff with the Kansas City Chiefs. After his first season on campus, the Trojans switched offensive coordinators. Clay Helton fired Tee Martin in November of 2018 after the Trojans' first losing season in 18 years. Helton eventually hired Graham Harrell, who installed the Air Raid offense popularized by Mike Leach, diminishing the role of running backs. Stepp's skill set wasn't a fit in Harrell's system and he was never utilized properly at USC.

Despite being a poor fit in the offense, Stepp showed flashes of his talent. He had 100 carries for 505 yards and six touchdowns during his time at USC. But he appeared in only 15 games in three seasons for the Trojans. The problem was he couldn't stay healthy. In fact, Stepp has had his football season disrupted by a significant injury every year dating back to his prep days.

He missed most of his junior year of high school in 2016 due to a hamstring injury. He missed three games as a senior as well. As a freshman in 2018, he suffered a concussion during fall camp and redshirted after playing four games. The following year, Stepp began to show promise and was emerging as the Trojans No. 1 back before he suffered an ankle injury against Arizona in USC's seventh game of the season, costing him the rest of the year. He underwent offseason surgery to repair torn ligaments and recovery lingered through fall camp, but Stepp was able to return in 2020 and was the leading rusher in USC's first two games with 135 yards and two touchdowns on 26 carries. He seemed primed to take the reins as USC's bell cow, but injury struck again when he suffered a turf toe injury and a strained pectoral, the latter of which forced him to miss their game against Utah.

Stepp wanted a fresh start and decided to enter the transfer portal on Dec. 28. Bracing for the possible loss of Dedrick Mills, Husker coaches contacted him rather quickly. They weren't alone. Several schools reached out and Stepp ultimately narrowed his choices to Nebraska, Auburn, Wisconsin and Purdue. Stepp spent about two weeks talking with Scott Frost, Matt Lubick and Ryan Held on the phone. He decided to fly to Lincoln to check out the town on his own dime. Stepp knew he couldn't meet with Husker coaches or even check out the facilities, but he wanted to see the campus for himself. He spent time with fellow Indianapolis natives Collin Miller and Kurt Rafdal during his weekend visit. A few days later on Tuesday, Jan. 12, Stepp announced he would be joining Nebraska. It just so happened the same day Dedrick Mills indicated he would turn his attention to the NFL. Coincidence?

Stepp arrived not long after and began winter conditioning with the Huskers. We all know what happened after that, though. He missed all but two practices of spring ball with a left foot injury that neither Stepp nor the Husker coaches were aware of when he arrived from USC. It's also unknown if the injury is related to the ankle injury he sustained in 2019. The good news is Stepp returned in time to participate in fall camp and has reportedly been healthy throughout.

The 6-foot-1, 230-pounder's hard-nosed downhill running style is tailor-made for the Big Ten. He has impressive lower body strength and balance. Playing in the Pac-12, Stepp would often absorb body shots and run through arm tackles. He averaged nearly 3.5 yards per carry after first contact as a Trojan. Stepp has an impressive combination of athleticism, explosiveness and physicality. He's at his best running inside zone where he can find the vertical crease. He's a strong north-south runner who will also be valuable on short yardage and goal line situations.
When Stepp chose the Huskers, Frost sold him on the offense moving toward a more power rushing attack. Most assumed Stepp would be the favorite to win the starting job and be the workhorse this season. That may still happen, but missing spring didn't do him any favors. It opened the door for a pair of freshmen. Stepp's facing stiff competition right now from Gabe Ervin and Sevion Morrison. Any of those three could come out of fall camp as RB1. Stepp has three years of eligibility remaining and the upside is still there. The only concern moving forward - and it's a big one - is whether or not he can stay healthy.
Tyreke Johnson. I wrote an in-depth article about Johnson when he transferred to Nebraska back in early June. If you would like to read it, please go here.
The former five-star recruit has impressed during fall camp. When he signed, it wasn't clear where Travis Fisher planned to use the versatile defensive back. I felt (and still feel) his skill set and physicality were best suited for safety. At least initially, Fisher has put him at corner, the position he played at Ohio State. He's been competing with fellow sophomores Quinton Newsome and Braxton Clark for the starting cornerback spot opposite Cam Taylor-Britt.
Newsome was the leader in the clubhouse coming out of spring ball, prior to Johnson's arrival. Have Johnson or Clark done enough to take the spot away? Despite strong camps by both, it's believed Newsome - who has also enjoyed a strong August - will at least start the season with the first-team defense. Johnson will certainly have a role on this defense in 2021 and should be a prominent member of the defense over the next few seasons.