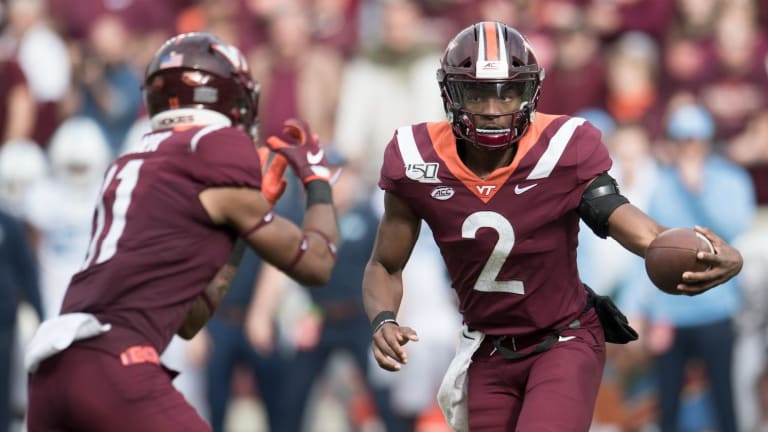 Opponent Insider: Virginia Tech's Top Offensive Players
Top players for the dangerous Virginia Tech offense
When you look at the season-long numbers it's easy to view the Virginia Tech offense as a solid, but not overly potent unit. The Hokies rank just 59th in scoring offense and 81st in total offense during their 5-2 start to the season.
Injuries and poor quarterback play stalled the offense early in the season as Virginia Tech started 2-2, with their wins coming over Old Dominion and Furman. Over time the Hokies have gotten healthier, and a quarterback change sparked the offense.
Over its last three games, the Hokies averaged 39.7 points and 437.3 yards per game. Virginia Tech has talent, and they will present matchup concerns for the Notre Dame defense.
After breaking down film, here are the top players for the Virginia Tech offense:
#2 Hendon Hooker, Quarterback
2019 Stats: 580 passing yards, 57.4%, 7 TD's, 0 INT's / 156 rush yards, 1 TD
Hooker has started just three games, and he left in the first half of the win over Duke, but when he's been on the field he has been dynamic. Virginia Tech is a dangerous offense with him behind center thanks to his ability to do damage with his legs and to attack down the field with the pass game.
The 6-4, 228-pound sophomore has thrown for seven touchdowns in just two and a half games as the starter, and his 160 rushing yards in those games has provided a major boost to the offense. With Hooker in the starting lineup, Virginia Tech has averaged 210.3 yards per game on the ground and 4.4 yards per rush.
Hooker is raw as a passer, and a good pass rush could force him into mistakes, but with his toughness and speed he is not an easy player to bring down. Miami had a number of shots at him, only to see Hooker split the defense and get downfield. Containing him will be key for the Irish defense, but containing him is not an easy task.
#29 Dalton Keene and #82 James Mitchell, Tight End
2019 Stats - Keene: 16 catches, 171 yards, 10.7 YPC, 4 TD's
2019 Stats - Mitchell: 11 caches, 177 yards, 16.1 YPC, 1 TD (2 rushing TD's)
Virginia Tech has an athletic, talented and productive two-headed monster at tight end. Junior Dalton Keene and sophomore James Mitchell have combined for 27 catches for 348 yards and seven touchdowns this season. The duo dominated Miami, combining for eight catches, 148 yards and four total touchdowns.
Keene is a long and smooth athlete that can do damage after the catch. He can work the middle of the field and the Hokies like to use him in screens and in the quick game, which gives him a chance to catch the ball in space.
Mitchell is more of a hybrid player, lining up at tight end, as an H-back and outside in more of a wide receiver alignment. Against Miami he even rushed for a touchdown on a jet sweep. In fact, Mitchell has two rushing touchdowns this season.
#14 Damon Hazelton, Wide Receiver
2019 Stats: 10 catches, 237 yards, 23.7 YPC, 5 TD's (5 games)
Hazelton's overall numbers aren't impressive, but he's only played four games. After missing the first three contests of the season, Hazelton returned in the loss to Duke, catching just one pass, but that pass went for 72 yards. He hauled in just one catch for 29 yards in the win at Miami a week later, but in the last two contests Hazelton caught eight passes for 136 yards and four touchdowns.
Notre Dame fans will likely remember Hazelton well after he caught a career-high 12 passes for 131 yards and a score against the Irish last season. Hazelton doesn't have the upside of standout sophomore Tre Turner, and he's not as fast as freshman Tayvion Robinson, but he is a savvy route runner that just knows how to get open.
At 6-2 and 215 pounds, Hazelton has a frame that complements his skill set. He is just starting to hit his stride this season, and the Irish corners will have their hands full with him.
#33 Deshawn McClease and #35 Keshawn King, Running Back
2019 Stats - McClease: 97 attempts, 475 yards, 4.9 YPC, 3 TD's
2019 Stats - King: 52 carries, 240 yards, 4.6 YPC, 1 TD
Virginia Tech uses McClease and King as a one-two punch at running back. Neither is an every down back, but both are slashers that can gash a defense.
McClease has caught fire in recent games, rushing for 355 yards and averaging 6.3 yards per carry in the last four contests. He isn't a burner, but McClease has impressive balance and foot quickness, and he shows the ability to explode through holes.
King shows a bit more long speed on film, but overall their games are quite similar. Their jersey numbers are also close, and at times it can be difficult to tell which back is in the game. With Hooker at quarterback teams have to key on him even more, which has made the Hokie backs even more dangerous.
#77 Christian Darrisaw, Left Tackle
Darrisaw is just a sophomore, so his game is still raw, but he's a talented young blocker with a lot of upside. When he's on his game the Upper Marlboro, Md. is quite effective. Darrisaw is 6-5 and 311 pounds with very long arms, and he shows nimble feet on the edge in protection. He has allowed 10 pressures this season and his game is up-and-down, but when he plays under control he is a handful.
Darrisaw is a well-rounded player that grades out well as a pass blocker and run blocker. He is most consistent in the run game, playing with good pad level and showing the ability to get a strong push off the line of scrimmage.
Follow me on Twitter: @CoachD178
Visit our Facebook page at: https://www.facebook.com/IrishMaven/