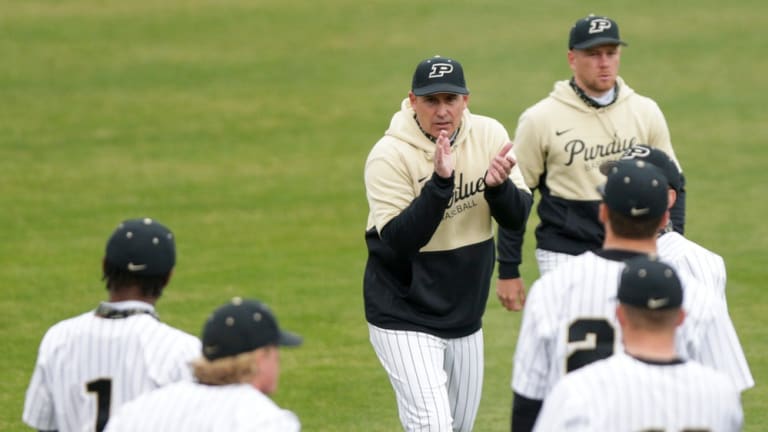 Purdue Baseball Announces 2022 Schedule
Purdue baseball will play 28 games at Alexander Field in West Lafayette next season, and 38 of the team's total games will be played in either Indiana or Illinois.
WEST LAFAYETTE, Ind. — The Purdue baseball program has announced the matchups for its upcoming 2022 schedule, featuring a program record 28 home gomes and seven weekends at Alexander field. 
The Boilermakers will play 38 games in the states of Indiana and Illinois. A full list of gameday promotions and special dates at Alexander Field are scheduled to be released in either February or March. 
Here's the schedule breakdown, according to a release:
SCHEDULE BREAKDOWN
• Home Games: 28 (11 in March, 12 in April, 5 in May)
• Road Games: 17 (4 in March, 6 in April, 6 in May)
• Neutral Site Games: 11 (8 in February, 3 in March)

• Big Ten Home: Ohio State, Indiana, Michigan, Maryland
• Big Ten Road: Illinois, Penn State, Iowa, Northwestern
• Big Ten Non-Play: Michigan State, Minnesota, Nebraska, Rutgers
• Big Ten Tournament: May 25 to 29 (TD Ameritrade Park – Omaha, Nebraska)

• Season-Opening Series: vs. South Dakota State (4 Games at Triple-A stadium in Sugar Land, Texas)
• 10-Day Stay in North Carolina (Feb. 25-March 6): Weekend Series vs. Princeton & Longwood, Midweek at Charlotte
• Home-Opening Weekend: March 11-13 vs. Bellarmine
• Home-and-Home Midweek Dates: Indiana State, UIC
• Remainder of the Midweek Slate: Dayton, Northern Illinois, Purdue Fort Wayne, Evansville, Valparaiso, Butler
• 7-Game Homestand: March 19 to 29 vs. Illinois State (2) Northern Illinois, Ohio State (3), UIC
• 8-Game Homestand: April 20 to May 1 vs. Evansville, Belmont (3), Valparaiso, Michigan (3)

• First-Time Foes: South Dakota State, Longwood, Bellarmine, Dayton
• First-Time Visitors to Alexander: Bellarmine, Dayton, Northern Illinois, Evansville, Belmont
• 2021 NCAA Tournament Qualifiers: Charlotte, Indiana State, Maryland, Michigan
• Been a While: Purdue has not played Princeton since March 1999
• Easter Weekend now Thursday to Saturday: Purdue plays at Penn State April 14 to 16
• Indiana has played just one weekend series (April 2017) at Alexander since the ballpark opened in 2013
• Maryland has played just one weekend series (April 2015) at Alexander since joining the Big Ten in 2015
• Ohio State has played 13 games at Alexander, second to only Iowa (15) among visiting teams
• Purdue has played only one series (March 2017) at Iowa since 2013
• Conversely, Purdue is set to make its sixth trip to Champaign-Urbana since 2013
---
Become Part of the Boilermakers Country Community!