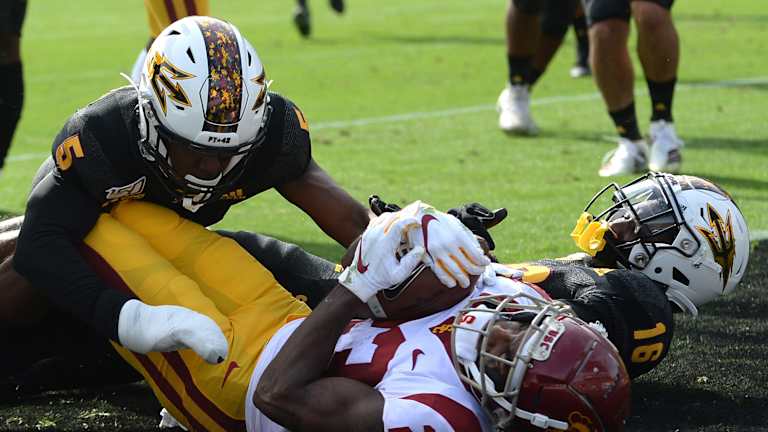 Should USC Redshirt RB Kenan Christon?
Surveying the pros and cons of burning freshman running back Kenan Christon's redshirt
Surveying the pros and cons of burning freshman running back Kenan Christon's redshirt
If Kenan Christon plays another snap this season, it will be worth a year of eligibility. 
Will his contribution over the final three games be worth more than it would for an entire extra season? Probably not. Only that's assuming Christon would do something that hasn't been done by a USC tailback in 17 years and counting: play the better part of four seasons after redshirting. 
It's uncommon for USC backs to stick around for five years to begin with. There have only been three whose careers ended this decade: Tre Madden, who lost two years because of injury (and didn't play running back for the duration of his college career); Curtis McNeal, who was academically ineligible for a season, and Marc Tyler, who missed all but one game as a sophomore to injury.
The last USC tailback to redshirt and then play more than four games in each of the following four seasons is Sultan McCullough (1998-2002) -- incidentally, the player whose speed Christon's is compared to most. The "fastest Trojan ever" missed just six games in his USC career, all in his junior season.
No position is more physically volatile than running back. That's how Christon, once fifth-string, ended up starting in the first place. Should he suffer an injury after playing in four games or less in one of the next three seasons, he'll still have a redshirt in his pocket. Again, that's assuming he would want to play a fifth season of college football. Allen Bradford and C.J. Gable are the only USC backs to do it this century, and they were part of an overcrowded stable that briefly included 10 scholarship backs. 
USC currently has just five running backs, including a former walk-on, and doesn't have one committed from the 2020 class. In other words, Christon is in a great position to garner carries in the near future and, health permitting, probably won't stick around until 2023 even if he can.
Better then to maximize Christon's talent now, while he's healthy and here.
Coach Clay Helton, despite his ever tenuous status, has been careful to consider what Christon would want, before revealing Monday on Trojans Live that he won't redshirt. It's a decision the soft-spoken freshman said beforehand he was on board with.
"It doesn't really matter too much," Christon said following Saturday's win against Arizona State. "If I redshirt, it's cool. If I don't, even better. I just want to do what's best for the team."
In 2019, that means playing. 
The rookie has been a revelation over the past month with USC shorthanded at running back. He's already the team's second-leading rusher, averaging 5.6 yards per carry, and he's scored five touchdowns. Again, this is all in three-and-a-half games.
Christon admitted he did want to redshirt earlier in the season when he didn't have a significant role. He was essentially buried for the first half of the season, elevated all the way to the starting lineup only after the top three backs went down. But that all feels like a long time ago now.
On Monday, he was selected Pac-12 Freshman of the Week for his performance at ASU, which included 144 all-purpose yards and a pair of receiving touchdowns. Catching had once been a noted weakness, but as we've come to learn about Christon, he makes things better pretty quickly. By all accounts, he's also been superb as a pass-blocker, despite his 5-foot-10, 180-pound frame.
This past weekend, he proved he could shoulder a large load, carrying the ball 20 times.
"That kid's shown me so much," running backs coach Mike Jinks said. "He's impressed the heck out of me. When those guys get back, like I told him, like I told the whole room, he's earned touches, period. And that's how you do it. You go in and you produce."
So, why redshirt him? 
The opposing view is that Christon won't be needed nearly as much with Malepeai and/or Carr back in the lineup. Both veterans traveled to Tempe and were dressed for warmups, a sign that they are close to returning. Of course, that doesn't mean they won't get hurt again in the coming weeks. They also don't do what Christon does. His game-breaking speed is sorely needed in an offense that often struggles to stretch the defense.  
Moreover, benching one of your better players in November would send a strange message to a team that hasn't given up on its season, despite its diminishing division title hopes. 
The bigger waste was not using him at all in the first six games of this season.
-- Adam Maya is a USC graduate and has been covering the Trojans since 2003. Follow him on Twitter @AdamJMaya.