Thursday's A.M. Hot Clicks
She's An Emotional One
Thursday's A.M. Hot Clicks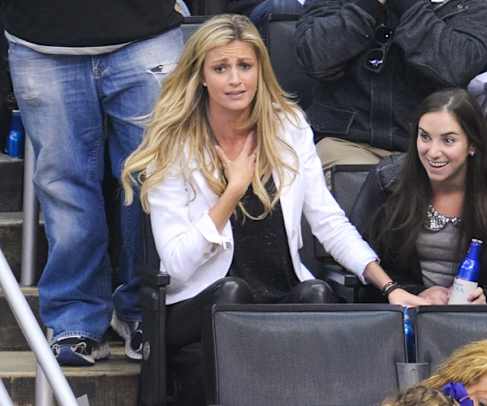 As you know, sportscaster extraordinare Erin Andrews is dating the Kings' Jarret Stoll. The center has been out of action since May 14 after suffering a concussion, but Andrews has remained a mainstay at Kings games. As you can see by the gallery above, her passion has been on full display.
Kudos To The Cardinals
Several Arizona Cardinals' rookies -- Padric Scott, Jamaal Johnson-Webb, Earl Watford, Dan Giordano and Jonathan Cooper -- visited a local children's hospital on Wednesday and, in a very heartwarming scene, rocked out to some Taylor Swift while one patient handled vocals. We need to single out Scott (No. 67) for the excellent dance moves.
Aiming High
A while back, Paul "BizNasty" Bissonnette appeared on the Hot Clicks Podcast and explained how Twitter is a great way for athletes to find, um, company. So anytime we see an athlete pursue a member of the opposite sex on Twitter, it's normally not a big deal. However, it should be pointed out that Grizzlies guard Quincy Pondexterstepped things up on Wednesday by openly courting Miss Tennessee.
Lovely Lady Links Roundup
Helen Lindes :: Carlos Alvarez/Getty Images/
Spanish model Helen Lindesis simply stunning. ... Polish model Ewelina Olczak stars in this new photoshoot. ... Complex.com has released its list of the 100 Hottest Women Right Now.
Clean It Up
Seahawks offensive lineman John Moffitthas a problem with shopping malls and urinating in the parking lots of those malls.
Kobe Bryant Continues To Dominate Twitter
Sure, his "Medical Mamba shoe" tweet from this morning was solid, but this was the real winner.
Bike Tricks Video Of The Day
Matt, of Indianapolis, says, "I read Hot Clicks pretty much every day and this is the first time I've seen a video that's worthy of submitting. You won't be disappointed." I am not disappointed in the video, but let's change that "pretty much every day" to "every day."
Mashup Video Of The Day
When you see a phone booth in a movie, you know trouble is on the way.