Disappearing Act
Scott Hairston :: David Banks/Getty Images
Cubs outfielder Scott Hairston made a nice catch inside the Ivy at Wrigley Friday afternoon against Arizona's Paul Goldschmidt. This cool GIF shows you how Hairston got lost in the shrubbery while still making the grab.
Photo Of The Day
LeBron Jameshas four arms.
Wrapping Up The Week
Guyism.com has compiled the best screencaps, GIFs and memes from the past week.
Lovely Lady Of The Day
Friday's P.M. Hot Clicks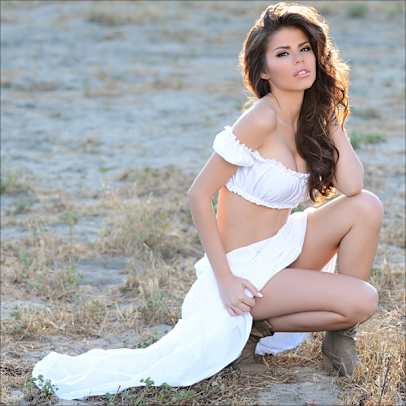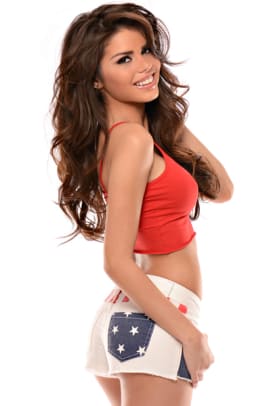 Regular readers of Hot Clicks know that we are fully on the Kings bandwagon in the NHL playoffs (though, we don't get as emotional asErin Andrews) thanks to our fondness for Dustin Penner's humor. When the last series began, we had Penner pick a LLOD. Since Los Angeles kicks off its Western Conference Finals series against Chicago on Saturday, we reached out to Penner again for a Lovely Lady of the Day. His pick is Miss California, Mabelynn Capeluj, who made an appearance in today's A.M. Hot Clicks. We asked Penner if he had a message for Capeluj. "Just wishing her good luck in the Miss USA Pageant. And lay off the Buffalo wings until after. Those stains are nearly impossible to get out. Take it from someone who knows."
Random Links
Don't let Dane Cookautograph your sports jerseys. ... If you know any Packers or Bears fans who are getting married, tell them the bride has a new option for a dress. ... Here's a NSFW gallery of how basketball fans in Italy distract opposing players.
Listen To Foot In Mouth
Ohio State president Gordon Gee made several controversial comments during a meeting on Dec. 5. Today, SI.com has audio of Gee making those remarks, including this shot at Notre Dame:  "I negotiated with them during my first term and the Fathers are holy on Sunday and they're holy hell on the rest of the week. You just can't trust those damn Catholics on a Thursday or Friday. Literally, I can say that."
Dancing Kid Video Of The Day
Just awesome except for the fact that the person filming forgot to turn his phone. (Thanks to Abdi Ahmed, of Denver, for the video.)
Ridiculous Product Video Of The Day
If you're in Puerto Rico, you can get a hands-free Whooper today. (Thanks Adam Simon, Deerfield, Ill., for the video.)
The Weekend Playlist By Tom Mantzouranis
If you're a long-time subscriber to this playlist (at least, long-time in the sense that I've only been doing it for three months), you might remember that the first incarnation had a track from the band Baroness. I try not to duplicate bands, but I'm kicking off this week's playlist with another great Baroness track for a reason.
Last August, at the beginning of a tour for their very, very good album Yellow & Green, the band's bus fell 30 feet from a viaduct in England. The crash was near-fatal, seriously injuring every member of the band and putting their future in doubt just as they were experiencing mainstream success. In October, their singer wrote a long, powerful account of the crash with an update on the arduous rehab and band's future, vowing to return to the stage again. Last week, after a long process, they did just that, playing their first show since the crash. They're on tour now, back on a bus, so if you like rock and you like great stories, check them out. Well done, boys. Welcome back.
As always, click any of the song links to listen, or you can just subscribe to the Hot Clicks Nation playlist on Spotify. Every Friday, the playlist will automatically change to that week's selections, so the new music will come to you. Let me (Tom Mantzouranis) know on Twitter what you like and what you do not. (Warning: NSFW language in some songs.)
Baroness, "Take My Bones Away"
Oxford Collapse, "Young Love Delivers"
Tyler The Creator, "Awkward"
Gonjasufi, "Sheep"
Vampire Weekend, "Unbelievers"
Camera Obscura, "Do It Again"
The National, "Sea Of Love"
Mellow Man Ace, "Mentirosa"
Ahmad, "Back In The Day"