Tuesday's P.M. Hot Clicks
THE ICE CREAM MAN IS COMING!!!
Haloti Ngata :: AP
Not only is that line part of Eddie Murphy's classic routine on the ice cream man (Very NSFW language) from the greatest standup special in history, Delirious, but it's also how several Ravens players reacted when the sound of those magical bells rang out after practice on Monday. In fact, defensive end Arthur Jones (No. 97) damn near lost his mind!
Not Acting Their Age
Players aren't the only ones who provide us with amusing stuff during NFL training camp. Fans go a little off the deep end, too, as proven by this Packers die-hard.
Tweet Of The Day
Even players who aren't at Texas A&M can't believe the ridiculous coverage given to Johnny Manziel. Notre Dame defensive tackle Louis Nix III summed up the situation with this tweet.
https://twitter.com/1IrishChocolate/status/362275869508648961
Lovely Lady Of The Day
Tuesday's P.M. Hot Clicks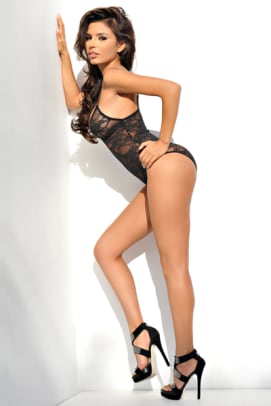 Model and Fuel TV host Gabriella Cevallos gets today's LLOD honors.
Great Time Killer
Here are 55 photos that aren't what you think. (Thanks to Shridhar, of Toronto, for the link.)
Tattoo Of The Day
UFC's Ronda Rousey, who was in today's A.M. Hot Clicks, has a REALLY big fan out there.
Denzel Washington Video Of The Day
His characters have guaranteed a lot through the years.
Karaoke Injury Video Of The Day
Can't be real. Just can't be.