Digit Disaster
Rashad Johnson :: Getty Images
At some point during yesterday's game against the Saints, Cardinals safety Rashad Johnsonlost part of his finger. Johnson doesn't know when or how it happened, but at one point he took off his glove and the tip of the finger was in there. The Cardinals and Johnson sent out tweets about the incident today.
https://twitter.com/AZCardinals/status/382228833933328384
https://twitter.com/49foyamind49/status/382142747781890048
Win Celebrations Go Wrong
According to TMZ, Ravens receiver Jacoby Jones, out celebrating his team's win against the Texans, was involved in a brawl early this morning during which a stripper named Sweet Pea hit him over the head with a giant champagne bottle.
Wrapping Up The Weekend
Guyism.com has compiled the top 20 football GIFs from Saturday and Sunday.
Lovely Lady Of The Day
Monday's P.M. Hot Clicks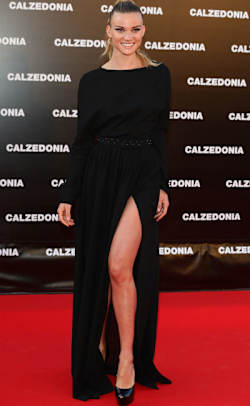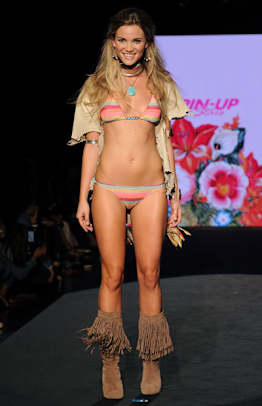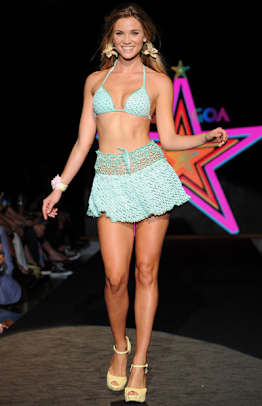 Italian TV host and model, Fiammetta Cicogna, get today's LLOD honors.
The Life Of An Athlete
Rays pitcher David Price likes to chew 5 gum so much the company has given him his own gum vending machine for his house.
Random Links
Mets rookies had to dress as a wedding party, complete with brides, as part of the rookie hazing ritual. ...  When the Red Sox celebrated their AL East title Friday night, Jonny Gomespunted a beer can into the stands and injured a fan. ... Meanwhile, the A's AL West celebration featured a baby and a beer can.
Giveaway Of The Day
I have four of these Mariano Rivera tribute T-shirts are courtesy of Fanatics.com, a leading online retailer of officially licensed sports merchandise. To win the shirt, which has been the top-selling MLB item on Fanatics.com all season, you must e-mail me (Jimmy_Traina@simail.com) the answer to the following question. You have to e-mail me (do not fill out the form below) and put "CONTEST" in the subject line in order to be eligible.
1. How many times has Mariano Rivera appeared on the cover of Sports Illustrated by himself?
UPDATE: Contest is over. Winners have been e-mailed. Rivera has appeared on the cover by himself twice.
In Case You Missed It
Shorty after today's A.M. Hot Clicks were posted, I added a must-see video of a high schooler Tyler Balla  making a crazy one-handed catch.
Samuel L. Jackson Video Of The Day
The actor has a message for all the parents out there.
Life Tips Video Of The Day
Via Devour.com comes this video which will change the way you use certain products.