Tuesday's P.M. Hot Clicks: Natalia Barulich; College Football Round-up
Tuesday's P.M. Hot Clicks feature the lovely Natalia Barulich, college football fan photos and coaching news
College Football Roundup
College football is heating up and Andy Staples is wondering which head coach is next one on the chopping block. Also, here are a few non-football job suggestions for Les Miles, Urban Meyer addressed the LSU rumblings and the ACC title game might have a new location after leaving North Carolina. Slightly less important, here is our latest college football fans gallery. (Click here for full-size version.)
College Football Superfans, Week 4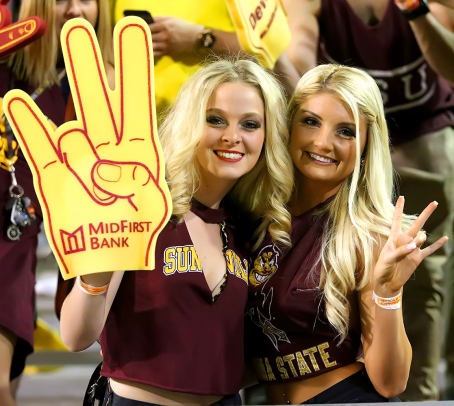 NFL Notes
"Doped up" Adrian Peterson sings after getting out of surgery, and Rex Ryan (harmlessly) mocked Bill Belichick at the start of Patriots week. Here are the Week 4 NFL quarterbacks rankings, and Chris Burke dropped his first mock draft for 2017.
Best Manager Ever
In stunning news, Arsenal has hired a new manager with no soccer experience: James Corden. It reminds of us of Ted Lasso's Tottenham days.
Natalia Barulich: P.M. Lovely Lady of the Day
We're dipping back into the international pool for the final Tuesday LLOD of September with gorgeous Cuban-Croatian model Natalia Barulich. (Click here for full-sized gallery.)
​
Rubio Honors Fernandez
Florida senator Marco Rubio paid tribute to Jose Fernandez on the Senate floor on Tuesday.
Worst World Cup Ever
Amidst a lodging shortage, fans can camp out in tents at the World Cup.
What is Going On?
Awwwwww
Zubaz Need a Comeback
DFS in Texas
Odds and Ends
Mark Cuban laid intro Trump after the debate ... College football's best cheerleaders from Week 4 ... The 'Trump Sniffle' is taking over the internet ... Many of Jose Fernandez's teammates declined his boat invite on Saturday night ... ICYMI: Britney Spears dazzled during her iHeart Radio performance ... Oregon's practice uniforms are better than most team's game uniforms. ... 19 times pizza was badly disrespected in its own home ... Gregg Popovich discusses player protests during National Anthem.
'Never Have I Ever' With Rose & Emily
Matty Ice Flashback
In honor of Matt Ryan exercising good judgment in not blocking 308-pound Nick Fairley on Monday night, let's look back at this monster hit he took in college
.
Turns Out Humans Can Fly
​Email andy_gray@simail.com with any feedback or ping him on Twitter. Click here for previous editions of Hot Clicks. Visit our Extra Mustard Page throughout each day for more offbeat sports stories and the latest Cheerleader of the Week gallery. Also check out the SwimDaily Page for the latest updates and Instagram pictures of models who have appeared in our issues.