Fantasy football Player Projections -- Breaking down Week 13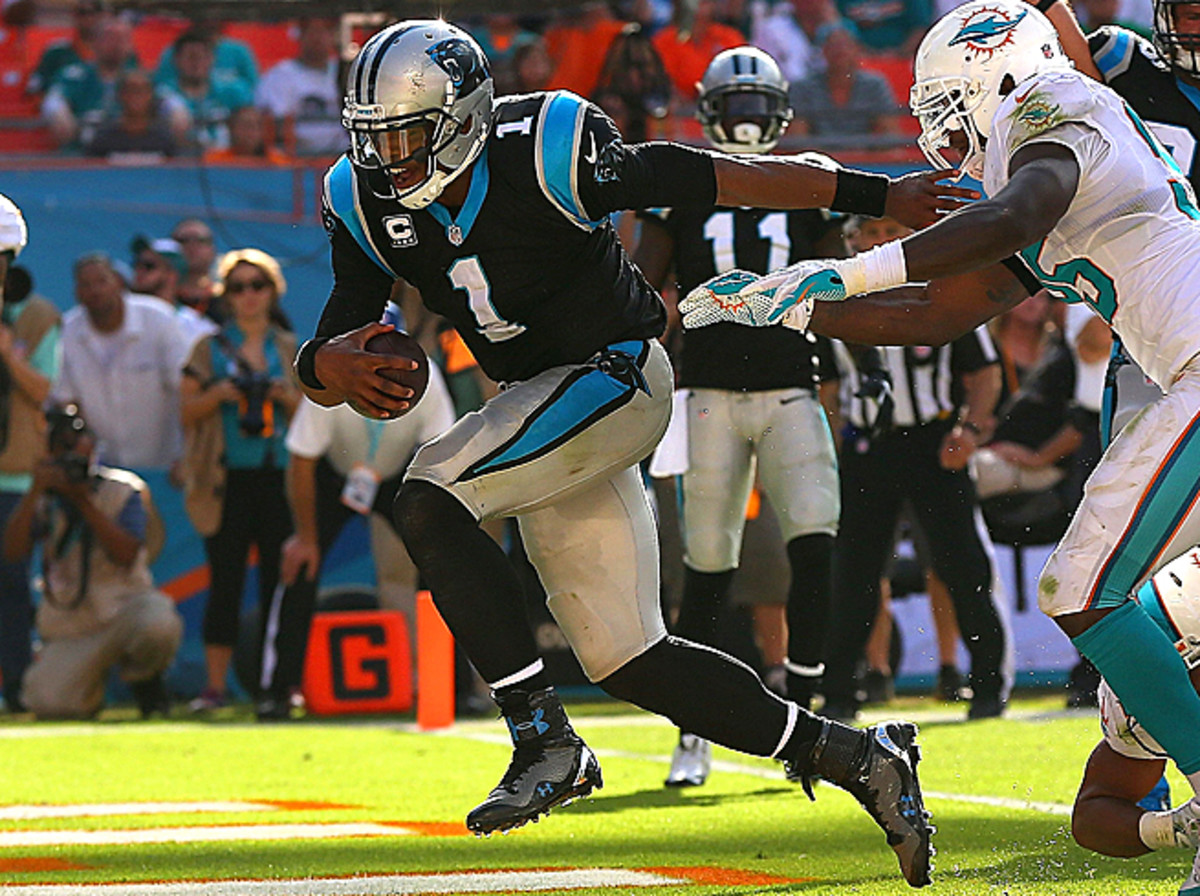 Fantasy Player Projections: Week 13
View by Position
View by Matchup
vs.
vs.
vs.
vs.
vs.
vs.
vs.
vs.
vs.
vs.
vs.
vs.
vs.
vs.
vs.
vs.
Quarterbacks
1

Cam

Newton

PASS YDS266

PASS TD2

INT0

RUSH YDS39

RUSH TD1

The Dolphins held Newton in check through the air, but his eight carries for 51 yards and a touchdown gave him a nice fantasy day. He's a strong play against a Buccaneers defense that allows the seventh-most fantasy points per game to quarterbacks.

2

Peyton

Manning

PASS YDS349

PASS TD3

INT0

RUSH YDS0

RUSH TD0

Manning threw for just 150 yards and two scores against the Patriots last week. The master of adjustments should be ready for his second go-round with the Chiefs.

3

Andy

Dalton

PASS YDS337

PASS TD3

INT0

RUSH YDS0

RUSH TD0

I've got Dalton penciled in for a huge game against a San Diego defense that allows the sixth-most fantasy points per game to quarterbacks.
To see the full list, click here
Running Backs
1

Adrian

Peterson

RUSH YDS159

RUSH TD3

REC YDS22

REC TD0

The Bears allowed 258 rushing yards to the Rams last week. Peterson could legitimately reach that total by himself on Sunday.

2

Jamaal

Charles

RUSH YDS112

RUSH TD2

REC YDS47

REC TD0

Charles carved up the Chargers as expected and is one of the top options at the position, as always, this week. It'll be interesting to see if the Chiefs have any new offensive wrinkles in thier second matchup in three weeks against the Broncos.

3

Frank

Gore

RUSH YDS130

RUSH TD2

REC YDS19

REC TD0

Gore should be in for a huge day against a St. Louis defense that allows the second-most fantasy points per game to running backs.
To see the full list, click here
Wide Receivers
1

Calvin

Johnson

REC YDS124

REC TD2

Johnson had seven receptions for 115 yards last week. He's in line for a big day, even though the Green Bay secondary is back to full strength.

2

Josh

Gordon

REC YDS135

REC TD1

Gordon burned the Steelers for 237 yards and a score last week. He did plenty of damage after Brandon Weeden took over for an injured Jason Campbell, so there's no reason to downgrade him for the quarterback change.

3

Dez

Bryant

REC YDS131

REC TD1

Bryant should feast on a Raiders defense allowing the fifth-most fantasy points per game to receivers.
To see the full list, click here
Tight Ends
1

Jimmy

Graham

REC YDS105

REC TD2

Graham had five catches for 100 yards and a touchdown last week. Get him going in Week 13.

2

Rob

Gronkowski

REC YDS107

REC TD1

Gronk is the one Patriot with a clear-cut starring role in the offense, other than Tom Brady, of course.

3

Vernon

Davis

REC YDS90

REC TD1

The Rams have done well against opposing tight ends this year, but that didn't stop Martellus Bennet from having a big game last week. Start Davis with confidence.
To see the full list, click here
Kickers
1

Alex

Henery

PAT2

FG4

Henery is worth a shot in this matchup and could be considered a reliable fantasy kicker for the rest of the season.

2

Matt

Bryant

PAT1

FG4

The Bills can be stout at times on defense, and that could help make Bryant a worthwhile play this week.

3

Stephen

Gostkowski

PAT4

FG3

Gostkowski remains as efficient as ever and is tied to an ever-improving offense. Start him with confidence.
To see the full list, click here
Defenses
1

PTS ALLOWED6

SACKS4

INT3

TD0

The Dolphins didn't play poorly against the Panthers, though their struggles against the run came back to bite them. They are a great play against a terrible Jets offense, however.

2

PTS ALLOWED20

SACKS4

INT2

TD0

Threes were wild for the Ravens last week, as they forced three turnovers, sacked Geno Smith three times and held the Jets to three points. They should be started this week.

3

PTS ALLOWED13

SACKS4

INT2

TD0

The Browns were a total no-show against Ben Roethlisberger and the Steelers a week ago. The Jaguars present a nice opportunity to bounce back.
To see the full list, click here