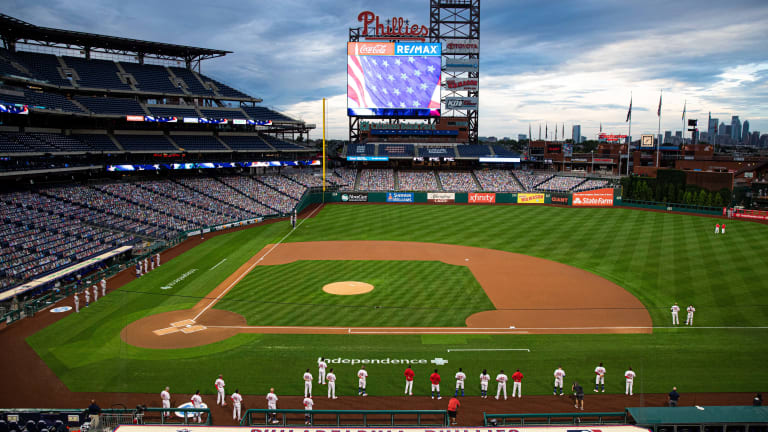 This Day in Phillies History: October 17
The Philadelphia Phillies evened up the World Series at one game apiece on this day in 1993.
On this day in 1993, the Philadelphia Phillies were looking to even up the World Series at one game apiece.
Following two scoreless innings between the Phillies and Toronto Blue Jays at the SkyDome, the Phillies blew the game wide open in the third inning.
Blue Jays starter Dave Stewart walked two batters to begin the inning, to which John Kruk responded with a RBI single to put the Phillies up 1-0.
Dave Hollins kept the inning going with another RBI single, and Jim Eisenreich hit a three-run blast to put Philadelphia up 5-0.
Terry Mulholland was on the mound for Philadelphia, pitching 5.2 innings, allowing three runs on seven hits, two walks, and four strikeouts. 
He also allowed one homerun in the fourth inning to none other than Joe Carter, who surely won't hit an important homerun later in the series or anything.
Mulholland exited the game after surrendering an RBI double to make it 5-2. Luckily, Lenny Dykstra answered in the seventh by hitting a homer into deep right field, putting the Phils up by four.
Closer Mitch Williams would enter the game in the eighth, and although he would allow Toronto to gain one run back on a sacrifice fly, he was able to eventually close out the game.
The Phillies took Game 2 by a score of 6-4, and were now heading back to Veterans Stadium in Philadelphia for three games.
More From SI's Inside The Phillies:
---
Make sure to follow Inside the Phillies on Facebook and Twitter!