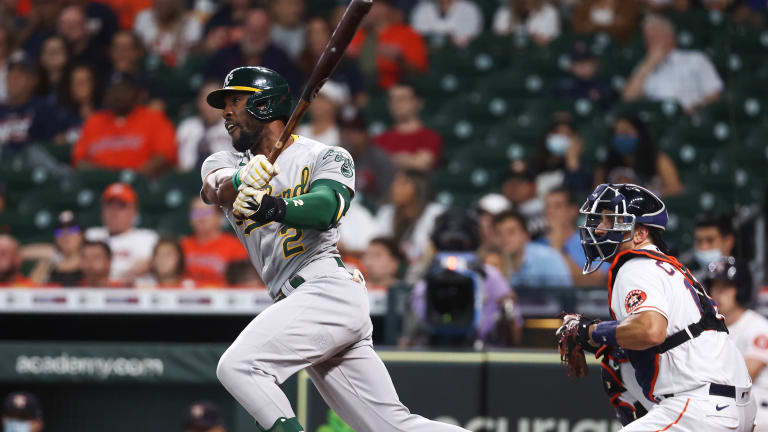 Could Acquiring Starling Marte Make Sense for the Phillies?
The free agent center fielder would be a perfect fit for the Philadelphia Phillies in 2022.
Oakland Athletics center fielder Starling Marte will be a free agent this MLB offseason. And while the Philadelphia Phillies have a number of holes both offensively and defensively they need to address, acquiring Marte should be at the top of their list.
President of Baseball Operations Dave Dombrowski discussed the desires for his club during the offseason in a press conference on Oct. 6. Among them were a middle-of-the-order bat, a leadoff man, a shortstop, and a closer.
Quite the hefty list, and although Dombrowski didn't specifically mention a centerfielder, he did mention a leadoff hitter.
Marte would be the perfect fit for the leadoff role on the Phillies in 2022.
In 120 games between the Miami Marlins and A's this season, Marte hit .308/.381/.456 with an OPS of .837, collecting 144 hits, 12 homers, 55 RBI, and 89 runs scored.
Marte's most impressive feat in 2021, though, were his major league-leading 47 stolen bases. With Roman Quinn out, the Phillies were severely lacking speed, resulting in Bryce Harper and J.T. Realmuto being tied at just 13 for the team lead for stolen bases. So, to have a player utilizing the base paths like Marte would be a huge tool for a club that typically doesn't capitalize on this facet of the game.
All of these factors and more would be a welcome sight for the Phillies centerfield position that was a toss up in the beginning of the season. Odúbel Herrera essentially got handed the position by default, and that's not really ideal on a team that's supposedly looking to be legitimate contenders.
Herrera's hot streaks were few and far between in 2021, and he'd frequently make foolish decisions on the base paths or out in the field that were costly for the Phillies. Marte was worth 4.7 WAR in 2021, compared to Herrera's 1.8. 
The two-time Gold Glove winner (2015, 2016) Marte would help the Phillies defensively in the outfield as well. In 119 games in center this past season, Marte committed only three errors and collected 280 putouts. 
Additionally, Herrera was thrown into being the leadoff hitter for the Phillies when it was not the right spot for him in the lineup. Inside the Phillies dove deeper into Herrera's 2021 season here.
In 262 games at leadoff for his career, Marte has slashed .269/.323/.407, with 289 hits, 41 doubles, 18 triples, 24 home runs, 78 RBI, 77 stolen bases, and 51 walks. With Marte leading off and Jean Segura hitting second in the lineup, this would bode well for Harper batting third. Too often in 2021 were no men on base for the NL MVP candidate, resulting in a lower amount of RBI opportunities and a majority of his homers being solo shots.
Marte also has incredible numbers at Citizens Bank Park. In 25 career games in Philadelphia, Marte has hit .398/.449/.643 with an OPS of 1.091, collecting 39 hits, 12 doubles, four homers, 13 RBI, and eight stolen bags. Now just imagine what he could do if it was his home field.
One of the main concerns with Marte is his age. At 33, a long-term deal for him could prove to be a financially irresponsible move for the Phillies. However, if Dombrowski decides that the Phillies are serious about winning it all next season, signing Marte to a short-term, high AAV deal (i.e. 3 yr/54M, with 5M buyout after 2023) would make the most sense for the veteran.
Overall, Marte would be a great addition to Philadelphia, as he is a smart ballplayer who is quick on the base paths, can get on base consistently, and would bring power to the leadoff spot. 
More From SI's Inside The Phillies:
---
Make sure to follow Inside the Phillies on Facebook and Twitter!