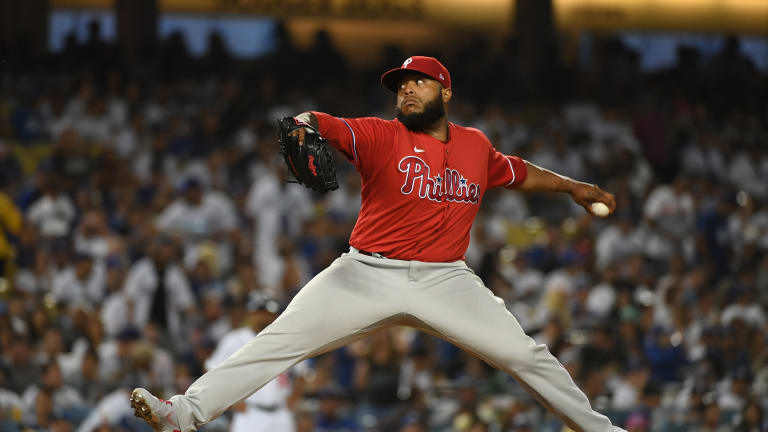 Phillies Season in Review: José Alvarado
Inside the Phillies continues their season in review series with Philadelphia Phillies reliever José Alvarado.
José Alvarado is an imposing figure; At 6'4" and 245 pounds, the big lefty is a fearsome sight upon the pitching mound.
Acquired from Tampa Bay in a three-team trade that saw the Phillies send Garrett Cleavinger to the Dodgers, Alvarado was a part of one of the first moves made by the Dave Dombrowski-led front office.
In his time with the Rays, Alvarado was best known by National League fans for his abundant appearances on the Pitching Ninja Twitter account. Expectations were high for the flamethrower from Venezuela.
Alvarado got off to a blazing start in 2021. April saw him allow one run and strikeout 13, though he did miss April 13 to April 27 on the injured list. In just his third game back on April 30 against the Mets, Alvarado sparked an incident reminiscent of the rivalries of 2007 and 2008.
After striking out Dominic Smith to end an eighth inning threat, the Phillie and Met continued to quarrel as they returned to their dugouts. Alvarado mimed Smith talking back to him, threw his glove away and the benches cleared.
Though no punches were thrown, it would be the first of two bench clearing scuffles that night. Perhaps more than anything, it helped endear the 26-year-old reliever to Phillies fans.
Going into May, Alvarado had allowed only three walks. After struggling with command during his last full season in 2019, it seemed Alvarado finally had his fastball under control; that was not to be the case.
In May, Alvarado walked 17 in 17.1 IP, the worst total of any month in his career. While Alvarado settled down after a particularly rough start to the month, in which he allowed three runs without recording an out, the writing was on the wall. June saw the fireballing lefty walk another eight batters in 13 innings.
By late June, Alvarado had accrued a BB/9 of 7.7, but he had still kept runs from scoring at an elite rate. On the 25th, his ERA was 2.57, and as closer Héctor Neris began to struggle, Joe Girardi pegged Alvarado to close.
That same day, Alvarado blew his second save of 2021. By July 2, he relinquished the closer role to Ranger Suárez. In that timeframe, Alvarado pitched just 4.1 innings and managed to allow seven runs.
On July 11, Alvarado's ERA had reached 4.54, while only 15 days prior it had been 2.57. But Alvarado's struggles weren't over yet, the walks continued and his ERA climbed again, now to a peak of 4.70 on August 2.
The man the Phillies had acquired from the Rays to set up closer Neris was almost now completely unreliable. Alvarado was still effective against lefties, but he could no longer be counted on to get outs in high pressure situations.
After returning to the IL for an extended stay in August, Alvarado finally settled down. From August 3 to September 23 he allowed just six walks and two earned runs over 13.2 IP.
At season's end, Alvarado had an ERA of 4.20, his walk rate a ghastly 18.7%, the highest in MLB. While his season shouldn't be considered a success, his acquisition should be.
It's widely considered a bad idea to make a deal with the Tampa Bay Rays. Their analytics department is the class of MLB; year in and year out they win baseball games with low payroll and few proven stars. Dombrowski, however, managed to execute a moderately successful trade. Although Alvarado was not a resounding success in 2021, his position on the club is certain for 2022, and he still holds a well of untapped potential.
More From SI's Inside The Phillies:
---
Make sure to follow Inside the Phillies on Facebook and Twitter!