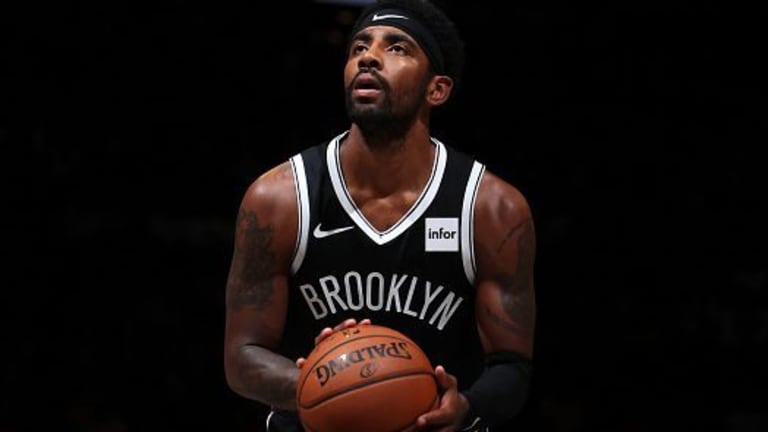 Kyrie Irving has Memorable Game on Friday Night Against New York Knicks
Irving Finally Gets His Chance to Face off Against Cross-town Rivals
Kyrie Irving got his dream team. The star player had the chance to compete against the Knicks on Friday, after the highest-scoring debut in NBA history on Wednesday.
While the Nets had a 127-126 overtime loss to the Timberwolves, Irving shot 17 out of 33 without a turnover while his teammates shot 31 of 68 with 16 turnovers. The team dug themselves out of an 18-points deficit in the first half and surrendered 68 points in the first two quarters on Wednesday night.
This brings attention to Nets fans to look out for Friday's game against the Knicks. What's exciting for Irving is the team will have a special Irving jersey giveaway. Coach Kenny Atkinson looks at how the team is built after adding Irving and he wouldn't mind seeing Irving duplicate his record-breaking performance from Wednesday's game. "I'd love to see the same Kyrie," Atkinson said after practice on Thursday. "I thought his energy was great. The big thing is how's he gonna recover from 38 minutes."
Whatever happens on Friday night will be a game Irving will never forget. "I can't wait until both teams are playing at a really high level," Atkinson said. "It's a great rivalry without that but you want it like Yankees and Mets when both teams were really good. [I'd] love to see that."
Atkinson and the team hasn't commented publicly with any details for the game after beating the Knicks in the free agency. "I think that's quite honestly childish if you look at it that way," Atkinson said. "I think we were fortunate, and things went our way."