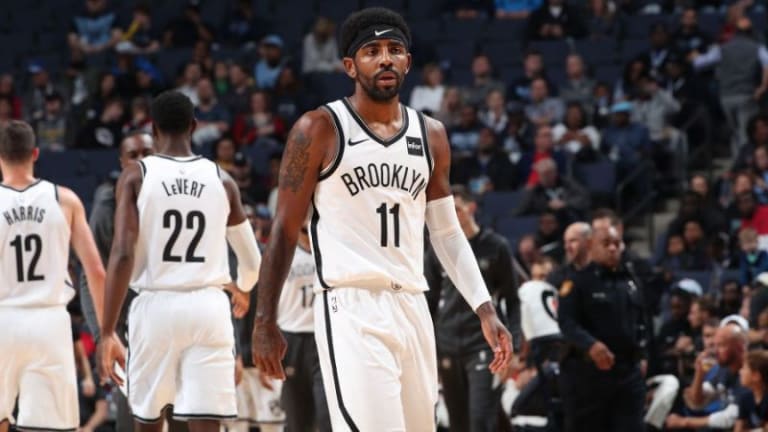 Will Kyrie Irving Be the Player to bring the Nets Down This Season?
Less than a Week Into NBA Regular Season, the Honeymoon Period Is Over Between Irving, Nets
The moodiness and aloofness of All-Star point guard Kyrie Irving has been well-documented throughout his career, and has caused problems for the previous two teams he played for.
This issue has reared its ugly head once again, and the Brooklyn Nets allegedly saw first-hand how difficult the star point guard can be to deal with at times during the team's recent trip to China.
It was reported by ESPN'S Jackie MacMullan that: "Irving's infamous mood swings, confirmed by his ex-teammates, which followed him from Cleveland to Boston to Brooklyn, are the unspoken concern that makes Nets officials queasy. Celtics players concede that earlier in the season Irving's mood swings often left them treading lightly in the locker room."
This issue should not be surprising for Nets players, fans, or management because Irving has always been painted as a player that is not great for team cohesion. They Nets knew what they were signing up for. A talented player, but also one that comes with a tremendous amount of baggage.
Even Kevin Durant admitted that Irving is a different sort of person. "I look at Kyrie as somebody who is an artist," Durant said in the off season. "You have to leave him alone. You know what he'll bring to the table every night because he cares so much about the game."
While Durant is certainly right that Irving is a top-flight player in the league, there is still something to said for leading by example and being a part of the solution instead of constantly being part of the problem.
In both Cleveland and Boston, Irving would reportedly go days without speaking to his teammates and coaching staff in addition to calling out Celtics players multiple times last season for not having the makings of a championship team.
That is an indictment on Irving more than anybody else because he was acquired by Boston to be the missing piece for the Celtics, and show their promising young players what it takes to be an NBA champion.
Ever since Irving has left LeBron James, and has been tasked with leading a team of his own, he has fallen flat on his face. Irving now has the opportunity to lead the Nets this season without Durant. This should keep Nets fans, and the organization, up at night because Irving has never shown that he has the ability to lead a team to anything other than drama.
Saying that one is ready to do something is a totally different story than actually going out and getting the job done. Irving does have the chance to prove his detractors wrong, but after only three games with the Nets, Irving and management seem to already be at odds.
Two particular incidents that caused the Nets brass to become uncomfortable with the point guard's habitual petulance is that he refused to don wearable technologies so the team could better analyze his game, and that while in China Irving refused to take off his hat for a team photograph.
Head Coach Kenny Atkinson, and Irving's Nets teammates, both categorically denied the reporting by MacMullan. 
What this report means more than anything else is Irving and the Nets brass must look in the mirror and assess whether it was a mistake coming together.
While it is certainly difficult to analyze Irving from afar, the reporting about Irving has a common thread to it which means that it must be true since it has been corroborated time and time again.
Durant, who was also acquired by the Nets this summer, was looked to as the one man that had any chance to keep Irving's mood swings in check and prevent them from being a detriment to the team. With Durant out for the entirety of the year with a torn Achilles, Irving has the possibility to run amok and capsize a promising Nets team this season.
Eventually, Irving must take responsibility for his behavior and be the team leader that he said he would be before the season began. The Nets must reign in Irving's alleged destructive behavior, or the team chemistry will be fractured beyond repair. 
Irving destroyed the team fabric in Cleveland and Boston, and the Nets need to make sure that Brooklyn is not a name that would be added to the list of teams that never reached their potential due to Irving's uneven personality traits.
All of this begs to question if this will be a blip on the radar for the Nets this season, or if it will be an issue that will plague the Nets all season and cause them to under perform because their leader does many things. None of which is remotely close to leading a team to a NBA title.