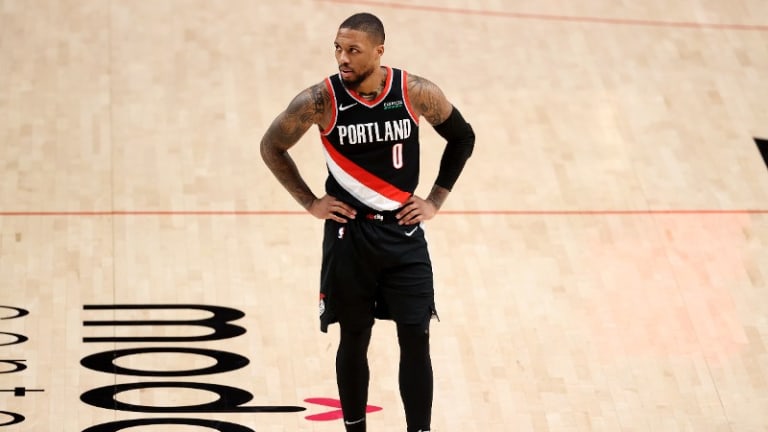 Damian Lillard's Game 5 Defense Just Wasn't Good Enough
Damian Lillard's Game 5 is one of the best playoff performances in NBA history. His defense was still a major problem.
Damian Lillard made it loud and clear leading up to Tuesday night: Game 5 was "the one" for the Trail Blazers. 
Platitudes about every game in the playoffs being the most important one were cast aside. So was the well-meaning rhetoric that followed Game 1 about meeting the Denver Nuggets' energy and intensity early. 
Lillard made the gravity of Game 5 abundantly clear to his teammates, and as he told it, they were fully prepared to "walk the walk" come tipoff.
'This ain't a situation where we need to be just, 'Alright, lock in. We gotta have this game,'" Lillard said on Monday. "We said that after Game 1 and we went out there and got blasted. We got to walk the walk on this one. This is the big one. This is it right here. I think everybody's on the same page with that."
Portland trailed 38-25 after the first quarter on Tuesday night. When Paul Millsap grabbed a defensive and sauntered down the court for a coast-to-coast finish barely four minutes into the second quarter, the Blazers trailed by 22 – a seemingly insurmountable deficit given the depressing manner of Portland's play.
You know what happened next. A transition three from Lillard plus the foul a couple minutes later woke up he and the Blazers, tipping off a furious 23-6 run that left Denver up only three points at intermission.
Lillard, obviously, was able to pull his team not just out of that gaping first-half hole, but even deeper ones in the final minutes of regulation and the first overtime. Michael Malone called his 55-point, 10-assist performance on 24 field goal attempts "superhuman." Nikola Jokic said it was a "pleasure" to watch. Kevin Durant ultimately settled on describing it as a "spiritual experience."
All of that lavish praise rings true, just like Terry Stotts saying Lillard's Game 5 was "the best playoff performance I've ever seen." No one in league history had ever done what Lillard did on Tuesday night.
But understandably lost in the euphoric hysteria and slack-jawed awe elicited by Lillard's all-time performance is one of the reasons why it was necessary for Portland to almost beat Denver in the first place: His unacceptable defensive effort early.
No one player will ever bear the full brunt of responsibility for the layered defensive issues that got the Blazers off to such a bad start in Game 5. The defensive impact of point guards, positive or negative, intrinsically lags behind that of bigs and wings, too, and especially with the Nuggets so depleted in the backcourt.
Lillard shouldn't have been able to do the damage he did defensively, basically. Primary assignments the likes of Facundo Campazzo, Austin Rivers and Markus Howard allowed for that reality all by themselves. 
But even undrafted rookies standing below six feet can drain catch-and-shoot wing threes in playoff games when their defender completely falls asleep away from the ball.
Howard isn't Denver's only pint-sized first-year guard.
That description applies to Campazzo, too, but that didn't stop him from embarrassing Lillard with equal parts quickness and power on a pair of first-quarter drives. 
Rivers isn't exactly known for his explosive athleticism or dynamic penetrating ability, either. 
You'd hardly know it the way he left Lillard in the dust on this straight-line drive from the left wing.
Not all of Lillard's defensive were quite so obvious.
This is a shot Portland can live with Aaron Gordon taking. But for a player who spoke so candidly before Game 5 about the significance of playing with edge and intensity on defense, short, half-hearted close-outs on shooters launching behind flare screens just aren't good enough.
Neither is jogging back on defense after a hopeless flail for an offensive rebound, yielding a winning numbers game for Denver that forced Anfernee Simons to leave Monte Morris all alone in the corner.
Even Lillard's contest is perfunctory.
His lagging focus and engagement wasn't just manifested in questionable effort. Even when he put up a worthwhile fight, sometimes Lillard was doomed by inattentiveness to the gameplan.
Portland's plan was to go under ball screens set by Jokic if possible, especially at the top of the floor. Lillard proved he knew it on the last possession of the first quarter, but only after he went over a 1-5 pick-and-pop on the Nuggets' previous trip.
It bears stressing that Lillard was far better on defense after halftime, playing with renewed competitive fire. He wasn't exploited individually by Denver's underwhelming guards, and even stole Michael Porter Jr.'s dribble and drew a charge on him during consecutive Nuggets possessions.
Still, Lillard got caught in help no-man's land on this crucal Rivers three in the final minutes of regulation, with Jokic taking predictable advantage.
And why did the Blazers find themselves sending passive, ineffective help at Jokic in the post as Game 5 hung in the balance? Because Lillard was fooled by Jokic's flipped screen just moments earlier, ceding a paint attack that ended with Jusuf Nurkic picking up his sixth foul.
Lillard didn't address his historic performance after the game until pressed by reporters. To him, the only meaningful takeway from an individual effort that basketball fans across the globe will remember forever is that it wasn't enough for a victory.
"It don't matter. We lost the game," Lillard said. "At this point all that matters is we can't lose another game in this series."
But why Portland lost Game 5 matters, too.
C.J. McCollum's bad night was certainly a factor. So was Lillard scoring all but one of the Blazers' seven baskets after regulation. Nurkic's unnecessary fouls, of course, came back to bite him. Stotts' late-game lineup and matchup decisions definitely deserve scrutiny.
The main reason the Blazers came up short, though, was their porous early defense, marked by the many breakdowns that can be traced directly back to Lillard. 
The unreal scoring and playmaking explosion that followed it loomed larger to Game 5's outcome. The epic nature of Lillard's offensive heroics means they really can stand apart.
But in the context of this series, Lillard's defense definitely matters, and could be the difference between Portland's season ending Thursday night and continuing past the first round of the playoffs.