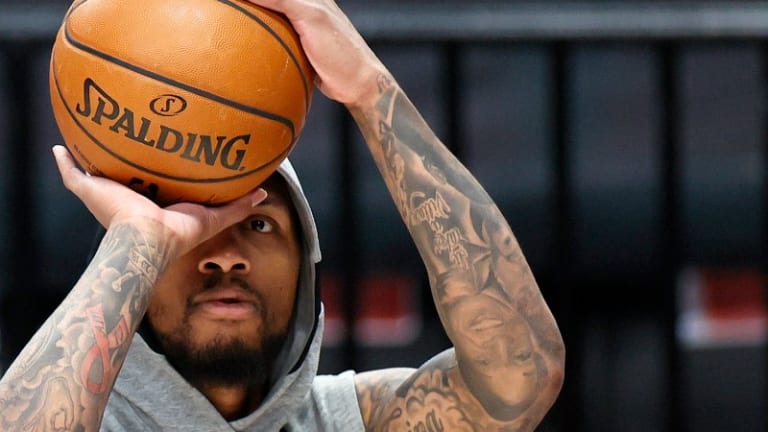 NBA Superstars React to Damian Lillard's 'Spiritual Experience' in Game 5
Kevin Durant, Steph Curry and Ja Morant were just some of the stars celebrating Damian Lillard's Game 5 on social media.
Michael Malone called it "superhuman." Terry Stotts said it was "the best playoff performance I've ever seen." Nikola Jokic, after fighting like hell to help his team survive the onslaught, said it was "a pleasure to be on the court to witness."
There are no superlatives left to describe Damian Lillard's performance in the Trail Blazers' double-overtime loss to the Denver Nuggets on Tuesday night. 
He told anyone listening before Game 5 that it was the most important game of the series, backing up that talk with 55 points, six rebounds, 10 assists and three blocks on 17-of-24 shooting overall. 
Lillard's 12 three-pointers are a new NBA record. Before Tuesday, no one had ever dropped 55 points and 10 dimes in a playoff game. The 55 points are a new Portland postseason record. It's the most efficient 50-point outing in playoff history, by far, according to data compiled at Stathead Basketball.
Not even the truly unprecedented statistical nature of Lillard's play quite does it justice, though. 
He scored six of the Blazers seven baskets in the extra sessions, including a spinning, retreating, fading, game-tying triple with just five seconds left on the first overtime game clock. He also scored or assisted on Portland's last 13 points of regulation, sending the game to extra time with a step-back triple over Michael Porter Jr. right before the final buzzer.
Obviously, Rip City faithful weren't the only ones who couldn't believe what they were seeing. Lillard's superstar peers across the NBA were left slack-jawed by his performance, too.
Steph Curry, maybe the only other player on earth even theoretically capable of what Lillard did on Tuesday, was actually at a loss for words.
Draymond Green didn't seem entirely shocked by what he was watching. Still, he eventually resorted to giving some much-needed defensive advice to Malone, a former assistant with the Golden State Warriors.
Lillard's heroics initially left Kevin Durant unable to gather his thoughts. After another triple, he ultimately decided on one calling to a higher power.
It was barely two months ago that the Memphis Grizzlies met Lillard and the Blazers three times in a calendar week. Still, Ja Morant could barely believe it.
Even Austin Rivers, Lillard's primary defender in Game 5, couldn't help but express his awe on social media after the game.
The whole world now knows what Blazers fans have for nearly a decade: Lillard is capable of just about anything on a basketball court. 
And Portland could very well need it to take the last two games of this series and advance to the second round.