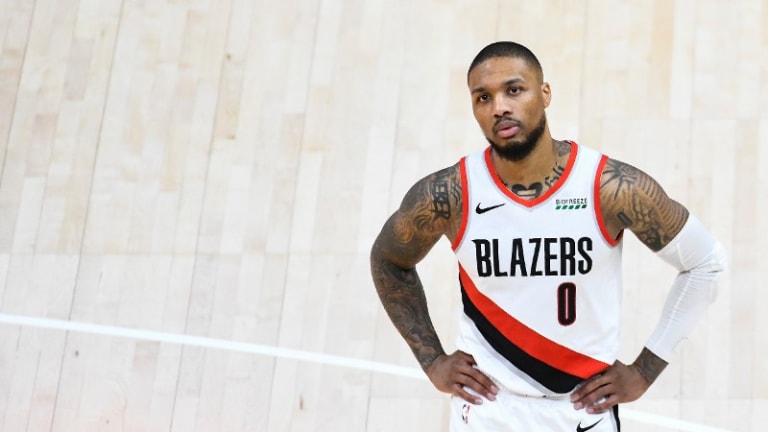 Damian Lillard's Heroics Aren't Enough for Blazers in Epic Game 5
Damian Lillard played perhaps the best offensive game of his career in Game 5, but the Nuggets outlasted the Blazers in double overtime.
Notes, observations, analysis, clips and more from the Trail Blazers' 147-140, double-overtime loss to the Denver Nuggets in Game 5 of the first round.
The Trail Blazers trailed 132-123 with 2:16 left in the second overtime of Game 5 after Austin Rivers drained a kickout three-pointer from Nikola Jokic. Terry Stotts called a timeout and put Carmelo Anthony in for Enes Kanter, but the remainder of Game 5 seemed like a formality regardless. The Nuggets, behind another inevitably dominant performance from Jokic, would go on to win, taking a 3-2 lead in the most competitive first-round series of the playoffs. But Damian Lillard, believe it or not, had other plans. First he beat Rivers to the rack for an and-1 layup. After consecutive misses from Carmelo Anthony and Jokic, he gave the ball up to get it back, immediately pulling from 30-plus feet for another quick three points. He got the Blazers within two of the Nuggets on his team's next trip, stopping hard going left for a same-foot, step-back triple over the outstretched arms of Rivers. The ridiculous nature of Lillard's spinning, pivoting, fading, game-tying triple on Shaq Harrison – a defensive replacement brought in specifically to stop him – in the final seconds of regulation can only be properly conveyed with video.
He scored the Blazers' last 12 points in overtime, an instant-classic postseason performance made all the more legendary because of the heroics that came before it. Lillard scored or assisted on Portland's final 13 points of the fourth quarter, too, including a step-back triple over Michael Porter Jr. with 3.7 seconds left that sent Game 5 to overtime. The numbers, somehow, come close to painting an accurate picture of Lillard's performance: 55 points, six rebounds, 10 assists and three blocks on 17-of-24 shooting. Lillard's 12 threes are a new playoff record. He's now the only player in league history to drop at least 55 points and 10 dimes in the postseason. No Blazer has ever scored more points in a playoff game than he did on Tuesday night. After intermission, Lillard all but completely erased the many defensive foibles that helped Denver build a massive early. He deserved this win. Lillard didn't get it, but he etched his name in the annals of playoff basketball again with a performance the entire basketball world will remember forever. Epic.
Stotts' late-game lineup choices warrant some scrutiny. Robert Covington's five fouls made it tough to stick him on Jokic, but Kanter's presence killed Portland defensively in the extra sessions. The Blazers would have been better off going small when they didn't want Covington guarding the presumptive MVP, sticking Rondae Hollis-Jefferson on him, sending active help defenders and gritting their teeth from there. Kanter's plus-four stint in the third quarter wasn't the product of stout individual defense, but Lillard's brilliance, Norm Powell's aggression and the Nuggets' – playing without Porter, who was in foul trouble – cold shooting. But the set above, specifically designed to get Porter stuck guarding Lillard with the game on the line, is awesome stuff, and the type of thing that gets easily overlooked in a game this overflowing with drama. It shouldn't.
Jusuf Nurkic committed three offensive fouls alone in Game 5. His third and fourth fouls came on back-to-back possessions, as did his fifth and sixth. The Blazers played almost the entire second half hamstrung by his foul trouble – which, frankly, could have been avoided if not for Nurkic's penchant for reaching and pushing. Portland sent double-teams at Jokic intermittently with Nurkic on the bench, including immediately after he roasted Kanter on the latter's first possession. But the Blazers' extra help at Jokic, much of it too passive, left them extra easy prey in the fourth quarter and both overtimes. Five of his nine assists came under the four-minute mark of the fourth, and four of them went for three-pointers. If there were any questions left about Portland's decision to leave Jokic on an island offensively, the way he dissected the Blazers' defense late forcefully put them to rest. Nurkic was the only answer for Jokic on Tuesday, even accounting for some solid individual defense from Covington. Matching Nurkic's minutes with Jokic from the opening tip to the final buzzer is the only way Portland wins this series.
There's no getting around it. C.J. McCollum just wasn't good enough in Game 5. He needed 22 shots to score 18 points, and didn't take a single shot from the restricted area. McCollum's seven assists are misleading; he missed more open teammates than he found on Tuesday. Powell enjoyed a far more advantageous matchup, regularly being guarded by Facundo Campazzo. Once it was clear McCollum didn't have it, the Blazers should have highlighted Powell more on possessions Lillard needed a breather. Portland's last chance at a win was wasted when McCollum caught the ball in transition with his team down three, stepping back on the sideline for a turnover. It was a fitting end to a frustrating night for a proven playoff performer who was nowhere near his best.
At least McCollum flashed a few times defensively, though, most notably on multiple strips as Denver rose to shoot. But the lack of urgency exhibited by McCollum on the sequence below is a microcosm of what ailed the Blazers' during a disastrous start that once had them in a 22-point hole. Lillard, naturally, pulled them out of it before halftime, but that doesn't excuse Portland's porous defense and fleeting intensity early. Lillard was a flat-out liability, getting targeted for Porter post-ups and falling asleep away from the ball. Porter and Gordon owned the offensive glass in the first quarter. Portland's transition defense was lagging, sometimes allowing Denver scores even after makes and dead balls. Powell and Nurkic traveled on simple catches. Everything the Blazers talked about before Game 5 revolved around matching the Nuggets' edge. They failed at first, and it cost them – big time.
Next up: Game 6 at Moda Center on Thursday, 5:00 p.m. (PST)