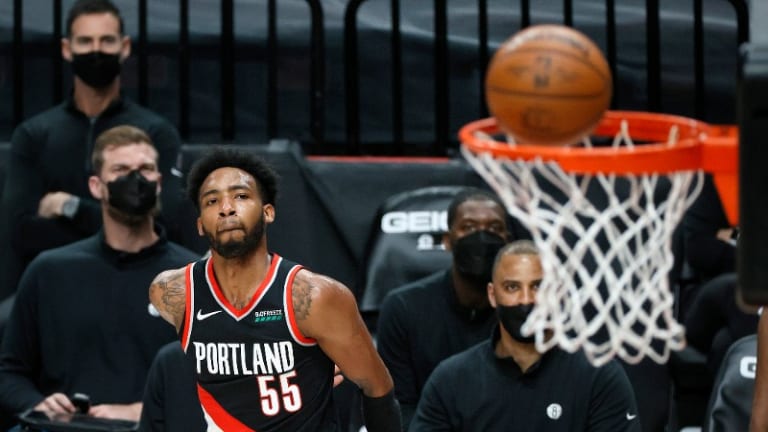 Does Derrick Jones Jr. Actually Deserve A Permanent Rotation Spot?
A deep dive into how the Blazers' most prized offseason acquisition, just randomly benched, now fits into their full-strength roster.
A deep dive into how the Blazers' most prized offseason acquisition, just randomly benched, now fits into their full-strength roster.
Sunday's benching of Derrick Jones Jr., somehow, apparently had nothing to do with the Trail Blazers' most prized offseason acquisition himself. In fact, his game-long absence against the Charlotte Hornets wasn't even planned before tipoff. 
As Terry Stotts tells it, Jones got the shaft against the Charlotte Hornets simply because Portland wanted an extended look at a veteran journeyman it just signed to a second and final 10-day contract.
"It was about getting [Rondae Hollis-Jefferson] in the starting lineup, proving some energy. We got him for 10 more days, and I thought it was a good matchup for him," Stotts said. "It wasn't about not playing Derrick at all. That's kind of the way it played out, but that wasn't necessarily the plan going into it. But that was the reason. It wasn't a decision to not play Derrick."
The abrupt nature of Jones' demotion can't be separated from inflammatory comments Stotts made following the Blazers' blowout loss to the Utah Jazz on April 8th. Asked why Jones, clearly one of his team's top defenders, was losing playing time despite Portland continuing to struggle defensively, Stotts quipped that the Blazers ranked second-to-last on that side of the ball when he was both starting and coming off the bench.
Stotts didn't go close to that far on Sunday, refusing to justify the decision to bench Jones beyond the previously mentioned Hollis-Jefferson factor – and a potentially telling platitude about what's "best" for Portland.
"Well, I'm not gonna disparage Derrick," he said. "I just thought it was the best move for the team at this point."
The diminishing state of Jones' role can be traced directly back to the arrival of Norman Powell. He started in Powell's debut on March 26th against the Orlando magic, which happened to coincide with the return of Jusuf Nurkic, but only because Damian Lillard sat out – the same reason Jones started on Friday versus the San Antonio Spurs. 
Still, he's averaged just 16.1 minutes per game since Powell immediately usurped him as the Blazers' starting small forward, failing to carve out a niche with Portland's roster at full-strength. It's not hard to see why. 
An easily overlooked aspect of Nurkic's return is that it allows Stotts to re-orient lineups with a more offensive focus. Jones was never promised a permanent starting spot with Portland, or at least has never said as much publicly. It always made sense that his playing time alongside Damian Lillard, C.J. McCollum and Robert Covington would wane once Nurkic came back. Enes Kanter needs all the available defensive talent surrounding him to even possibly function as a semi-passable backline defender. 
Nurkic is hardly a one-man defense the likes of Rudy Gobert or Joel Embiid, obviously. But he's an outstanding communicator, with natural understanding of timing and angles as well as quick, active hands. 
Among the many benefits of a consistently impactful backline defender are the defensive weaknesses elsewhere his presence helps mitigate. The Blazers just don't need to cocoon Nurkic with the personnel they do Kanter to try and manage league-average defense.
Where does that leave Jones? No doubt somewhere different if he better addressed Portland's longstanding inability to contain elite playmakers at the point of attack. Jones flashed that ability at times with the Miami Heat, especially against quicker guards. But even for a franchise that emphasizes defense as much as Pat Riley and Erik Spoelstra's, Jones impact on that end wasn't enough to earn him regular playing time in games that really mattered. 
He wasn't a full-time rotation player for any series of Miami's stunning run to the NBA Finals last fall, notching six DNP-CDs with a vast majority of his 97 total minutes coming in garbage time. The Heat hardly lacked star foes for Jones to guard, either. If siccing him on Giannis Antetokounmpo, Khris Middleton, Jayson Tatum, Kemba Walker or LeBron James for 20 minutes a night was a plausible net positive for Miami, Spoelstra would have done it.
Jones' is an adequate on-ball defender, but more of his value on that end is derived as a helper. His rare vertical pop and innate sense of timing make him an effective weak-side shot-blocker, while Jones' long arms and quick hands help him swipe steals and strips from behind. Just 10 other players in basketball – elite disruptors like Anthony Davis, Nerlens Noel and Matisse Thybulle – match Jones' combined 1.8 block percentage and 3.2 block percentage over the last two seasons, per research at Stathead Basketball.
Also on that list? Covington, naturally, whose ideal playing profile on a good team pretty much mirrors that of Jones. The problem for Jones is that Covington is a much more fully-realized version of that "3 and off-ball D" archetype. Making matters worse is that both, mostly due to offensive limitations, are clearly best-suited playing power forward.
Jones is connecting on 32.8 percent of his threes this season, a career-high still comfortably below league average. Even that number doesn't accurately portray his viability as a long-range shooter, though. Defenses routinely abandon him away from the play to load up on Lillard ball screens, confident Jones – still a hesitant, low-volume three-point shooter – won't make them pay from deep. 
They're normally right, almost no matter how open Jones is or from where he's shooting. About a quarter of his triples have come from the corner this season, in the 85th percentile among players at his position, per Cleaning the Glass. Those are some of the most valuable shots in basketball, yet the opposition regularly tries to goad Jones into taking them. Defenses can live with a wing making 34.2 percent of his corner threes launching a couple open tries per game, especially if it means making sure Lillard sees extra bodies on all three levels of the floor.
Some defensive specialists can account for spacing issues they present offensively by functioning as a playmaking screener. Think Draymond Green executing multiple, quick-hitting dribble hand-offs and re-screens to free Steph Curry, or spraying pinpoint lobs and cross-court bullets to teammates for dunks and threes.
Jones, unfortunately, just lacks the high-level understanding and court vision to create opportunities for others in that capacity. He's a seriously threatening alley-oop threat, an attribute of which the Blazers have clearly tried to take advantage. But even if Portland still had a lob passer like Andre Miller on the roster, there will only be so many chances for Jones to go up and get a lob in a given game – especially when he's primarily playing next to non-stretch centers like Nurkic and Kanter.
Jones was always ill-suited to open games next to Covington on the wing. Powell is a much better two-way fit with Portland's starters, and the value of all defense-first players diminishes when they're moved to the bench. It's not even completely safe to say that Jones is a meaningfully better on-ball defender than Nassir Little, a much-improved shooter his sophomore season. Carmelo Anthony, for better or worse, is basically guaranteed minutes at backup power forward, too.
The issue with the Blazers' sudden benching of Jones, basically, isn't that it happened at all, but how it took place. 
Jones, warts and all, is a much better option for Portland on the wing than Hollis-Jefferson, a complete non-shooter. The latter's middling explosion as a finisher was made painfully clear against Charlotte. Hollis-Jefferson was solid defensively, especially on switches, but not good enough to prevent the Hornets from racking up 44 first-quarter points.
Hollis-Jefferson isn't the answer, but it's perfectly reasonable for Stotts to believe Jones isn't, either. His place in the league coming into the season suggested as much, and the fact is that Jones has done little to change it, endearing displays of all-out effort and jaw-dropping athleticism be damned. 
Hovering over this situation, of course, is the player option on Jones' contract for next season – a $9.5 million salary it's been widely assumed he'll decline for a larger, longer payday on the open market. That assumption was premature even before Portland brought in Powell. Now, it's just as fair to wonder if Jones will pick it up to ensure another year of near eight-figure earnings before inking a long-term deal in summer 2022.
The Blazers, fighting to avoid the play-in, and Stotts, in what might be a losing fight for his job, shouldn't worry about Jones' future for now. That it's up in the air at all, though, is a testament to just how tenuous Jones' grasp on a rotation spot should be for a team like Portland.