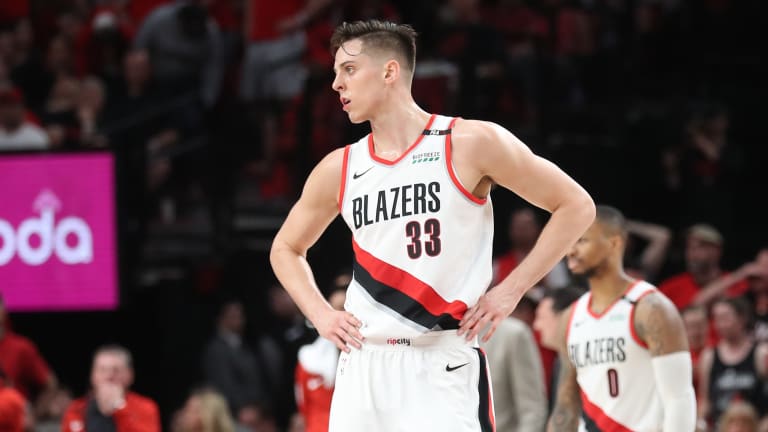 Zach Collins didn't take the floor at all in 2020-21 and played just 11 games the previous season in between shoulder and foot injuries. His inability to stay on the floor the past two years hasn't kept the former Trail Blazers lottery pick from garnering interest as an unrestricted free agent, though.
According to Jake Fischer of Bleacher Report, the Toronto Raptors, New Orleans Pelicans, Oklahoma City Thunder and San Antonio Spurs are known to covet Collins ahead of free agency officially tipping off on August 2.
Oklahoma City, San Antonio, Toronto and New Orleans are known to be interested in unrestricted free-agent center Zach Collins, sources said.
Portland elected against extending Collins a qualifying offer in wake of the latest surgery on his troublesome left foot, losing the right to match any contract offer the 23-year-old receives on the open market.
Still, Collins told Jason Quick of The Athletic in mid-July that he hopes to return to the Blazers.
"I love Portland," he said. "I've always said I love Portland and it would be great to come back and show what I can do."
Money talks, though, especially for a young player bit by the injury bug again and again whose only NBA contract to date is his rookie deal. 
What do all of the teams that reportedly hope to sign Collins have in common? They're poised to operate under the cap this summer, meaning they wouldn't have to use crucial resources of salary cap exceptions to offer Collins a worthwhile deal. 
Portland retains full Bird Rights on Collins in spite of pulling his qualifying offer, though its ability to retain him at market value is bound to be complicated by luxury tax concerns. If the Blazers re-sign Norman Powell at approximately $18-20 million annually, every additional dollar they spend risks vaulting up to a higher tax bracket and being forced to pay out a pricier bill.
In our analysis of Collins' standing a couple weeks ago, we earmarked the cash-rich Thunder as a possible destination for him in free agency. When and if he ever gets healthy, Collins would fit well in Nick Nurse's system with the Raptors as well as theoretically provide the Pelicans with three-point shooting and rim-protection to aid Zion Williamson. The Spurs are also in need of frontcourt help.
Nothing has changed since Collins made it clear he hopes to stay in Portland regardless of hitting unrestricted free agency. If the Blazers want to keep him, doing so will simply require Jody Allen to write a bigger check.
The problem for Portland? Collins' suitors know that, too, and likely won't have qualms about intentionally driving up his price as a result.
[Jake Fischer, Bleacher Report]