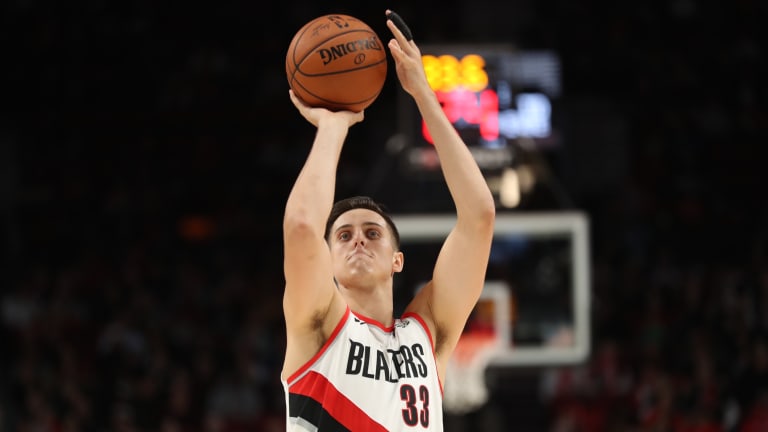 How the Luxury Tax Could Prevent Zach Collins From Returning to Portland
Zach Collins wants to continue his wayward career with the Blazers, but cap constraints could prompt his departure.
Zach Collins isn't scheduled to be fully healthy for another four-to-six months. Considering he just went under the knife again for a third surgery on his troublesome left ankle, it's hardly guaranteed Collins will be able to play at all in 2021-22, let alone make a meaningful on-court impact.
The Trail Blazers, of course, understand the particulars of Collins' unfortunate circumstances better than anyone but the man himself. Collins didn't take the floor at all last season while rehabbing and played just 11 games in 2019-20 between injuries to his shoulder and ankle.
This summer was supposed to be when Collins garnered his first major NBA payday. Instead, Portland won't even be tendering him a $7 million qualifying offer, according to Jason Quick of The Athletic, making Collins the rare former lottery pick to come off his rookie deal as an unrestricted free agent.
Don't assume the cash-strapped Blazers' cap pragmatism has soured Collins on a potential return to Rip City, though.
"I love Portland," Collins told The Athletic. "I've always said I love Portland and it would be great to come back and show what I can do."
It's safe to say that Neil Olshey—so enamored with Collins during the draft process that he traded two first-round picks to nab the Gonzaga product at No. 11—would love to bring the 23-year-old back, too. 
But the continued marriage between Collins and the Blazers isn't as simple as both sides wanting it. Collins, his career at an early crossroads, could be compelled to take the most lucrative contract offer afforded him, and Portland is dealing with inevitable luxury tax concerns.
"Neil and I talk all the time and we will do what we always do—sit and talk and see if something makes sense," Mark Bartelstein, Collins' agent, said. "But they are in a tough spot. They are up against the luxury tax, and there's a sense of urgency to win now…so there's a lot to balance. But I know Neil believes deeply in Zach. They know he is going to be good."
Even if both Bartelstein and Olshey possess inflated views of Collins' ceiling, they're certainly not the only ones across the league aware of its height, this recent rash of injuries notwithstanding. 
Mobile seven-footers who are proven rim-protectors and even hint at legitimate three-point shooting ability are among the most valuable player types in the modern NBA. There's a chance that teams with ample cap space may not be scared off by Collins' injury to the extent they would other players with his relatively nondescript playing history. 
In an underwhelming field of free agents, why wouldn't a young team like the Memphis Grizzlies or Oklahoma City Thunder take a flier on Collins with something like a two-year, $7 million contract that includes a team option? 
The possibility of Collins receiving such an offer could rest on his ability to suit up next season. He certainly seems confident that this third surgery on his left ankle will be his final one, even though Collins is bound to start 2021-22 continuing to rehab.
Once the Blazers re-sign Norman Powell, an absolute must for their short and long-term hopes of contention, they're likely to be within several million dollars of the $136.6 million luxury tax threshold. Using the $5.9 million tax-payer mid-level exception on an outside free agent will push them past it, leaving Portland to contend with rising tax bills while filling out its five remaining roster spots.
The Blazers have full Bird Rights on Collins despite electing against tendering him the qualifying offer. Given he's on the record as wanting to remain in Portland, the only factor that would prevent him from re-signing is the team's reluctance to pay a bigger luxury tax bill if he demands more than a minimum contract.
The difference between Collins' minimum and a realistic competing offer likely won't be more than a couple million dollars annually. While that amount seems negligible, it may not be to Jody Allen's wallet considering how luxury tax payments are formulated. 
Portland would pay one-and-a-half times its amount over the luxury tax if its total salary for next season is within five million dollars of the $136.6 million threshold. Getting into another five million dollar bracket above the tax mandates a payout of 1.75 times a team's taxable money; eclipsing $10 million over it means a payment of 2.5 times that amount.
Re-signing Powell, using the taxpayer mid-level and finding several bit players on minimum contracts to fulfill roster requirements is pretty much guaranteed to vault the Blazers into the first bracket of tax payments. There's even a chance Powell's number forces them into the next one.
Either way, will Allen think it's worth it to pony up more of her billionaire's pocket money for a player who Portland can't count on to help the team win in one of its most pivotal seasons ever? The answer is as obvious as it is dispiriting.
Tax complications could be moot when it comes to Collins. Maybe the minimum is all it will take to bring him back. But if not, it seems all but guaranteed Collins played his last game with the Blazers in the Orlando bubble last August.