Denver Broncos 2013 Offseason Preview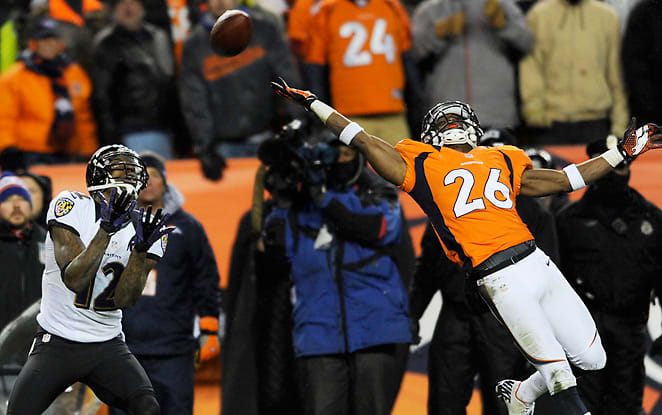 SI.com is laying out offseason road maps for all 32 teams as they start their journey for the Lombardi Trophy -- two teams per day, from the teams that need the most work to contend in 2013 to the ones that are in pretty good shape. See them all.
2012 Record: 13-3, lost to Ravens in divisional round Key Pending Free Agents:Ryan Clady, OT; Justin Bannan, DT; Keith Brooking, LB; Kevin Vickerson, DT; Tracy Porter, CB; Jim Leonhard, S; Dan Koppen, C; Brandon Stokley, WR List of Draft Picks (pending compensatory picks): 1 (28), 2 (58), 3 (90), 4 (122), 5 (154), 7 (218) Available Cap Space: Nearly $15 million under GM/Coaching Moves: Adam Gase replaces Mike McCoy (San Diego Chargers coach) as offensive coordinator.
2012 Season Recap
For the second consecutive year, the Broncos' season was defined by their quarterback.
Two years ago it was Tim Tebow, the hard-running, poor-throwing youngster who repeatedly rallied them to improbable wins, including a 29-23 OT thriller against the Steelers in the first round of the playoffs.
This past season it was Peyton Manning, the iconic free-agent veteran who chose Denver over San Francisco, Miami and Arizona and precipitated the offseason trade of Tebow to the Jets. Manning led the Broncos to 11 straight wins to end the regular season, but threw a painful interception that set up the decisive field goal in a 38-35 double overtime loss to the visiting Ravens in the playoffs' divisional round.
From the moment the Broncos brought in Manning and jettisoned Tebow, there was the sense that the season was going to end spectacularly. The only question was whether it would be positively or negatively. The needle was leaning toward the former with 69 seconds to play in regulation and Baltimore 77 yards from a tying touchdown. But a blown coverage resulted in Jacoby Jones notching that tying score, and Manning's interception set up a painful offseason.
Stat To Feel Good About
9. Number of games in which Manning threw for at least 300 yards.
If It Ain't Broke ...
It seems like decades ago there were concerns about whether Manning would return to prominence after missing the 2011 season because of a neck injury that required four surgeries over two years. Despite saying he was not 100 percent at the start of the season, he still threw for 4,659 yards, the second-highest total of his career and the 12th time he surpassed 4,000 yards in 14 healthy seasons. His 37 touchdown passes also rank No. 2 in his career. Barring injury, there's no reason to think he won't continue to be a force. He has young, play-making receivers in Demaryius Thomas and Eric Decker, and a talented line.
Troubling Stat
1.26. The amount of pressure per snap tackle Justin Bannan picks up, lowest of all defensive players in the league, per Pro Football Focus.
Must Fix It
Defensive tackles Bannan and Kevin Vickerson are unrestricted free agents, and likely to receive better offers from other clubs than they do from the Broncos. Denver is fortunate in that its needs dovetail nicely with the draft's strength. Unlike some teams that prefer athleticism at the tackle spot, coordinator Jack Del Rio likes big, hard-to-move players; push up the middle is more important than lateral movement.
More On The To-Do List
1. Strengthen the interior of the offensive line. There's talk of moving right tackle Orlando Franklin inside, but even if they don't they should be able to find help in the draft, which is considered to be deep in guards and centers.
2. Shore up the secondary. The Broncos have two developing young safeties, but I'd make a run at Ravens free agent Ed Reed. The window to win a championship with the soon-to-be-37 Manning is closing, so Denver should be willing to make calculated gambles with that in mind.
3. Find insurance for Willis McGahee. The veteran runner is a presence when on the field, but he'll be 32 next season and is coming off a year that was cut short by injury. There are younger backs on the roster, but none with the size to consistently take the pounding of an every-down back. Denver doesn't need a breakaway guy; instead it needs a runner who can protect the ball and get the tough yards to complement the passing of Manning.
What We'll Be Saying In July
When you return Manning, linebacker Von Miller, end Elvis Dumervil, cornerback Champ Bailey and wideouts Thomas and Decker, among others, nothing short of a championship will do. The Broncos will be among the favorites to win it all for a second straight year, not only because Elway has an eye for talent, but also because he has a great feel for knowing what's needed to create positive chemistry in the locker room. The combination of returning standouts at the skill positions and a draft that's deep at the team's positions of need should -- barring injuries -- mean a deeper run in the playoffs next season.
SEE ALL OF SI.COM'S OFFSEASON PREVIEWS