Super matchup fails to deliver; more Super Bowl XLVIII Snaps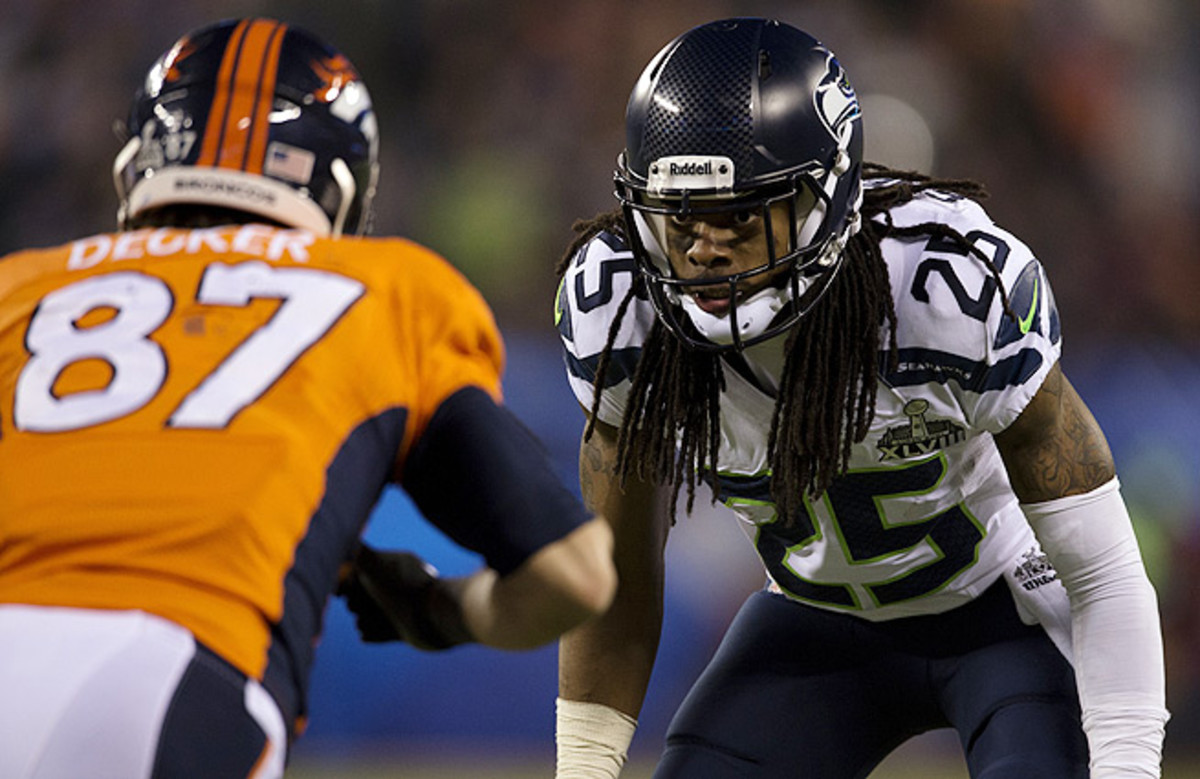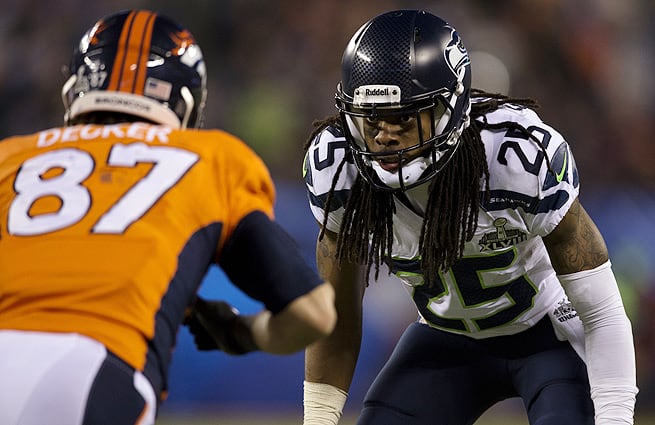 Manning had the quietest, least effective 34-completion game you'll ever see against Seattle's swarming defense. He set a record for completions in a Super Bowl, but did very little damage with his 34-of-49, 280-yard passing night, throwing two interceptions and just one touchdown, with a passer rating of 73.5.
• How much better was Seattle's stellar defense when matched up against Denver's prolific offense? Denver had not gone two drives in a row without scoring this postseason, but the Broncos went scoreless on their first seven possessions against Seattle, committing three turnovers and giving up a safety in the process.
The biggest surprise was how little Manning was able to accomplish against the Seahawks smothering defense. After completing 57-of-79 passes for 630 yards with four touchdowns and only one interception in his first two playoff games this year, Manning was just 17-of-23 for 104 yards with two interceptions, no touchdowns and a 46.3 passer rating in the first half. The two picks were one-fifth of Manning's total for the entire regular season (10). Manning padded his stats some in the second half, but it was Seattle's defense that dictated the tone of the game from the outset.
• About the weather. Never mind. After all that focus on the elements that would prevail in the NFL's first outdoor, cold-weather Super Bowl, the NFL got a 49-degree game-time temperature and partly cloudy skies, with no significant issue with the wind. A little rain started to fall during the halftime Bruno Mars show, but weather really wasn't the issue Sunday night.
The 49-degree temps were a whopping 10 degrees warmer than the coldest Super Bowl on record, the 39-degree day in New Orleans when Dallas beat Miami 24-3 at Tulane Stadium in January 1972. And if anything, if there was any rain in the second half, it probably only added to Denver's misery and made Seattle feel right at home.
• Well, that settles it. Seattle loves 'em some Mannings in MetLife. The Seahawks had a combined seven interceptions with eight points allowed against Eli and Peyton Manning this season. Seattle beat Eli and the Giants 23-0 in mid-December, picking off the younger Manning five times in that game. Then came Sunday night, with two more interceptions and one touchdown pass by Peyton. The Seahawks won the two games in this stadium by a combined 66-8.
• All credit to Seattle, but just to be safe, maybe the Broncos had best retire those orange jerseys when it comes to the Super Bowl. Denver is now 0-4 wearing its home orange in the Super Bowl, and the Broncos have gotten trounced by a combined 167-38 in those games (41.8 to 9.5).
Denver dropped to 2-5 all-time in the Super Bowl, and that's more losses than any other team. The Broncos own that dubious record now, and the four-loss Bills and Vikings are somewhat off the hook.
• How long will this party rage in Seattle? The Emerald City hasn't had cause to celebrate a championship in a major sport since the 1979 Seattle Supersonics won the NBA title.
"We're not sleeping tonight,'' Carroll said. "We're staying up all night. This party is going to get started as soon as you guys [the media] let me go.''
• Champ Bailey, the 15-year cornerback who was playing in his first Super Bowl, said the dreadful Broncos performance and big loss did not push him closer to retirement.
"I still have a hunger for the game,'' he said. "This doesn't make me want to not come back. I definitely didn't expect this type of performance from our team. This is so far from the way we played, but that's how it played out. It's very disappointing. But a lot of it had to do with how they played, not just how we played. They had a lot to do with it.''
• The quote of the night came from that notable quipster, Marshawn Lynch. The Seattle running back was asked if winning the Super Bowl qualified as the best day of his life?
"Next to being born,'' Lynch said, showing impressive perspective.
• Couldn't help but wonder what Jim Mora and Josh McDaniels were thinking as they watched Super Bowl 48 unfold. It was only four seasons ago, in 2009, that both were hired by Seattle and Denver as head coach. Mora lasted just a one-and-done 5-11 season with the Seahawks and was replaced by Carroll. McDaniels had a slightly longer run with the Broncos, but only slightly, going 11-17 in his year-plus stint in Denver, before being fired with four games remaining in the 2010 season.
The McDaniels era was seen as a failure in Denver, with his trades of both quarterback Jay Cutler and receiver Brandon Marshall, and his drafting of Tim Tebow. But he did have his share of personnel successes, too, drafting players like running back Knowshon Moreno, starting receivers Demaryius Thomas and Eric Decker and guard Zane Beadles. All told, six of his draft picks remain with the Broncos, and 10 players overall, including a pair of important free-agent signees, offensive left tackle Chris Clark and punter Britton Colquitt.
Mora left less of an imprint on Seattle's current roster, with only starting center Max Unger being a key contributor from the 2009 draft. That draft class was topped by linebacker Aaron Curry, who was a major disappointment after being taken fourth overall out of Wake Forest. Mora is now the head coach at UCLA and McDaniels started generating head coaching interest once again after returning to New England as the Patriots offensive coordinator after the 2011 season.
• Denver football czar John Elway wasn't a Colts quarterback for long before being dealt to the Broncos months before the 1983 season began, but suppose he had worn the horseshoe on his helmet his entire 16-year career rather than play for the NFL's other horse-related team?
At the quarterback position, imagine if the Colts would have gone from the first overall pick in Elway in '83, to the first overall pick in 1998 in Peyton Manning, to the first overall pick in 2012 in Andrew Luck? That's a ridiculous 30-year run of excellence at the game's most crucial position. And that Johnny Unitas guy wasn't too shabby either back in the day. Even Bert Jones had a Pro Bowl-worthy reputation in the '70s before injuries shortened his career.
• More transportation issues in New Jersey? Lovely. This time the problem wasn't the George Washington Bridge, but the state's mass transit train system, which was overloaded in spots, causing long delays and only hasty inspections of bags by security officials who were trying to screen the belongings of Super Bowl fans headed to the game. Some passengers reportedly collapsed in over-crowded trains.
Chants of "New Jersey sucks'' were reportedly heard coming from frustrated passengers as they exited the train, and that seems to be something of a growing consensus opinion these days when it comes to the ease of moving across the Garden State.
• Denver head coach John Fox probably doesn't get the credit he deserves for this Broncos' Super Bowl run, because the Peyton Manning factor tends to obscure the strong work of whomever is coaching his team. But if you think winning is easy with Manning as your quarterback, maybe this is a counter balance for Fox's first Super Bowl team. The man did reach the Super Bowl with Carolina 10 years ago, with the undrafted Jake Delhomme at quarterback. The Panthers lost to New England on an Adam Vinatieri field goal in Houston.
Fox is one of six coaches to lead two teams to this game, joining Don Shula, Bill Parcells, Dan Reeves, Dick Vermeil and Mike Holmgren. Of that group, only Parcells (2-1) has an overall winning record in Super Bowls.
• My biggest surprise in Saturday's Hall of Fame voting was Tony Dungy going unelected. Not only that, the former Bucs' and Colts' head coach, and onetime Steelers' defensive back, didn't even make the cut of top 10 finalists. That's a stunner and doesn't bode well for his future induction chances. Dungy finished his career with 10 consecutive playoff trips, and 11 in 12 years, winning the Super Bowl in the 2006 season with Indianapolis.
Again, with Manning at quarterback, Dungy perhaps got marked down for his good fortune of having a future Hall of Famer at that key position. But I'll always give Dungy huge credit for turning around the moribund Tampa Bay franchise, which was the league's laughingstock before he arrived in January 1996.
• Have to admit, while I was not a fan of the cold-weather outdoor Super Bowl concept, New York and New Jersey put together a pretty seamless first effort, and then got a real stroke of luck with Sunday's balmy gameday temperatures. No doubt there will be other cold-weather outdoor Super Bowls (Foxboro and Philadelphia, in that order, is my guess) on the way now that this game has been deemed a success.
It didn't always feel like Super Bowl week in the New York metro area, given how much the sprawling city tends to swallow up any large-scale event. But it wasn't the logistical or weather nightmare that many envisioned, and the NFL seemingly rolled the dice and won.
• Good move, Warren Sapp, apologizing to newly elected Hall of Famer Michael Strahan. Now give it a rest. I'm not the biggest Strahan fan in the world either, but he didn't deserve the double-barreled criticism that Sapp leveled at him last week.
• Wow. Quite the Grizzly Man beard, Brett Favre. You could be an honorary Red Sox with that thicket on your face. And, wow, Joe Namath. Quite the coat. What a throwback look from your Broadway Joe days of yesteryear. Big Super Bowl Sunday for the legendary ex-QB set.