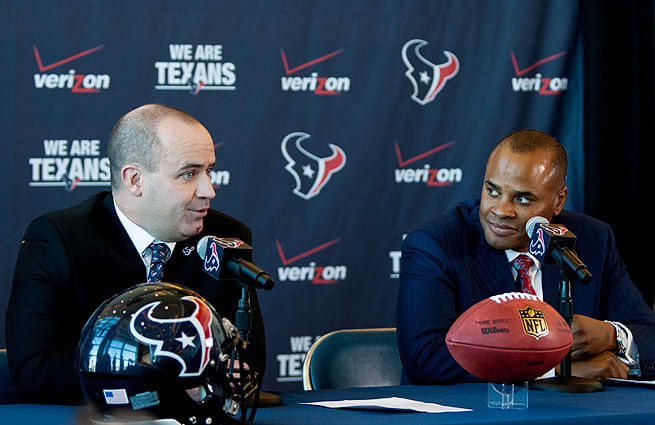 Don't get the idea this will feel like a consolation prize for the Jaguars, even if they miss out on the draft's best pass rusher and receiver with Clowney and Watkins gone. Mack is the kind of disruptive, playmaking force Gus Bradley's defense can make great use of, and he has the non-stop motor to chase the ballcarrier all over the field, with the versatility to play all three downs. Jacksonville will find its quarterback in the second or third round; it won't roll the dice on a passer at the expense of the draft's second-best defensive prospect.
17. Baltimore -- Taylor Lewan, OT, Michigan
With both consensus first-round safeties already selected (Clinton-Dix and Pryor), the Ravens would rebound nicely by finding Lewan still available. He'd shore up the right offensive tackle slot that Michael Oher vacated and help Baltimore get back to running the ball consistently in the rough and tumble AFC North. If Lewan and the safeties are all gone, Alabama linebacker C.J. Mosley makes sense as a mid-round pick with proven playmaking ability.
18. NY Jets -- Bradley Roby, CB, Ohio State
Let's switch it up and go defense for the Jets in the first round, because Rex Ryan is still Rex Ryan, and there are more quality options to be had at receiver in Rounds 2 and 3 than there are at cornerback. Roby had an underwhelming season in 2013, but he's a first-round talent who has the size, speed and playing style that will cut it in the pro game. He can excel in the press coverage that Ryan prefers and should have a fairly smooth transition to the starting lineup.
19. Miami -- Zack Martin, OT, Notre Dame
The Dolphins still continue to find the player many have had them zeroed in on for months now: Martin, the ex-Irish offensive lineman whose versatility at tackle or guard should make him very attractive to a Dolphins team with some rather well-known needs at those positions. If there's a defensive player that is beginning to be linked to Miami, it's Alabama inside linebacker C.J. Mosley, whose health seems to be his biggest question mark.
20. Arizona -- Anthony Barr, OLB, UCLA
The Cardinals could put this pick on the block and see if anyone has the conviction to come after a quarterback via trade. Arizona might even consider taking a passer itself in this slot if Bridgewater should fall. Otherwise, pass-rush help continues to be the logical target, and Barr, while inexperienced on defense, figures to carry the highest grade among the available prospects who can generate heat on the quarterback.
21. Green Bay -- C.J. Mosley, ILB, Alabama
This time around we don't foresee the Packers getting the safety they covet, because the highly regarded Clinton-Dix and Pryor went in the upper half of the round. But Mosley is a talented and productive three-down linebacker that Green Bay defensive coordinator Dom Capers could make good use of. With Mosley and Julius Peppers both joining forces with Clay Matthews, the Packers' linebacking unit would look significantly improved in 2014.
22. Philadelphia -- Brandin Cooks, WR, Oregon State
For those predicting Chip Kelly will live to regret the Eagles' divorce from DeSean Jackson, perhaps you hasd best wait to see who he replaces him with in the draft. If it's Cooks, Philly might be in for close to the same type of big-play production. Like Jackson, Cooks is a quick and elusive threat with the ball in his hands, and he's capable of stretching the field vertically and creating consistent matchup problems for a defense.
23. Kansas City -- Odell Beckham Jr., WR, LSU
It's interesting that both Andy Reid and the current Eagles coach, Chip Kelly, are likely looking for the same kind of explosive receiving help at No. 22 and 23 in this year's draft. I have flopped Beckham and Cooks since my 3.0 mock, but it's obvious the Chiefs and Eagles are shopping in the same aisle in this particular market. Beckham should provide yards after the catch and his skills in the return game are a bonus.
24. Cincinnati -- Ryan Shazier, OLB, Ohio State
Given the age the Bengals are showing at cornerback, that need might trump all and lead to either Virginia Tech's Kyle Fuller or TCU's Jason Verrett being Cincy's choice. But we're making a spot for the athletically gifted Shazier in the first round because his prospects are on the rise and he would provide the Bengals with three-down potential and some of the pass-rush production they lost when defensive end Michael Johnson jumped to Tampa Bay in free agency.
25. San Diego -- Kyle Fuller, CB, Virginia Tech
If the Chargers are going to close the gap on the Broncos in the AFC West, they're going to need reinforcements at cornerback, and Fuller and TCU's Jason Verrett are likely to come off the board right in this mid-20s portion of the round. Fuller had an injury-plagued 2013 season, but he has the athleticism of a starting NFL cover man, and if San Diego passes on him, both No. 26 Cleveland and No. 27 New Orleans likely have him on their short list.
26. Cleveland -- Marqise Lee, WR, USC
With four first-round cornerbacks already taken, it may be smarter for Cleveland to take a dip in the deeper receiver pool and find a pass-catching weapon to grow with new franchise quarterback Johnny Manziel. Lee and Josh Gordon could make for a nice starting tandem, with tight end Jordan Cameron and third receiver Andrew Hawkins contributing to a much-improved Browns' air attack. Lee was once expected to go in the draft's top 10, but injuries and a sub-par 2013 derailed that hope. At the bottom of the first round, however, he represents great value and brings a solid and versatile skillset to Cleveland.
27. New Orleans -- Jason Verrett, CB, TCU
Verrett is undersized at 5-9, but he battles, competes and stays in a receiver's face, and that sounds like Rob Ryan's kind of defender. With Jarius Byrd joining standout 2013 rookie Kenny Vaccaro at safety, and Champ Bailey now on hand to join Kennan Lewis at cornerback, the addition of Verrett would complete the transformation of a Saints secondary from abysmal in 2012 to a potential force this season.
28. Carolina -- Morgan Moses, OT, Virginia
Unfortunately for the Panthers, the first-round cornerback market has been picked clean at this point, and while wide receiver is a need, there are several quality wideouts who can be had in the second and third rounds. Carolina's best move is to find a starting offensive tackle at the bottom of the first round, and Moses' stock has been steadily on the rise thanks to an impressive 2013 and solid pre-draft work.
29. New England -- Louis Nix III, DT, Notre Dame
We all know about the Patriots' penchant for bailing out of the bottom of the first round, so a team that has a quarterback in its sights and wants to get the jump on the competition could well wind up owning this slot. But if they stick, the Pats might be able to choose defensive tackle Vince Wilfork's heir apparent in the space-eating Nix.
30. San Francisco -- Cody Latimer, WR, Indiana
If the 49ers believe they're going to be without the troubled Aldon Smith for the majority of the season due to an impending league suspension, it could alter their first-round focus in favor of an edge pass rusher like Auburn's Dee Ford or Missouri's Kony Ealy. But San Francisco did go 5-0 while Smith was absent and undergoing substance abuse rehab last season, so maybe there won't be a major course correction even if Smith can't be counted on for all of 2014. Latimer is a name on the rise and there are teams in the lower-third of the first round said to be enamored with his blend of size, speed and ability to consistently find the seams in a defense. Perhaps the 49ers will at last find a reliable No. 3 receiver.
31. Denver -- Xavier Su'a-Filo, G, UCLA
How could the Broncos not address an offensive line that got abused in the Super Bowl and lost guards Zane Beadles and Chris Kuper this offseason? Especially when that depleted line is all that stands between Peyton Manning and catastrophe, a scenario that would render moot all of Denver's Super Bowl dreams? The defense got its sizable upgrade in free agency, and now it's time for the Broncos to invest in some much-needed offensive line infrastructure.
32. Seattle -- Jace Amaro, TE, Texas Tech
The Seahawks are in the enviable position of being able to sit back and make a desperation-free pick, knowing they have some needs at receiver, defensive line, offensive line and tight end that jive well with the names that remain on the board. While the re-signing of Sidney Rice helps offset the loss of Golden Tate to some degree, Seattle clearly needs more firepower in its passing game given Percy Harvin's injury history. At 6-5, with a skillset that's more receiver than tight end, Amaro could develop into a nightmare matchup for defenses in the NFC West, especially in the red zone. Russell Wilson and a target of that size and athleticism should be able to make beautiful music together.