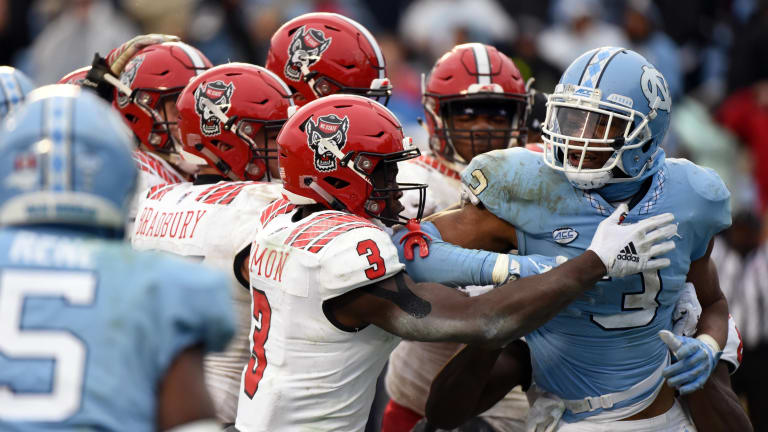 ACC suspends 7 players following NC State-UNC melee
The ACC suspended seven players after a post-game melee this weekend between North Carolina and North Carolina State.
Tempers flared after senior Reggie Gallaspy II crossed the goal line on a 1-yard run as the Wolfpack (8-3, 5-3 ACC) scored the game-winning touchdown in overtime of their 34-28 win over the Tar Heels (2-9, 1-7). Gallaspy's touchdown was his school-record-tying fifth score of the game.
North Carolina State redshirt junior defensive back Freddie Phillips Jr., redshirt senior starting left tackle Tyler Jones, and starting right tackle Justin Witt were suspended by the ACC. The trio will sit out a half of the Wolfpack's final game against East Carolina, a makeup contest scheduled due to inclement weather earlier this season.
North Carolina State can determine which half the suspended players will miss.
Suspensions also were handed to North Carolina junior linebacker Dominique Ross, junior cornerback Patrice Rene, senior safety J.K. Britt and senior defensive tackle Jeremiah Clarke.
With North Carolina having finished its regular season and not participating in a bowl game, the bans will carry over to the team's season-opening contest in 2019 versus South Carolina on Aug. 31.
Britt and Clarke will not be impacted by the suspension given that they are seniors.