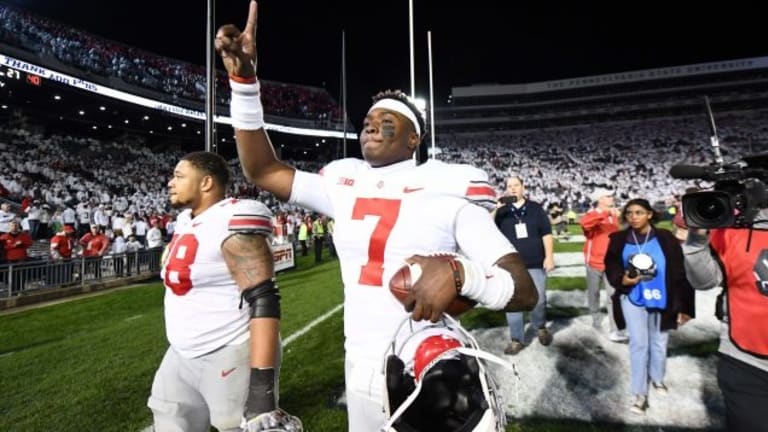 Buckeyes, Irish make moves in AP poll
Ohio State's comeback win at Penn State moves the Buckeyes to No. 3 in the newest AP Top 25 poll.
Ohio State's heart-stopping, comeback win at Penn State on Saturday night impressed enough voters to move the Buckeyes to No. 3 in the newest AP Top 25 poll, which was released Sunday.
Down by 12 points with eight minutes to go, Ohio State quarterback Dwayne Haskins engineered two touchdown drives to keep the Buckeyes undefeated.
Alabama continued to maintain its stranglehold on the top spot in the poll with 58 first-place votes. Ohio State and Clemson each received one first-place vote.
Georgia remained No. 2, but just 10 points ahead of the Buckeyes, who leapfrogged Clemson. The Tigers fell to fourth after surviving their own scare against Syracuse.
LSU is ranked No. 5 followed by Notre Dame, who had a decisive and convincing 38-17 win over Stanford jumped to sixth.
Rounding out the Top 10 were Oklahoma at No. 7, Auburn at No. 8, West Virginia at No. 9 and Washington at No. 10.
The team that fell the furthest was Stanford, which falls seven spots to No. 14.
Penn State dropped to No. 11 after losing to Ohio State.
Five new teams — Colorado, Florida, NC State, Virginia Tech and Oklahoma State — appear or reappear in the top 25.