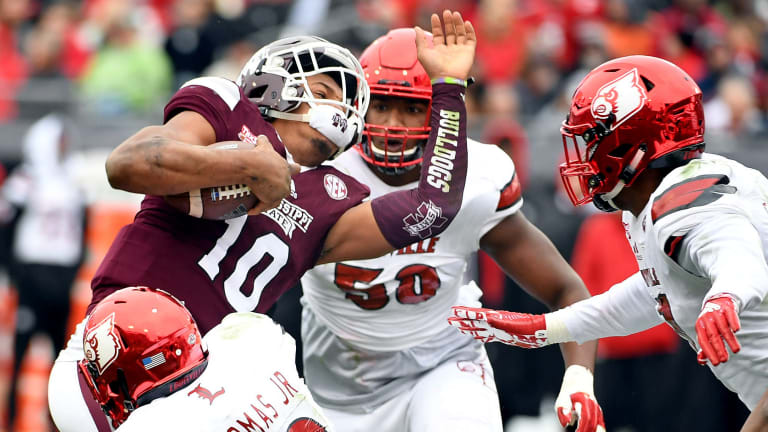 Fitzgerald to miss No. 18 Mississippi State's opener vs. SFA
Joe Moorhead: "You're going to craft and tailor the game plan to the guys who are going to be out on the field."
Clouds of uncertainty are hanging over both Mississippi State and Stephen F. Austin as their season opener approaches. Both have high expectations and both have new coaches.
Even with a surprise, high-profile suspension at Mississippi State, those clouds might be just a little darker over the Lumberjacks of the Southland Conference.
Stephen F. Austin has an interim coach who's been on the job for less than a month. The Bulldogs, of the Southeastern Conference, have a new coach, whose first order of business on Monday of Game Week was to announce the suspension of his starting quarterback and Heisman Trophy candidate.
Jeff Byrd leads FCS program Stephen F. Austin into Davis Wade Stadium in Starkville, Miss., on Saturday to take on Joe Moorhead and the 18th-ranked Bulldogs, minus quarterback Nick Fitzgerald.
"Nick's violation of team rules occurred in March," Moorhead said earlier this week. "Since that time, he's been elected team captain and had an awesome spring, summer offseason conditioning and fall camp. He's been a great leader and a great teammate. He'll serve his suspension and come back and be our starter against Kansas State."
Most teams would severely miss a player who accounted for 2,600 yards and 29 touchdowns, but not Mississippi State.
When we last saw the Bulldogs, they were beating Louisville in the TaxSlayer Bowl with Fitzgerald on crutches on the sideline after suffering a gruesome, season-ending ankle injury in the Egg Bowl in November.
Enter true freshman Keytaon Thomas.
In his first start, Thomas went 11 of 20 for 127 yards, ran 27 times for 147 yards, and tied a Mississippi State bowl record with three rushing touchdowns in a 31-27 victory.
Thomas gets the start again on Saturday against the Lumberjacks having earned the trust of his coaches and teammates. Expect the Bulldogs not to miss a beat with Thomas calling the signals.
"You're going to craft and tailor the game plan to the guys who are going to be out on the field," said Moorhead, the former Penn State offensive coordinator. "Certainly, Nick and K.T. share a similar skill set so there's really not much change in what we'd ask Nick to do and what we'd ask K.T. to do."
With running back Saquon Barkley and quarterback Trace McSorley, Penn State averaged 41.6 points last season. At Mississippi State, Moorhead doesn't have a Saquon Barkley, but he does have Aeris Williams, who rushed for 1,107 yards and six touchdowns on 4.7 yards per carry last season.
Moorhead's offenses have shown an affinity for stretching the field vertically and the Bulldogs' first-year coach believes he has the players in place to do just that.
Stephen Guidry and Devonta Jason, a pair of four-star receivers, were brought in and they very well could thrive, whether it's Fitzgerald or Thomas throwing the ball.
Byrd has had a little more than three weeks to figure things out for the Lumberjacks since Clint Conque resigned. Conque had been suspended in June while the school investigated alleged violations of school policy.
Since then, the players have rallied behind Byrd.
"Every day we've gotten better and I think you can see it," Byrd said. "I've gone back and looked at some tape from Day 1, we've improved at every position. I still think we have competition for positions … but those things are beginning to pan themselves out. Effort, attitude and intensity every day has been exactly what we want."
The Lumberjacks were voted to finish sixth in the Southland Conference's annual preseason poll as voted upon by the league's head coaches and sports information directors. Last season, the Lumberjacks went 4-7.
The good news is that 22 players with starting experience return, including 11 on the offensive side and eight on defense.
Byrd is hoping junior running back Jamall Shaw, who was the Lumberjacks' second-leading rusher in 2017 with 266 yards on 77 carries, can carry the load on offense.
"The running back group, we've got a bunch of dogs back there," Shaw said. "We've all got different styles so it's fun to come out here and watch each other work. The quarterbacks and wide receivers are all clicking, I think it's going to be a big year for the offense. We just want to go out there and give it our best every day and get better."
The Lumberjacks return both of their starting quarterbacks from a season ago, including TCU senior transfer Foster Sawyer, who played in the first four games in 2017 and made three starts before suffering a season-ending knee injury at Abilene Christian.
An accurate passer, Sawyer threw for 623 yards on 68-of-104 passing (65.4 percent) and four touchdowns with only one interception.
Junior Jake Blumrick, who started the first game of the 2017 season and the final seven, also returns. He compiled 1,654 passing yards, including eight touchdowns.
The odds are stacked against the FCS Lumberjacks, but if anyone knows what smaller schools are capable of doing, it's Moorhead.
He coached at Fordham — an FCS school — and upset Army and Temple. The Bulldogs will be ready come Saturday.
"From an ex-FCS player and coach, guys at that level go into this game with a chip on their shoulder," Moorhead said. "They will pull out all the stops because there's a great chance for an upset. We have a tremendous amount of respect for Stephen F. Austin going into this game."