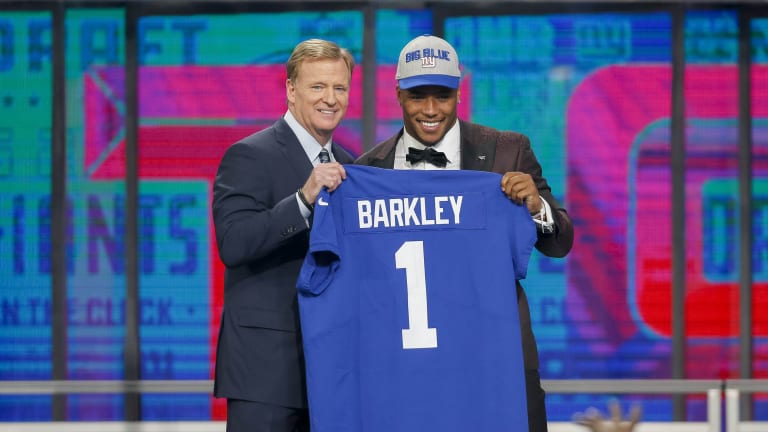 Giants GM Gettleman: Barkley 'touched by hand of God'
--- NFLDraftScout.com ---
--- NFLDraftScout.com ---
The New York Giants came away with what many observers considered the best player in the NFL Draft.
That didn't mean the armchair quarterbacking didn't start to rev up immediately after the Giants nabbed Penn State running back Saquon Barkley with the No. 2 overall pick on Thursday night.
In a quarterback-heavy draft — five were taken in the opening round — and New York entering the 2018 season with 37-year-old Eli Manning under center, there were obvious questions as to whether the Giants should fortify the position for the long term.
Perhaps a fair criticism, New York general manager Dave Gettleman acknowledged, if not for the availability of Barkley and his otherworldly talents.
"He was touched by the hand of God, frankly," said Gettleman. "We felt Saquon was the best player in the draft. … I haven't seen a guy like this in a long time."
The Cleveland Browns pulled off someone of a surprise at No. 1, taking Heisman Trophy winner Baker Mayfield and leaving USC quarterback Sam Darnold, the top overall prospect on NFLDraftScout.com senior analyst Rob Rang's Big Board, available to New York.
There was no decision to be made, according to Gettleman, who was hired at the end of December to replace Floyd Reese after a lengthy tenure with the Carolina Panthers.
Gettleman was so staunch in his convictions about selecting Barkley that he basically told his staff to shut down the phones in the team's war room and not even entertain any trade offers of teams wanting to move up.
"Once Cleveland took Baker, I was taking Saquon no matter what," said Gettleman. "I told our guys 'Don't even waste your time. We're taking Saquon and we're going to run.'"
Gettleman said his pick would have been in the hands of NFL commissioner Roger Goodell seconds after the Browns made their selection if not for a league-mandated five-minute waiting period. In fact, he said the only college prospect who compared favorably to Barkley was Peyton Manning, who retired with a record five NFL MVP awards.
Barkley, listed as the third-best player on Rang's Big Board, rushed 217 times for 1,271 yards and 18 touchdowns last season with the Nittany Lions, including a 92-yarder in a Fiesta Bowl victory over Washington. He also caught 54 passes for 632 yards and two scores, as well as returning two kickoffs for touchdowns.
The 6-foot, 233-pounder then lit up the NFL Combine with a spectacular workout, registering a 4.40 40-yard dash, a 41-inch vertical jump and 29 reps on the bench press.
"We all know he can catch the heck out of the rock. He can pick up the blitz. He's powerful, runs through tackles," said Gettleman of Barkley. "This kid makes our quarterback better, our line better, our receivers better, our defense better. He's going to be great for our culture."
As for as Eli Manning, who threw his fewest touchdowns in 2017 since his rookie season and was benched for one game to end his streak of 210 consecutive starts, Gettleman said he is more than comfortable going forward with the veteran.
"What do you want me to tell you? He is our quarterback. We believe in him," said Gettleman "He threw the hell out of the ball for three days (at minicamp). He has not lost one bit of arm strength."