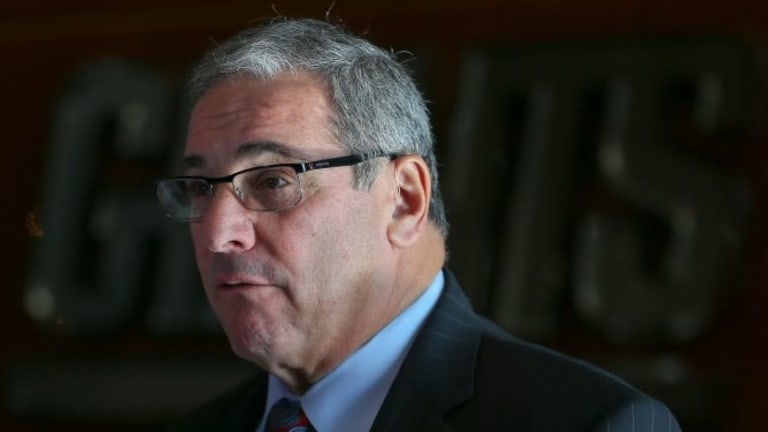 GM Gettleman: Giants not required to draft QB
--- NFLDraftScout.com ---
New York Giants general manager Dave Gettleman has dismissed the notion that the team must take a quarterback with the second overall pick in next week's NFL draft.
Gettleman, in fact, used the following reply to those who question that belief: "Hogwash," per Ralph Vacchiano of SNY.
Quarterback Eli Manning has been with the Giants since he was acquired in a draft-day deal with the then-San Diego Chargers in 2004. New York staggered to a 3-13 record last season as the 37-year-old Manning threw for 3,468 yards — his lowest total since 2008 — with 19 touchdowns and 13 interceptions.
Gettleman has expressed confidence in Manning, and he believes he knows what happens when a team misfires on drafting a quarterback.
"You miss on a quarterback, you've really hurt the franchise for five years," Gettleman said. "It's a five-year mistake."
The Giants have looked at Penn State running back Saquon Barkley and North Carolina State defensive Bradley Chubb among others ahead of the 2018 NFL Draft, which will be held on April 26-28 at AT&T Stadium in Arlington, Texas.
USC quarterback Sam Darnold is viewed as the top overall prospect in the draft by NFLDraftScout.com senior analyst Rob Rang in his most recent Big Board. Rang lists UCLA quarterback Josh Rosen as second, followed by Barkley, Notre Dame offensive guard Quenton Nelson and Chubb.
Barkley could provide a jolt to a Giants backfield that has failed to produce a 1,000-yard rusher since Ahmad Bradshaw in 2012.
Barkley rushed 217 times for 1,271 yards and 18 touchdowns last season with the Nittany Lions, including a 92-yard run in a Fiesta Bowl victory over Washington. The consensus 2017 All-American also caught 54 passes for 632 yards and two scores, as well as returning two kickoffs for touchdowns.
As for Chubb, he could be seen as a means to replace Jason Pierre-Paul, who the Giants traded to the Tampa Bay Buccaneers on March 22.
Chubb, who was the ACC Defensive Player of the Year and Ted Hendricks Award winner (national defensive end of the year), reportedly met with the team at a private workout at North Carolina State last month.
The 21-year-old Chubb recorded career highs in tackles (72), tackles for loss (23) and sacks (10) in 2017 after posting similar numbers the previous season (56-21-10).