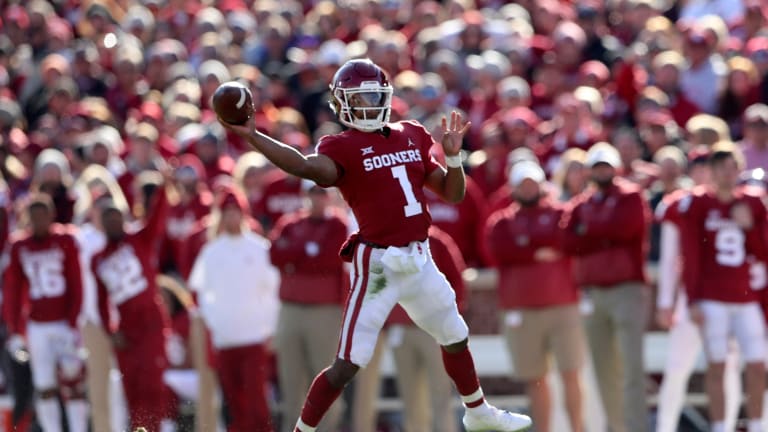 Kansas' Beaty knows a thing or two about No. 6 Oklahoma QB Murray
Kansas coach David Beaty: "He's got a poise about him and, you know what, he's just a fun guy to watch play."
NORMAN, Okla. — Give Kansas coach David Beaty a Heisman Trophy vote and he wouldn't need much time to figure out who he'd put at the top of the ballot right now — Oklahoma quarterback Kyler Murray.
"I don't know how the rest of the season's going to play out with who's going to take home that big trophy," Beaty said. "But I've certainly seen a guy that deserves it with what he's done throughout the season."
On Saturday, Beaty's Jayhawks play Murray's sixth-ranked Sooners in a game that figures to be Murray's last collegiate home game.
It's an appropriate bookend to Murray's career, which began when Beaty — then Texas A&M's receivers coach and recruiting coordinator — played a huge part in convincing Murray to sign with the Aggies out of high school.
"One of the coolest guys I've dealt with in the recruiting process," Murray said. "Obviously with him being an Aggie … him and my dad were boys.
"He's really like family to me, honestly. There's not much more to say other than I'll see him on Saturday, I'll dap him up and we'll be all cool."
Beaty might be right about Murray, though Alabama quarterback Tua Tagovailoa has been the frontrunner for most of the season.
But Murray is making quite the case, leading Tagovailoa in passing yards per game (303.8 to 252.5), completion percentage (70.9 to 67.9) and pass efficiency rating (212.9 to 207.7).
Beaty said he hasn't been surprised at all at Murray's production after watching him extensively in high school.
"You could tell he had something special about him, more than just the ability," Beaty said. "He might be one of the fastest dudes you've ever seen back there in the pocket, he's got unbelievable accuracy, one of the quickest releases you've ever seen. But he's got a moxie to him that's really unique. People are drawn to him. He's got a poise about him and, you know what, he's just a fun guy to watch play."
Murray's numbers also compare very favorably to Baker Mayfield, who won the Heisman Trophy a year ago.
"Obviously, it looks a little bit different because the two quarterbacks look a little different in terms of how they play but the production is very similar," Beaty said.
On paper at least, Kansas doesn't figure to put up much resistance. The Jayhawks are in the basement of the Big 12 standings and have struggled to slow down conference offenses, ranking No. 9 in total defense during conference games despite ranking No. 4 when all games are considered.
Kansas also hasn't had much offensive success against Oklahoma during Beaty's four-year tenure, which will end after this season after he was told he would not be retained.
The Jayhawks haven't scored more than seven points against the Sooners since 2013, though with a looming matchup against West Virginia next week, Sooners coach Lincoln Riley is trying to keep his team focused on this week and not looking ahead.
"You can't look at it like that," Oklahoma receiver Marquise Brown said of the challenge of getting up for a game against Kansas. "They have a very good team and a very good defense. We have to go out and prepare like we prepare every week. We have to come out with the mindset of how good we can be as a team and how we can improve."
Beaty's outgoing staff includes tight ends/fullbacks coach Garrett Riley, Lincoln Riley's brother.
"It's never easy in a game like this, certainly with what they're going through there," Lincoln Riley said. "I certainly don't want to put words in his mouth, (but) it's part of the business as we all know.
"He's a good young coach, and there are a lot of good coaches on that staff that regardless of what happens here at the end of the year, those guys aren't going to have a hard time finding jobs."