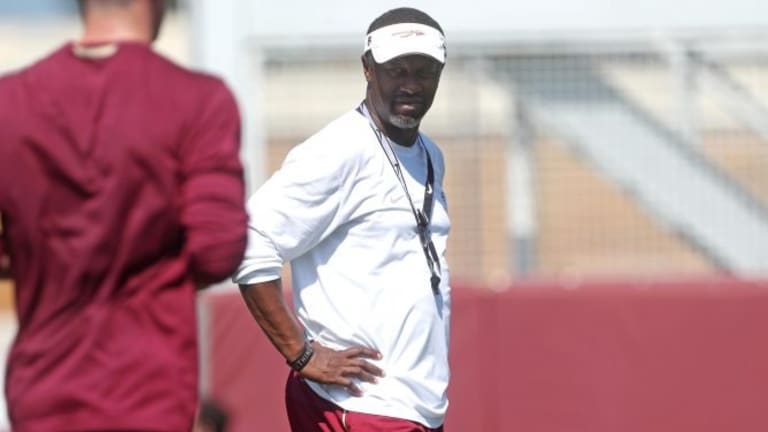 Lots on line for opener between No. 20 Virginia Tech, No. 19 Florida State
Florida State head coach Willie Taggart: "We've spent a lot of time looking forward to this."
— By Danny Aller, The Sports Xchange —
TALLAHASSEE, Fla. — Both No. 20 Virginia Tech and No. 19 Florida State have a lot riding on Monday's prime-time season opener.
But Seminoles senior offensive lineman Alec Eberle might just have the most at stake.
"I can't ever go back home (if we lose)," Eberle, a Virginia native, said this week.
Eberle, of course, was joking about being banished from his native state if Florida State can't defend its home turf at Doak Campbell Stadium on Monday night against the Hokies, who won't be smiling one bit; they're coming to town serious about stealing a win from the favored Seminoles.
"There's no better way than to open up at Florida State, at their place," Virginia Tech defensive tackle Ricky Walker told the Roanoke Times.
Added tight end Dalton Keene: "I can't wait, and I know the rest of the guys can't wait either."
The Hokies, who finished 9-4 last season, return 12 starters — seven on offense, five on defense. In head coach Justin Fuente's third season at the helm, Virginia Tech started 2017 red hot at 7-1, then lost three of its last five games, including to Oklahoma State in the Camping World Bowl.
One of those key returning players is sophomore quarterback Josh Jackson, who will lead the offense once again after throwing for 2,991 yards and 20 touchdowns in his freshman campaign. Jackson hopes his defense — one of the best in the Atlantic Coast Conference a year ago with three shutouts — will give him plenty of opportunities to shine Monday night.
New Florida State head coach Willie Taggart, meanwhile, hopes for the opposite in his first-ever game wearing garnet and gold.
"We've spent a lot of time looking forward to this," Taggart said Wednesday. "Game week from this point on is all gas and no brakes, and really excited about watching our guys go out and perform Monday night."
Taggart was hired away from Oregon in December of last year after then-Florida State head coach Jimbo Fisher bolted for Texas A&M following nine years in Tallahassee, where he delivered the Seminoles their third national championship in program history in 2013.
While it may seem like big shoes to fill for Taggart, Fisher's final season resulted in a 7-6 record and the program was a bit of a mess when Taggart took over.
Now, the only place to go for Taggart — only the third head coach Florida State has had in the last 42 years — is up.
And it starts Monday night.
"It means a lot to be able to lead this program and to be able to try to stand on the shoulders of those guys (Bobby Bowden and Jimbo Fisher) that came before me and did a great job here. Says a lot about this program (that I'm only their third head coach since 1976)," Taggart said. "Says those guys before me won a lot. Got to go out and win a lot of ballgames if I want to be a part of those two."
Florida State brings a mix of youth and experience into the game. The Seminoles returned 12 starters — eight on offense, four on defense. Although, the biggest returner is easily quarterback Deondre Francois, who missed most of last year after suffering a knee injury in Week 1 against Alabama.
Francois had to battle two teammates — sophomore James Blackman and freshman Bailey Hockman — to regain the starting job, and he was announced as the starter earlier this week by Taggart.
Francois, who was named the 2016 ACC Offensive Rookie of the Year during his freshman season, will have plenty of help to get Florida State back to where it was two years ago when he went 10-3 as the starter.
The star running back from a season ago, sophomore Cam Akers, is back after rushing for a freshman school-record 1,024 yards. And the Seminoles' backfield will have a 1-2 punch with running back Jacques Patrick, a senior, opting to return for his senior season rather than bolt for the NFL.
The Seminoles lead the all-time series with the Hokies 23-12-1, but they haven't played since 2012 when Florida State beat them 28-22 in Blacksburg, Va.
At the time, Hokies legend Frank Beamer was still Virginia Tech's coach, and that game was two years removed from the retirement of fellow coaching legend Bobby Bowden at Florida State.
Beamer and Bowden will both return for Monday night's game and serve as honorary captains before the kickoff — a moment Taggart said Wednesday will likely give him chills.
"I get goosebumps every time I see coach Bowden," said Taggart, who grew up a Florida State fan. "Very happy for him to be back on that field. To start the season off for us as honorary captain … I think it will be a great day for him. We'll make sure that we go out and perform for him so he can be happy with the 'Noles."