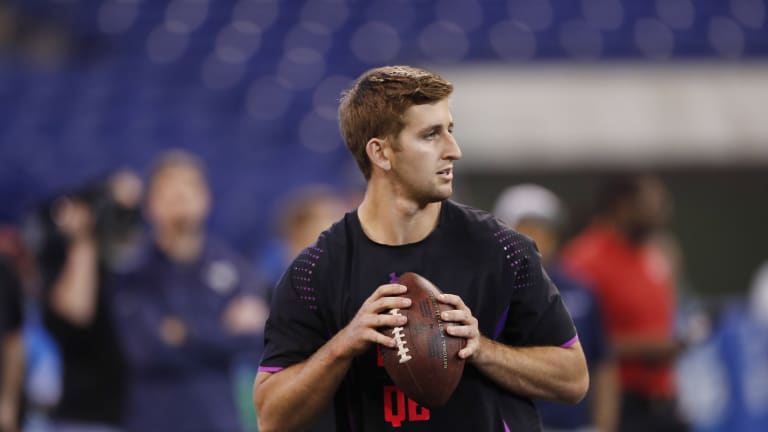 Mora on QB Rosen: 'He will win championships'
--- NFLDraftScout.com ---
Ex-UCLA coach Jim Mora defended his former quarterback again as the 2018 NFL Draft approaches.
The draft begins Thursday. UCLA's Josh Rosen and USC's Sam Darnold are among the top quarterbacks expected to be taken early.
Mora wrote on Twitter on Sunday that Rosen will win championships and may even be a Hall of Famer.
"Those that question (Rosen) and his toughs, competitiveness and love of the game are so far off anything I've seen in 6+ years knowing this man," Mora wrote. "He's the real deal, he has it all, he will be a great one, he will win championships. … I've had the amazing fortune of being around 24 members of the Pro Football HOF, I believe we may see Josh Rosen enshrined one day. A lot of work to do, a lot of games/championships to win, but he has the qualities to do it."
Mora caused a stir a month ago by citing "fit" as the reason that the Cleveland Browns should select USC's Sam Darnold over Rosen. He also said that Rosen "needs to be challenged intellectually so he doesn't get bored. He's a millennial. He wants to know why. Millennials, once they know why, they're good.
"Josh has a lot of interests in life. If you can hold his concentration level and focus only on football for a few years, he will set the world on fire. He has so much ability, and he's a really good kid."
Mora later clarified his remarks and praised his former quarterback, saying Rosen is the No. 1 quarterback in the draft.
Darnold is viewed as the top overall prospect in the draft by NFLDraftScout.com senior analyst Rob Rang in his most recent Big Board. Rang lists Rosen as second.