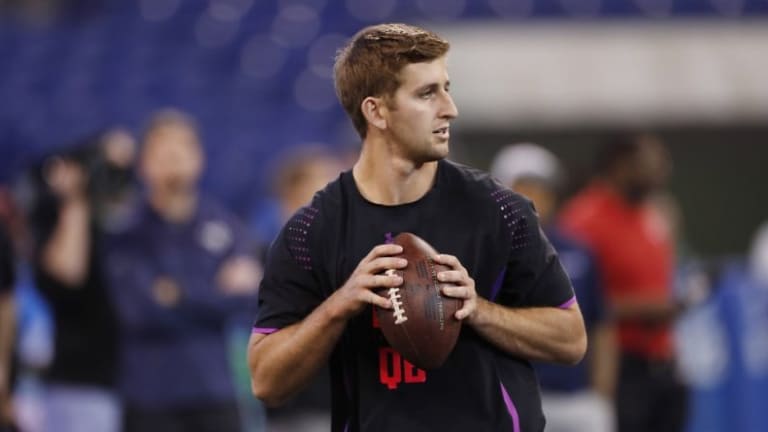 Mora: QB Darnold better 'fit' for Browns than Rosen
Mora: QB Darnold better 'fit' for Browns than Rosen
Former UCLA head coach Jim Mora, Jr. recruited Josh Rosen and had a hand in his development, but that doesn't mean he is suggesting that the Bruins quarterback should be the top overall pick in the 2018 NFL Draft.
Mora, in fact, said on NFL Network's "Path to the Draft" that he'd advise the Cleveland Browns to select USC's Sam Darnold with the top pick.
"Because of fit, I would take Sam Darnold if I were the Cleveland Browns," Mora said. "I think (he has) that blue-collar, gritty attitude. I think his teammates will love him. I think the city will love him. He'll say the right things. He'll come in and represent well. I think he kind of represents what Cleveland is. And then if I was one of the New York teams, I'd take Josh like that (snaps fingers). I think they're both going to be great pros."
The Browns hold the first and fourth overall picks and the New York Giants have the second selection in the 2018 NFL Draft, which will be held on April 26-28 at AT&T Stadium in Arlington, Texas.
The New York Jets, who could be eyeing a potential franchise quarterback, moved up three spots to No. 3 and sent the No. 6 pick, two second-round selections in this draft (Nos. 37 and 49) and a second-round pick in 2019 to the Colts in the trade on March 17.
Rob Rang of NFLDraftScout.com has Darnold as the top overall pick of the 2018 NFL Draft in his most recent edition of The Big Board.
"I thought he had a really nice workout," Browns general manager John Dorsey said of Darnold's Pro Day last week in the rain in Los Angeles. "I thought he showed feet, he showed the ability to roll out, extend the play, he showed the quick release, he showed downfield accuracy. I mean it really was a really good workout."
Darnold was the only top quarterback prospect who did not throw at the NFL Scouting Combine last month.
Rosen is listed second by Rang, followed by Penn State running back Saquon Barkley, Notre Dame offensive guard Quenton Nelson and North Carolina State defensive end Bradley Chubb.
Although Rosen didn't get his top endorsement, Mora still thinks highly of him. In fact, Mora went so far as to link Darnold and Rosen with two other great quarterbacks.
"I think some day hopefully we're talking about the Peyton Manning-Tom Brady debate. Which one's better? I think both of those guys can be those types of guys," Mora said.